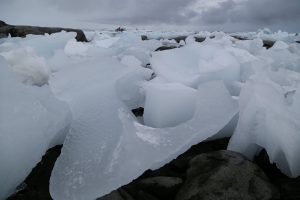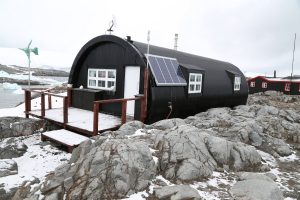 Port Lockroy is a British base that is occupied several months of the year in the summer by a few staff and is managed by the UK Antarctic Heritage Trust. We visited as part of an Antarctica cruise on Oceanwide Expeditions. Space here is extremely limited as the the base is located on Goudier Island – which doesn't appear to be much larger than a small parking lot. And once the staff are on the base they are not allowed to travel off the island on there own due to safety concerns regarding the always changing weather and frigid waters. However it is not completely a solitary stay, ships do visit during the summer months and guests come ashore and sometimes the staff are able to go on board these ships.
Once a year the Heritage Trust accepts applications for staff. Only a few applicants used to apply for these positions however the trust has received some excellent publicity in recent years and we were told by the staff that in 2015 there were more than 5,000 applicants of which only 4 positions were chosen!
During our visit, the commonly used passage to the base was blocked by floating ice seracs so we had to move further out closer to the lip of another glacier – navigating the choppy waters in the small zodiac.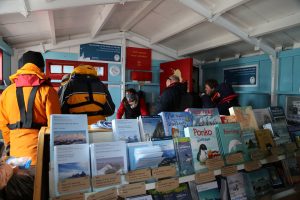 After days of only experiencing certain colors of the spectrum (namely shades of white, grey and black) it was visually refreshing to see these colorful buildings (both inside and outside). The inside of the main building serves a number of purposes; it is an excellent museum highlighting the history of this base – dating from the 1940's and includes a tool workshop, research equipment and sleeping quarters.
The men who originally stayed here obviously missed the company of women simply judging from the paintings on the walls of famous actresses of the era – all revealing ample curvature on these busty ladies.
The main building also serves as a gift shop and is self titled "the world's most remote post office". Depending on when you visit, your postcard may not be delivered for upwards of 9 months and will sit in the post office box during the long cold Antarctica winter.
And for those who want an Antarctica stamp on their passport – you can do so here.
We even spotted some hard core sailors – a tiny sailboat was anchored next to a nearby glacier, dwarfed by the immense ice that towered above.
Numerous penguins call this tiny island 'home' – when they all gather together they create quite a mess (and smell). We were told scientists applied an existing equation to calculate the pressure per square inch it takes for these birds to blast out the poo (called the Hagan-Poiseuille-equation – an intimidating name to describe this simple bodily function).
When the penguins do poo, you don't want to be close to them. They really project the excrement!
Looking to do this cruise, or a similar cruise from Oceanwide Expeditions? visit their Antarctica Cruises page here