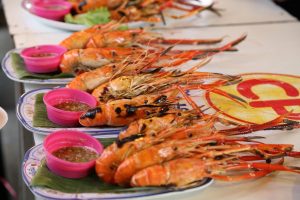 Today we headed to the Bang Khla Floating Market – which is located on the outskirts of Chachaongsao (about an hour and 10 minutes from Bangkok). Last year we made the mistake of driving all the way out here on the weekday – for a market that is only open on the weekends and holidays.
This market comes alive around the lunch time hour – with hundreds of families sitting around enjoying the variety of foods that makes the Thai cuisine so intriguing. People were enjoying giant prawns, BBQ fish, pad Thai, som Tum (papaya salad), giant cockles and lots of other various vegetables. Many of the vendors cook in small wooden dugout styled canoes.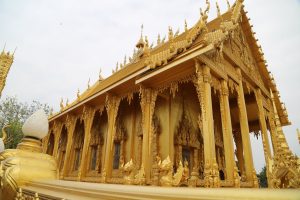 We hired a small driver to take us along the Bang Paking River – it was the perfect day for this, not to hot and the sun stayed behind the clouds for much of the afternoon. Thailand has seemingly thousands of gleaming golden temples but none quite the color of Wat Paknam Jolo. It is entirely painted in a yellow gold color – both inside and outside. This was our first stop.
Our second stop was next to the river where hundreds of giant fruit or "hen" bats were roosting high in the tree tops. Fortunately a two story building was constructed in the middle of some of the trees so we were able to reach nearly eye level with these upside down creatures. When they spread their wings they are quite large looking – they kept staring at us with their beady eyes, while we stared back.