Bangkok
is always uniquely challenging to update – simply because of the traffic. I have used motorcycles to get around town before but never to this extent.
I call this intense travel – trying to revisit as many places as I possibly can each day, simply for photography and to get a quick idea if anything has changed since my last visit. Things like visiting the Grand Palace, Wat Po, Wat Arun, Wat Traimit and Wat In – in a span of just a few hours is doable – not necessarily enjoyable but my revisiting mission wasn't to enjoy these places per se.
In this regards, motorcycles are a godsend to travelers in a hurry for whatever reason. While I'm not sure this is the safest form of transportation within the chaotic streets of Bangkok – they sure do get you around quickly – weaving in and out of traffic, hopping curbs, going the wrong direction in some cases, whipping through hotel driveways as shortcuts, swerving out into oncoming lanes of traffic when there are no cars coming the opposite way and other ways of saving time.
There is a certain thrill or adrenaline rush that I get from moving from place to place quickly. While I certainly don't travel like this all the time – when updating information on the fly – this can be an enjoyable way of travel – albeit exhausting after a few days.
But now I am back in our village 2 hours east of Bangkok – which is the perfect location for writing – no traffic, no noise save for a few chickens in the distance, a wine cooler in hand, a supporting hammock under the house and a gentle breeze blowing.
And I will leave you with this photo I took this evening of a place of spiritual significance for several families in the area (shelters an ancient piece of wood).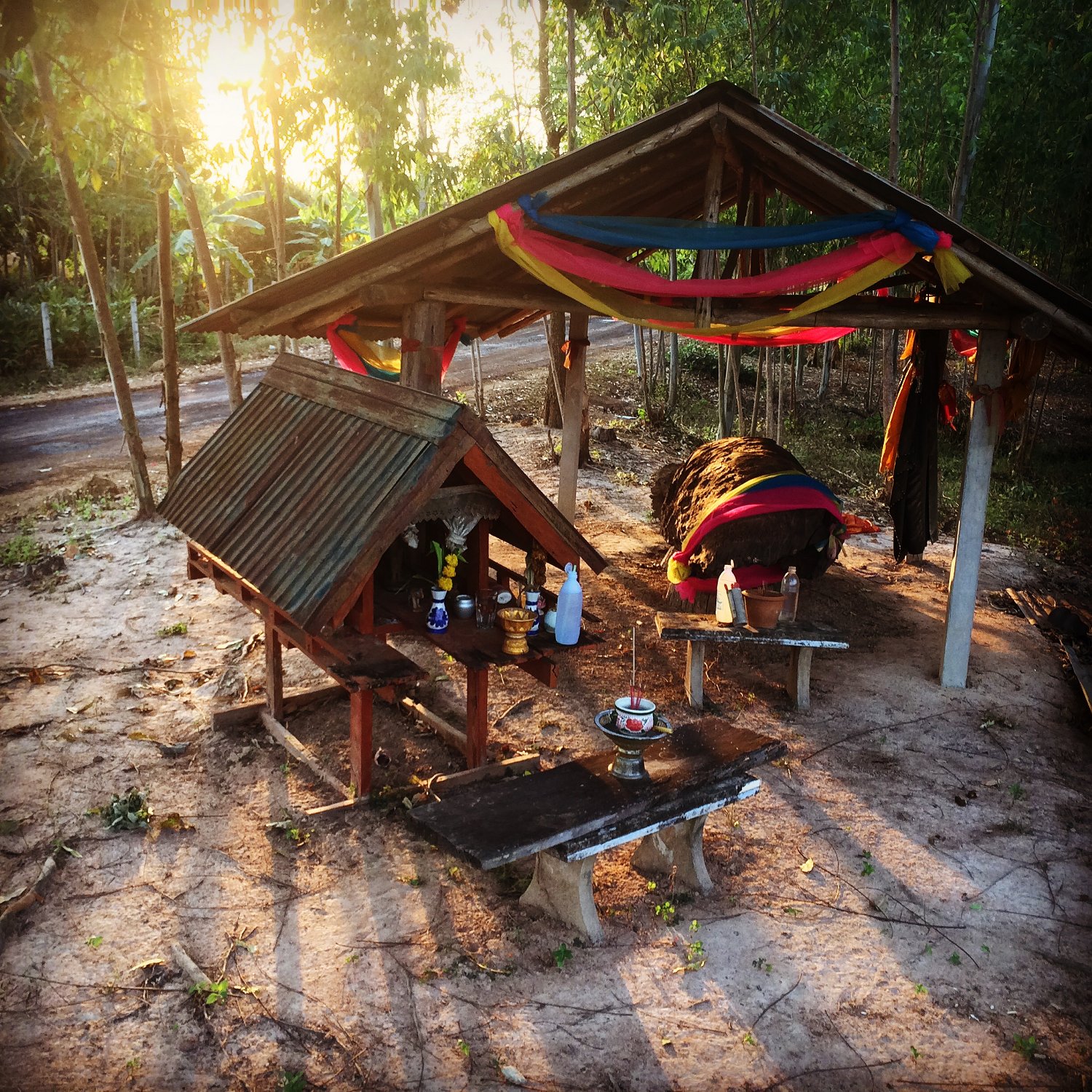 I've spent significant time the past few months updating many of the guides on our site and will spend part of next 6 months doing so – making revisits to various destinations covered on this site.