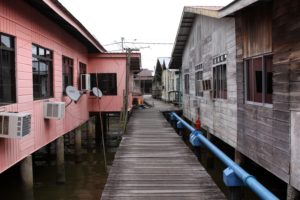 Finally after a week I got the chance to check out Brunei's well known water villages – these are just a short ride across the river from the main part of Bandar seri Begawan. I was touring with Adam Tan, the owner of Travel Hub.com (info@travelhub.com.bn ) a local agency that offers a number of personalized tours in Brunei.
The homes are on stilts (parking is underneath for each family's personal boat, if they have one) and all the homes are connected by wooden walkways. This is a safe place to live, neighbors know each other and people go out and leave their homes unlocked all the time. I had a unique opportunity to actually visit the inside of several homes – the rooms are very ornately and colorfully decorated. Adam is planning to open the only one of its kind guesthouse in one of the homes here in the next few months. This will be a unique place to experience "local Brunei life".
One of the highlights of any trip to Brunei is to see the Probiscus Monkey in the wild. This monkey can swim and is famous for its long nose which bobs above the water as it swims. Within 20 minutes of the main port in Bandar seri Begewan you can be in the monkeys home territory. Their diet is rather limited; they only eat young mangrove leaves so the mangrove swamps are where you have a chance to see them. They travel in packs, one "king" and lots of children. They are rather shy so its critical to be quiet.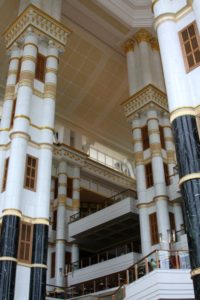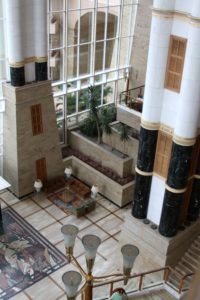 The 5-star Empire Hotel & Country Club is without a doubt the single most impressive hotel/resort in Brunei. It is Brunei's only hotel resort to face the South China Sea. It is accessible via a drive of 20-30 minutes from Bandar seri Begewan. This hotel is the vision of the royal family (originally built as their guesthouse) and has been opened less than 10 years. The inside is truly impressive, glittering with cold, giant columns and a ceiling that has to be a good 35 meters above the first floor. Oh and for the price this is one heck of a value with rooms starting at 200 Brunei dollar / night!
A large swimming lagoon is made from filtered sea water (so it doesn't taste salty) complete with its own beaches. A seafood restaurant is located right in the middle of this lagoon. Jack Nicholas designed the 18-hole golf course and Bill Clinton has been known to pop in for the day to play golf. Some of the Royal Family happened to be there – nice Ferrari!