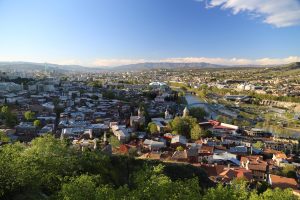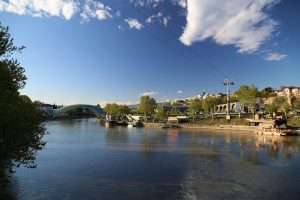 Our shared van sped across the mountains of northern Armenia seemingly on a race track – passing every vehicle in our path. At speeds like this, the drive was thrilling – and beautiful when we could catch glimpses of the surrounding countryside. Spring time has brought green grass as far as the eye can see interrupted by flowers blooming. This is why I enjoy chasing spring and summer around the planet – with weather such as this. Warm and clear as far as one could see.
Pulling into Tbilisi – one word came to mind, unknown. We passed several unique modern buildings strongly emphasizing the glass exterior and the curved architectural design. Then we passed under tram cars slowly moving across the river up to the old fortress high on the hill.
The old city is charming – full of restaurants, cafe's, night clubs and plenty of shopping. And while I am writing this after only being here for several hours, I keep returning to the word unknown. It seems like most tourists have not heard of Tbilisi or perhaps don't consider it a destination. And yet it is a town friendly to tourists – the prices are reasonable and there are plenty of tour operators in the old town to choose from. And Georgia has plenty to offer from tall mountains, skiing, caves, montastary's, some of the oldest wine making heritage in the world and cute villages and towns.
While here, I've been introduced to tannic white wines – some of which are easily as tannic as any robust Napa Valley hillside Cabernet Sauvignon. The wines I tried were called 'amber' and they were certainly darker amber in color – having spent significant time on the skins and in some cases with the seeds during and after fermentation.
One wine I tried contained 417 Georgian varietals in a field blend! Check out Pheasant Tears, a Georgian based winery owned by an American.