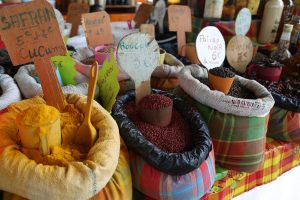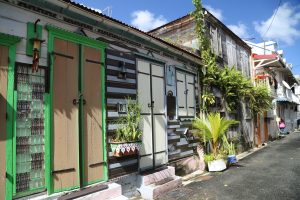 Wandering the streets of Pointe-à-Pitre I thought I would head over to the cruise ship terminal and see if I could hook up with an in English tour (like I successfully did in Martinique). However it was another story here. The only info station I could see was behind the gates of the cruise ship terminal (and without being a passenger on one of the cruise ships I was not allowed entry). I yelled through the gates to attract the attention of the lady sitting behind the counter.
She kindly walked over to the bars on the fence – I asked her where I could find a guide or a tour operator – since she only handles questions from passengers typically interested in just walking around Pointe-à-Pitre she handed me a map and then indicated I should walk to the official tourism board of Guadeloupe located on one of the main plazas. Thanking her for her time I soon arrived at the tourism board – located in a beautiful old building. With doors locked to the building I was quickly buzzed in.
As Guadeloupe's tourism board – I would have expected they would certainly be the best ones to help out with my questions about setting up a tour or finding a guide. Surprisingly the lady I spoke with was not sure how to answer my question and had to go ask someone else. She returned and said they wouldn't be able to be of assistance but I could go across town to the Ministry/Center of Arts & Culture and see if they could help me.
Finding the location on my map – I walked across town and to my surprise discovered the tall building that according to my map housed this ministry was completely gutted and all residents/businesses had moved out. I spent some futile time trying to find out if they had moved (walked to a local police station) but to no avail. Ultimately I ended up in the "town hall" which may have been the location the tourism office originally wanted me to go to despite the other location on the map.
The folks at the receptionist were very helpful – trying to call a local guide but without success. Ultimately the security guard walked me over to his friend who owned a nearby convenience store. His friend called one of his friend's, Serge and we arranged to meet the next day. Certainly a circuitous route to finding a guide but ultimately worth the effort!
As it turned out Serge was perfect match – an ideal guide for showing me around the island. He was born in Pointe-à-Pitre and raised on Guadeloupe and knew the island as only a local would. He also lived many years in San Diego, has traveled the world surfing and speaks English, French, Italian and Spanish fluently. On top of that, he had just started working as a guide for one of the cruise ship companies. Pleasant, personable, flexible and extremely informative, he was everything I look for in a guide. Should you visit Guadeloupe, I highly recommend his services – you can reach him here: Serge Galy, +590 696 777 040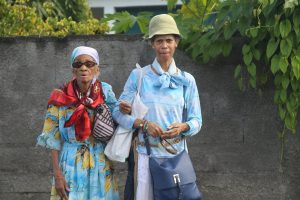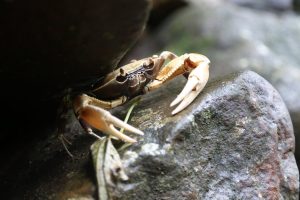 The main two islands of Guadeloupe are roughly in the shape of a butterfly's wings with Pointe-à-Pitre located on the 'thorax' in the center. This city is the economic hub of the territory and the traffic both in the morning and evening was horrendous getting into and leaving town – backed up for miles. Indicating I wanted a rain forest tour, we opted for the island of Basse Terre (the other island would have been better for beaches, Grande-Terre). Rather then try to see it all, we slowly drove around the island and stopped in select locations including the beautiful but somewhat hard to find but much visited Carbet Falls, located on the lower slopes of La Soufrière volcano (the first westerner to see these falls was Christopher Columbus) and the smaller Cascade aux Ecrevisses.
A couple of other highlights from our tour: Fort Delgrès contains significant western history that dates back to the 1650's. Moving north, La Maison du Cacao or in English, the House of Cacao makes for an informative stop. A self guided tour leads one through a number of cacao trees ending in a small educational centre where information is presented in both English and French about the process of creating chocolate (with the highlight being a number of chocolate tastings – all processed and sold on site).
The nearby protected Jacques Cousteau Reserve offers excellent snorkeling and diving. A number of picturesque small bays are in the area, each with tiny beaches. We enjoyed an hour swim in torrential rain – the water actually felt warmer then the rain coming down.
For more information about these lovely islands, visit: www.guadeloupe-islands.com