Château, Rivers & Wine
). We spent the day touring the Left Bank (Gironde River) of Bordeaux including Medoc and Pauillac, Saint-Julien, and Margaux.
I don't think I've ever seen as much white river cobble as I have in the vineyards of the Medoc region. It seems the higher the volume of these rocks in the soil, the higher the quality of wines and the more expensive the vineyard terroir. The overall elevation of the land is very low in this wine region; some of the most premium estates seem to be located slightly higher than the flat vineyards of much of the land here (and some of their vineyards are almost white with rounded river cobble). And the vines are planted extremely low to the ground – to absorb as much heat and reflection from all the rocks.
The mood changes dramatically when the sun is shining and as the weather warms up – as does the visual beauty of seeing all the new growth in the vineyards and the impressive historic châteaus under bright blue sunny skies!

We have been hobbled by the grey weather and the cold temperatures the past week; today was like an emotional release with spirits soaring.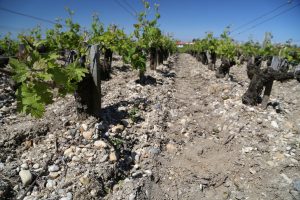 We now have stopped by all the First Growth wineries on this trip – all are equally impressive but just as much so are the lesser known smaller châteaus (and with approximately 8,000 châteaus in Bordeaux there is no shortage of these). It is a short drive outside of Pauillac to "Château Row" – at times it felt like being on Rodeo Drive people watching, only in this case it was Château spotting!

One impressive estate well worth a visit is Château Pichon-Longueville for its dramatic architecture and surrounding grounds.

Another, Château Prieuré-Lichine offers a very informative tour of the winery and aging facilities combined with a tasting in their hospitality center. The wines are well made and priced reasonably.

The culinary team on our Viking Cruise ship setup ahead of time at Château Kiriwan so by the end of the day they were waiting with a number of courses already prepared. After a full dinner (as in several hours!) there was still more food and drink; we were treated to cheese and fruit complemented by a Sauternes wine back on board.

The pace of this trip so far is ideally paced and for me, a chance to relax after the hectic travel schedule of the prior few weeks. The itineraries are flexible enough that you can take the sightseeing activities at your own pace opting for one or opting out of another. At least one included off board excursion is offered each day (not always the case on ships) and there are additional off-board trips offered as well.









Today was arguably the highlight of our visit to Bordeaux as part of our Viking River Cruise, (