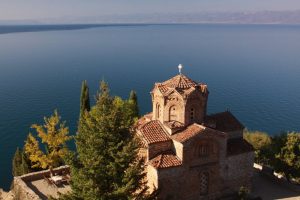 I've discovered Paradise – Ohrid on the shores of Lake Ohrid in Macedonia. This is the ideal spot for anyone to spend a few weeks or months or more. But especially for travel writers – where one can easily be inspired to write by the natural beauty of this area.
September is a good time to visit – many of the tourists have already left, leaving still warm weather and empty beaches for one to enjoy. Bring a lot of good books, browse the shops and art galleries, enjoy the cafe's right next to the small rocky beaches – jump in for an early morning swim when it is warm, calm and the water is like glass.
The old town is perched high above the shores of the lake and the street are narrow, steep, windy an lined with cobblestones.
Visually this town is stunning on a clear day surrounded by the blue waters of Ohrid – but there is much more to this town than its visual appeal. Historically there are a number of ancient churches in the old city – it is the site to Europe's oldest university and just below the high point of the old city are some ancient ruins. These ruins are very important because it is where the Cyrillic alphabet was invented – used in Russia, a number of Eastern European countries and even in countries still further to the east.
Here are a few pictures to drool over – I know we are, and we are still here!
Lake Ohrid Views Macedonia from Dave on Vimeo.