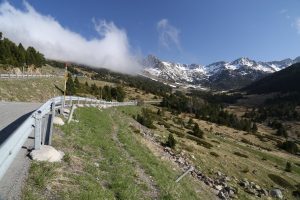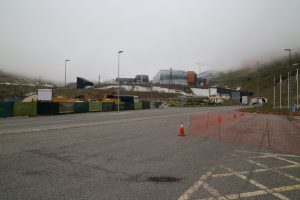 We arrived at the summit pass between France and Andorra and were greeted by thick fog. Opting to pay the €6 tunnel fee (rather than driving up over the ridge on the old very windy road) we were very surprised when we burst through the tunnel into brilliant blue skies and sunshine radiating all around us. A long valley lay below us with jagged still snow covered peaks surrounding. It was like going from a June Gloom Malibu California day where visibility is severely hampered to somewhere high up in the Sierra Nevada mountains on a clear summer day in a matter of minutes.
Spotting what looked like another very tiny country on the map between the the French and Spanish border our curiosity was immediately perked. It turns out this tiny piece of land, entirely contained within the French border is called Llivia and is the site of a Spanish exclave separated from Spain by merely a kilometer. We will visit in the next few days.
The main road through Andorra winds down a steep at times valley then widens and narrows depending on where you are in the country but is always surrounded by rather quickly rising and steep peaks. Plenty of gas stations dotted the main road as we drove towards the nation's capital city as well as modern looking towns serving the ski resorts.
The city of Andorra la Vella itself is very compact and vertical; there is not much land in this part of the valley although there is less developed real estate higher up the valley but it is certainly flatter here. We saw photographs from many years ago – the city then was just a small collection of buildings surrounded by farm land. Today one has to look hard to spot any farmland in the city although there is still some on the edges.
Tall buildings are spread out over all the valley with the very fast moving Gran Valira river running through the city. From our rooftop slightly elevated from the city center, we have excellent views overlooking all of the city and the mountains beyond.
There is plenty of shopping in the center of town including a very cute but small historical center. Fashion, vices (alcohol and a number of cigarette shops), restaurants and hotels all line the main parts of town.