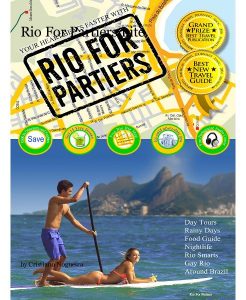 This slightly larger than a pocket book size full color guide is ground zero for visitors to Rio seeking fun, food and plenty of party experiences including information about trendy pubs, the nightclub scene and street parties. Cool photogrpahy is a big part of the book – while the book size is not large, it is approximately 200 pages and packs quite a bit of information. Capirinhas, crowds and cool parties – reference 'Rio for Partiers' for all this and much more!
Other useful information includes the "10 Rio Commandments", a yearly event section, beach tips, a special section devoted to Carnival, music and plenty of other suggested both urban and outdoor activities.
Regarding food, this book boasts plenty of bite sized sections ranging from street food, bar food, alchohol, fruits and juices and a section titled "stuff you never ate". A number of recommended restaurants are listed organized by types of food. A pull out map of Rio is included along with $300 in coupons for discounts and freebies.
Short at a glance sections are also presented of other popular Brazil destinations along with suggested tour providers.
This book also won several prizes for new publications from NATJA (The North American Travel JOurnalist Association).
To purchase this book