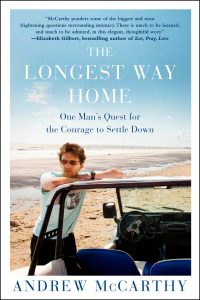 The Longest Way Home by Andrew McCarthy When one has wanderlust it takes control of your life and at times supersedes everything else – including relationships. Long time actor Andrew McCarthy knows this well. For four years he travels the world without committing to his fiancee. Every time he travels, he also says goodbye to his two children from his first marriage. Why does he have this insatiable thirst for moving and not "settling down"?
This can be partly answered through travel; when traveling Andrew explores his inner workings, reflects on his relationships, confronts his fears and as he says, "the motivation is to go – to meet life, and myself, head-on along the road." Throughout the book he chronicles his solo travels both outwardly as well as the inward journey and introspection that travel leads him on. Andrew is torn – from his family yet at the same time, from the exhilaration that traveling to someplace new brings.
He scales Kilimanjaro successfully, floats down the Amazon from Peru to Brazil and explores the wilds of Patagonia. Ultimately he and his fiancee (known as "D") do get married. His writing is engaging, insightful and often very personal.