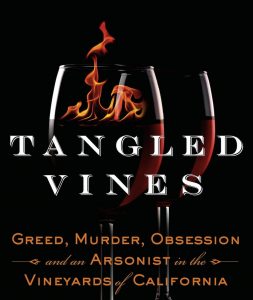 'Do not buy this book'! It will change the way you look at the wine industry and will certainly make collectors of high end wines think twice about their purchases.
Author Dinkelspiel has created a mesmerizing look at greed, deception and crime throughout California's storied wine history. Central to the story is Mark Anderson, a wine aficionado whose nefarious activities in the wine world culiminate when he sets fire in 2005 to a wine warehouse he managed in Vallejo – severely hurting a number of vintners including the loss of priceless vertical collections. This fire destroyed 4.5 million bottles of wine worth $250 million and was the largest wine related crime in history.
The story doesn't stop with him – Rudy Kurniawan frauded collectors out of millions with fake wines, Fred Franzia, owner of Bronco Wine Company (producers of a wine known as 'Two Buck Chuck") passed off cheaper grapes as more expensive Zinfandel and the list goes on.
California's early wine making heritage and the center of wine production in the state was orignally in Los Angeles and surrounding regions. Dinkelspiel provides an excellent glimpse into the state's early winemaking days.
She also has ties to California's early wine making heritage and was indirectly affected by the warehouse fire in Vallejo. Her great-great grandfather made a port styled wine – 175 bottles of his 1875 vintage were stored in this warehouse and were lost forever.
To purchase this book