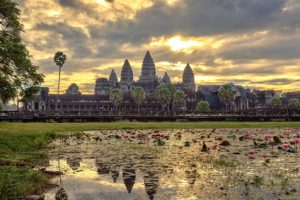 There is a very wide range of lodging options in Siem Reap ranging from 1-$2/night bottom of the barrel accommodations, to guest homes ranging from $3-$15 a night, to fancy resorts which are of course priced much higher. A room with Air conditioning should run you around $8-10 a night. Despite the many guest homes and other lodging options, there are still many more being built. Most of the guesthouses will accept major credit cards, i.e. Visa, Mastercard.
Many of the fancy resorts our outside the main center of town – some are located on the road to the airport, others are situated off of Charles De Gaulle Blvd which is the main road leading to Angkor Wat.
Most of the guest homes are centrally located – within walking distance to Internet cafes, food and the old market.
A recommended site for Angkor Hotels is: www.angkorhotels.org
Several options for guesthouse lodging are listed below:
Baca Villa Guesthouse – Baca Villa is located in the center of town, just 5 minutes walking from the pub street and shopping center.
– Also offers bicycle tours trough the country side of Siem Reap. (Road & and mountain bike's for rent).
– Tours: They have their own transportation – tuk-tuk's, Jeep, Minibus (10 pax) for visiting Angkor and other places like Beng malea, Preah Viheal, Kbal Spen and Banteay Shrey.
– Barbeques are held in the evenings in their garden
– All rooms have inside bathroom, AC, Fan and Cable TV.
Website: www.baca-villa.com
Mom's Guesthouse (not to be confused with another guesthouse called Mommy's) has 17 rooms – some with AC. This guesthouse is located near Bayon Address. "Mom" runs this – and she is always around. Prices run from $5 to $20/night/room. Phone Number (855) 063 964037 –
Popular Guesthouse has basic rooms fro $2-3 per night, a double for $4/night and rooms with a private bathroom for $5-7. A rooftop restaurant serves food. They are located just south of town near the Sieam Reap river. Phone: (855) 015 917377 Email: chom@camnet.com.kh
Red Lodge is located just minutes from the old market – Phone Number: (855) 12 614689 They have single or twin rooms with or w/o AC. Private baths and toilets are available. They offer free use of bicycles, free tea & coffee. They also have a nice courtyard, a bar, a restaurant and books you can read. For more information please visit their website at: www.redlodgeangkor.com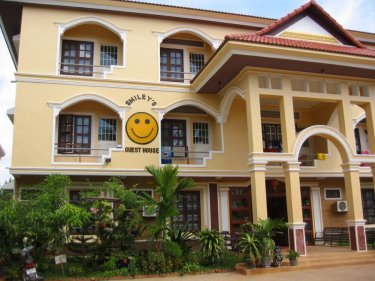 Baca Smiley's Guesthouse is located at close somewhat close to the intersection of Road 6a and Sivatha Road on a small dirt road. This hotel is very nicely furnished, clean, comfortable and quite inexpensive. If you arrive early try for a room near the main reception area as they are quiet and you don't have to walk all the way to the back of the hotel.
Smiley's is very easily recognized by the large painted "smiley' face on the front of the hotel! Rooms run between $5 and $12 per night depending on whether you have AC or a TV in your room. A restaurant is on site situated a little ways behind the main lobby – they have just average food. If you eat here, give them your room number and the cost will appear on your final bill when you checkout. The staff is attentive to your needs – they will arrange transportation and can answer many of the questions tourists might have.
They are currently adding more rooms to this hotel. Phone number: (855) 12 852955 or email: 012852955@mobitel.com.kh
Update: 5.12.11 – the original Smiley's building as seen above, has been torn down and a new hotel has been built in its place.
Victory Guesthouse is located on the main road that from Poipet to Siem Reap – as you enter Siem Reap it is located on the right hand side of the road. The rooms are simple, clean and comfortable. For about $10/night for an Air conditioned room, or $4 to $5/night for a non air conditioned room, you can't go wrong. Hangtap Tours deposits tourists fresh from the Poipet border here.
The problem with this hotel is not the rooms but with the owner and staff. I arrived to look over the rooms at night and was told that it is not safe to walk around the town of Siem Reap at night – so I should just stay at this hotel. All the guide books I have read say Siem Reap is quite safe to walk around at night – I walked around at night for several nights and never felt uncomfortable.
The service was quite lousy here. At breakfast the person I was with did not even receive what she ordered. While eating several men stood hovering around at our table trying to listen in to our every word. During the meal they tried to get us to commit to going on one of their "tours". Mr. Sok Mao is the director of this hotel – sambosay@yahoo.com Phone Number: (855) 63 760 176