There are many hotels, hostels, and guest homes in Arequipa. The following below are just a few that the author is familiar with. You might be surprised, but you can often bargain or ask for a better price from many hotels. If you fly into the Arequipa airport there are several tour agency and hotel booths near the exit of the airport. The actual airport is quite small and easy to get around. You won't get lost! If you have additional lodging options for this page please email dave@pon.net with your suggestions.
Ensueno Hotel is a mid priced hotel located at Rivero 421 – 423. This hotel is very centrally located and affordably priced for the luxury your receive. Their rooms start at about $21 per night. Currently there is no website for this hotel.
Hostal La Gruta is a small private hotel located minutes away from Plaza de Armas at Calle La Gruta 304. Breakfast is included with the room rates – prices start at $45 per room. For more information visit: www.lagrutahotel.com
Hostal Tambo Viejo is very popular with budget travelers, and for good reason! Its safe clean and cheap. Centrally located is plus. They have a nice patio and courtyard area. For more information visit their website at: www.tamboviejo.com
Hotel Posada El Castillo is located about 20 minutes from the central plaza. The owner is from Holland and speaks good English. European style Inn. Very clean and comfortable stay. Freshly cooked breakfast, Internet access is free. Prices run $24 to $42. For more information visit the website: www.posadaelcastillo.com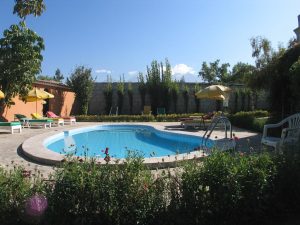 La Casa de mi Abuela is located at Jerusalen 606. This is a three star affordable hotel. Prices range from $25 for a single room to the low $30's for a double. This hotel is safe, clean, comfortable and the grounds are well manicured and very suitable for relaxing. Additionally the entrance is well guarded, even though the guard may see you enter and leave several times he always asks for your room number and your name!
There is a nice pool, albeit unheated, hammocks and tables in the inner courtyard. A restaurant and a small internet cubicle are also available. (the price for the use of the net is more than you will pay at a regular internet cafe and is not included in the cost of the rooms). The rooms are nothing fancy – but they are clean. The showers in the rooms I stayed in were spotty at best. PHONE: 24-1206 Web: www.lacasademiabuela.com or email: lacasa@terra.com.pe
La Maison d' Elise is a fancy hotel located at Av Bolognesi 104. Prices start at $54 a night. Be sure to take advantage of their beautiful swimming pool. For more information please visit their website at: http://aqplink.com/hotel/maison
Sonesta Posada del Inca is located right next to the main Cathedral in Arequipa's Plaza de Armas. This is one of the fanciest hotels in Arequipa. Prices start at $78 per room. The Sonesta chain of hotels have locations all over the world. For more information about this particular hotel visit: www.sonesta.com/peru_arequipa