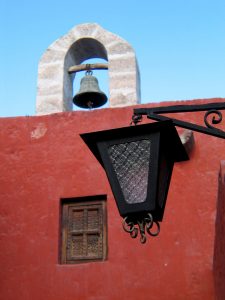 The Santa Catalina convent is a city in and of itself. You can choose a guided tour from one of several languages, you can wonder among the convent yourself, or as I chose to do – you can combine self touring with the guided touring.
The guides are all women, smartly dressed in gray/light blue suites. There is no set fee for their guiding services; you decide what to pay them at the end of the tour which takes approximately 90 minutes. I preferred to spend 3/4 of my time wandering on my own filling the rest of the time walking with the tour guides. There are always several tours running at any one time and if you are multi-lingual you can bounce from one tour to the next.
This convent, founded in 1579 is by far the finest example of Arequipan colonial architecture. Famous for withstanding many violent historical earthquakes the thick walls stood solid and protected over 450 cloistered nuns up until 1970.
At this point, the nuns decided to open their convent to the public for financial reasons. They moved their cloistered living quarters to a small section of the convent where their numbers have dwindled to about 20 today. I recommend you spend at least 4-5 hours here if not longer. Be sure to visit the very brightly colored bathroom just past the entrance. This is a great place to take some photos, however do not lean on the walls as the paint is really crumbling and you will be covered with paint dust!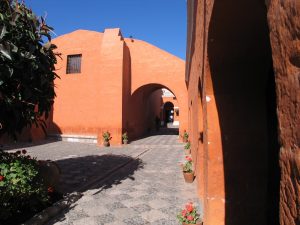 The highlight of this walled convent is the beautiful architecture including arches, little porticos, courtyards, winding walkways, steep steps that lead to the rooftops which provide
great overviews of Arequipa & El Misti and also tastefully whitewashed walls in a variety of bright and pastel colors. Additionally, be sure to visit the fountains, the large indoor ovens and cooking areas, the churches, and the excellent art gallery featuring important religious paintings. There are over 400 paintings in the main gallery – these are from the Cuzco School of Painting which was predominant in Peru during the 17th and 18th centuries. These are oil paintings.
The convent is open from 9-4pm every day of the year except Christmas, New Year's Day and Easter Friday. The cost is about $10 per person. The convent is located at: Santa Catalina #301. PHONE 51-54-229798. You can email them at: informes@santacatalina.org.pe or visit their bilingual website at: www.santacatalina.org.pe