Boe Bae Market typically is the market where many of the vendors you buy from on the streets of Bangkok buy their items. This market opens at 3am!!! (generally before most tourists are awake) and closes in the very early morning. It is located in an area called Sapan Khaw closest to the Mahanak intersection. A fire in late 2006 shut down part of this market – but it recovered rather quickly.
During the day this market is home to a large number of small shops selling clothing – many of the shops sell blank shirts and other upper body wear. Embroidered logos, silk-screening and other designs can then be put on the shirts. The shops in and around the Boe Bae Tower building are an excellent place if you are interested in this type of shopping.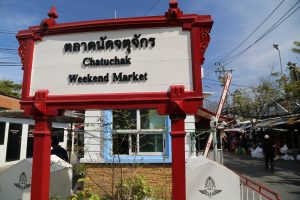 Chatuchak Weekend Market is worth going to if you have some extra time on either Friday, Saturday or Sunday. It is located at Chatuchak Park on Phahonyothin Road. Do not expect this market to be empty! Get off the Sky Train at the Mo Chit Station – this is one of the northern most stations along the Sukhumvit Line. An incredible variety of items are sold here. This market is divided into 26 separate sections according to the type of goods sold. For example, there is a pet section which seems to include household pets as well as other animals which when bought, appeared to be destined for the cooking pot, home and garden, ceramics, orchids, etc.
A bank and several ATM's are located on site for those times when you want something really bad but invariably have run out of cash. Several decent restaurants are also located in the market. While standing next to the clock tower in the middle of the market, during one visit, we were caught in a severe thunder and lightening storm followed by a horrific downpour. Many of the merchants scrambled to cover their wares with blankets and plastic but were only partially successful. When you get rain that strong there is only so much you can do. Fortunately a good majority of the market is covered by tin roofs and we were able to stay reasonably dry.
Floating Market on Klong Dao Kanong is the main Floating Market in Bangkok. This is a bit touristy and can be quite crowded – but there are still good food and photographs available.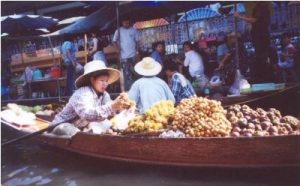 Damnoen Saduak The more authentic floating market (although more tourists have discovered this in recent years) is held about 90 miles southwest of Bangkok in the Rajburi Province at Damnoen Saduak. By bus, it will take you about 90 minutes to reach this market. Damnoen Saduak is held daily from approximately 8am to 11am. There are many vendors floating in small dugout canoes along the canals selling everything from freshly cooked food, to exotic fruit to crafts.
The food is cooked on small stoves contained in the dugout canoes. Be sure to try this food – its quite authentic – I've never had any problems with getting sick from the food served here. Several small tour companies will rent a canoe for you – usually a 90 min to a 2 hour trip is sufficient to fully experience this floating market. For more information about this market visit the web site below: http://asiatravel.com/floating.html

Pak Khlong is one of the world's best flower markets. It is open 7 days a week and there are blocks of flower vendors selling a wide variety of various cut flowers. This market is near the Memorial bridge, on the border of China Town down by the Chao Praya River – not far from Wat Po (within about 10 minutes walking distance). Vendors sell both wholesale and retail and the prices are amazingly inexpensive. This is a fantastic place to spend some time browsing through the different shops even if you aren't in the market for some flowers. Wonderful colors and aromas dominate. If you do end up making a purchase, your significant other will thank you – overload him or her with both quantity and quality! The TV show "The Amazing Race" filmed an episode here.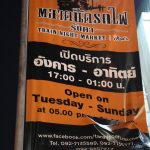 Rod Fai Night Market is highly worth a visit. It is a sea of colorful collection of rambling tents housing a wide diversity of products. Visitors are first greeted by a number of restaurants and bars but keep walking – there is much more to explore here. This market was originally located near Chatuchak but moved to it's current location in 2013. Highlights of a visit here are a number of the unique products that you might not be able to find elsewhere – this includes clothing, numerous antiques and vintage items and several higher end 'craft' barbershops. Somewhat artsy feel to part of this market. Over 2000 vendors total. The entire market is very popular with young people.
Plenty of food and drink and walking through these stalls is certainly one of the highlights of a visit here. Gets extremely crowded on the weekends – be vigilant for pick pocketers working the crowd – especially when it becomes wall to wall people through some of the alleyways. Open Tuesday through Sunday from 5pm until 1am. No good public transportation stations nearby – probably the closest would be to take the BTS to the on Nut Station and then catch a taxi from there. Traffic often very bad in the vicinity of the market on Srinagarindra Road. Located next to the Seacon Square Shopping Center.
Taling Chan Floating Market – This market is located about 8 kilometers from the Chao Praya River along the Chakphra Canal. From the pier near Siriraj Hospital along the banks of the Chao Praya River, you can either take a taxi (they tend to drive the long way) or catch a small Songthaew (small passenger transportation vehicles with seating in the back). Either way, expect the ride to last about 12-18 minutes one way.
This market is only open on Saturday and Sunday. Mornings are best (before 1130am) as there are more vendors in the canal – but they are open all day for shopping and food. There is a long walkway leading to the actual floating part of the market and there are many fruit and other Thai food vendors along the walkway – however the best seafood and soup is located on the floating part of the market. Long walkways lined with diners eating – sitting on the boards are common place. Fantastic tiger prawns and cooked crab are among some of the seafood culinary treasures.
No napkins or tissue are provided by the vendors so bring your own. This is the type of food where you almost need to take a shower after finishing! A bathroom next to the canal is a welcome respite after finishing your food! Not many western tourists make it out here although in recent years more tourists are starting to visit.