Bangkok is a great place to party – with its mix of bars, night clubs and both locals and expats staying up until the wee hours. With weather that is warm in the evenings rooftop bars have finally become a 'thing' in Bangkok – delivering great views over the city skyline paired with a variety of cocktails, wines and beer and usually small bites.
So grab a friend, choose a bar and head out for a fun evening of conversation, drinks and memorable venues.
008 is a super secretive exclusive cocktail bar located on the 11th floor of the hotel building next door to the Eight Thonglor luxury shopping center. Address 88/332 Soi Sukhumvit 55. As one exits the elevator on this floor one has no idea where this bar is located. Turn right and head past the restaurant exiting out doors below the infinity pool. Then turn left and head all the way to the black unmarked door – gently push. You will enter another world. Dimly lit. Candlelight flickering. Deep leather. Choose a table next to a window. Glance through the wooden slats from time to time – the glittering Bangkok skyline is your treat.
Sultry saxophone playing perhaps. Order a sexy drink – our recommendation, The Captain. And enjoy with the company of an alluring and well-dressed woman sitting directly across from you, the flickering shadows playing across her smooth and inviting skin.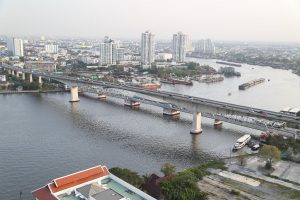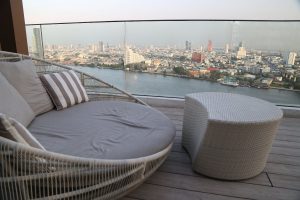 Attitude Bar, Avani Riverside Located across the river and down from the Asiatique Shopping Center this modern hotel (the Avani) sports a beautiful rooftop bar, pool and lounge area located on the 26th floor. A bit further away from the main part of Bangkok – a visit here delivers a relaxing, medium high end experience complemented with wonderful views of the river and the skyline of Bangkok.
Not necessarily known for their food – but they are known for their drinks and the views. Great place to come in the evening before dusk – note that the bar does not face the sunset direction but is well worth visiting during sunset to watch the sun's light fade over the city.
Open from 11 until 1130pm daily. Also live music plays here. For more information, visit: www.attitudebangkok.com

Cielo Skybar & Restaurant is located in the W District next to Sukhumivit Road – a several minute walk from the closest skytrain stop of Phra Khanong (exit number 3). Less known then some of the more popular rooftop bars and restaurants including Lebua and the Octave on top of the Mariott Thong Lor. But that is fine – you might actually be able to get a good seat if you show up here on a weekday evening. Nice place to watch the sunset – they open at 5pm. Shoe dress code strictly enforced at the lobby/entrance – must wear closed toe shoes.
Located on the 45th floor of the Skywalk Condominium (part of the W District) the ride to the top in the elevator is quick. Features a number of small tables encircling plenty of space outdoors on the terrace as well as bar stool seating and seating at either the indoor or outdoor bars. Also features excellent views of the Bangkok Skyline in all directions (be sure to walk around the top) either before sunset or after. Come here specifically for the views and well-made cocktails (although note they are a full restaurant as well). One of the best Caipirinha's we have ever had – a twist on the Brazilian versions we have enjoyed over the years. The one here is a Passionfruit Caipirinha.
A unique highlight of a visit here is the Skywalk glass walkway – offering unobstructed views all the way down the building to the pool below!
A hip and often well heeled crowd. The choice of music is fun and pairs well with the feeling you get once you are sauced a bit on a few drinks – live music also plays at select times. As you enter the outdoor seating area for best cell phone reception request a table to your right. For some reason, the other side of the skybar has very limited cell phone service. Visit: www.cieloskybar.com
Location: Sukhumvit Skytrain Phra Khanong
Iron Balls Distillery is located about a 5-minute walk from the Ekkamai Skytrain stop in the Park Lane Shopping Mall. Easily identified compared to the nearby buildings due to its unique rod-iron looking lined doors and windows. A step inside feels like walking back in time to perhaps a speakeasy in from decades ago Paris.
Hardcore high-end Bangkok bar hounds may notice some similarities in the design or feel of the interior – that is because it was created by acclaimed Australian born interior designer Ashley Sutton (known in Bangkok for his eclectic and intriguing interior designs centered around bars such as Maggie Choos and Iron Fairies).
This is the first craft distillery in Thailand. The ingredients used are all natural, high quality featuring a number of ingredients from South East Asia. Known for the Iron Balls gin – made with juniper berries, lemongrass, passionfruit and coconut oil. Limited bar seating – the interior is fairly intimate.
Visit: www.ironballsgin.com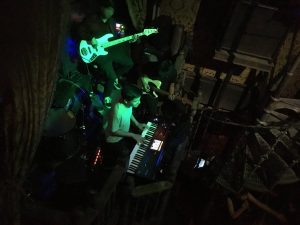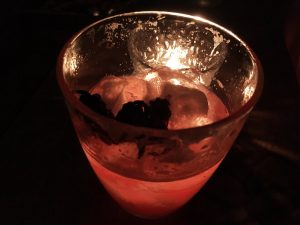 Iron Fairies This dimly lit eclectic establishment attracts a number of well heeled locals and expats converging for good conversation, a somewhat bizarre setting and a wide diversity of alcoholic drinks prepared by their creative mixology team including the popular absinthe fairy cocktails.
Look for the tiny metal fairies that blend in due to the somewhat dimly lit environment here. Some have been taken by greedy patrons so signage now indicates it is bad luck to take a sweet little metal fairy with you. A visual highlight of a visit here are the hundreds of back lit tiny glass vials containing 'fairy' dust – in actuality the vials contain glittering sand.
Almost dungeon like in its presentation there are multiple levels accessed via narrow wooden stairways which can be a bit challenging to navigate especially after a few drinks.
Live music plays in a tiny alcove in what looks to be on the 2nd floor + a half floor.
And for those in the know – check out the tiny VIP room on the 3rd floor – a special space reserved for polished patrons who have special access to his hidden alcove. Accessible via narrow walkways and stairways culminating in a hobbit like door that most people will have to significantly duck under to enter the VIP room.
Closed toe shoes required although they did not check the last time we visited. Several select other Iron Fairies are located in other large Asian cities. Location: Sukhumvit Skytrain Thong Lo

Jack's Bar is located within a short walk of the closest Skytrain stop, Saphin Taksin (the Silom line). We love character or class when we travel, this bar is all about character even though it is located within 'spitting' distance of some of the world's finest hotels (Peninsula, Oriental, Shangrila etc) and the IconLux shopping center (with its 'gold corridor' featuring some of the planet's most luxurious brands is located within a short distance across the river. But Jack's remains – a shack like establishment with plenty of rough edges. And a great view directly overlooking the exotic Chao Phraya River. With a private dock in front used by long tail boats.
Seating is limited here; the coveted seats are along an old wooden bar top directly facing the river with a few tables scattered about on top of the wooden planks. One comes here for the Thai beer but they also serve food (Southern Thai focused). Higher prices then street food of course, but still extremely reasonable considering the location. Drink a Singha, drink a Leo and raise your glass to arriving passengers walking up the wooden walkway from the pier. Some will smile, some will nod, some will pass you by, but most will appreciate this random toast. Bangkok is your oyster and Jack's is your shell – watch the river traffic pass by and drink some more. Life is good at Jack's. Get here early afternoon to have best chance of getting a seat. Evenings can fill up quickly.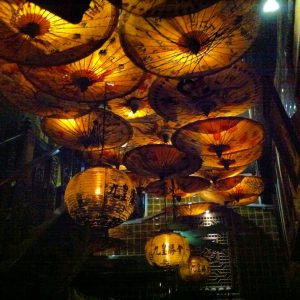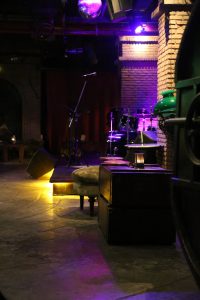 Maggie Choo's is in "hidden" under the Novotel Fenix Silom – 320 Silom Road (within easy walking distance of the Lebua Hotel). The theme here is old world China Opium Den. It is dark both in the restaurant and in the bar next door. Colorful paper umbrellas decorate the ceiling – the food is ok – the real attraction is a visit to the bar immediately next door – accessible via a small door through a hanging cloth.
Swings are setup and often sexy women will be slowly swinging back and forth. Music is part of a visit in the evening – one popular group is Jul and Co a French musician who brings a unique style of music to the Bar. During a recent visit, a lady was sprawled out on the piano blowing bubbles and slowly waving a fan while Jul was bursting the pipes on his flute. Location: Silom Skytrain Surasak For more information click here.

Nana Plaza billed as the world's largest adult playground, like other adult districts in Bangkok, for full effect, one should visit after the sun goes down. Named after a prominent Thai family with a last name of Nana. Three floors of sensual pleasures, sensual sins waiting for whatever your pleasure. Unlike some of the other 'naughty nightlife' parts of town IE Patpong and Soi Cowboy, the feel here is decidedly more adult in nature.
Security guards often stand out front making sure those who enter are age 20 or older. Many scantily clad mostly women (some lady boys who look very much like women) hang out in front of each of their respective nightclubs on all three floors. Taking a peek inside the entrances of these clubs, one can often see women often pole dancing.
Area bars or nightclubs have appropriate names like Stumble Inn and Spancky's. For reference, the bars are mostly located on the ground floor while the go-go bars, nightclubs and show spaces are located on the upper floors. And for serious shoppers, the top floor contains several short time hotels where visitors can spend some time with new friends.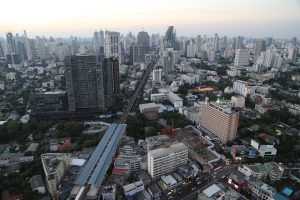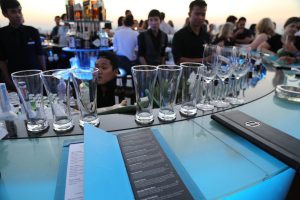 Octave Bar & Rooftop Lounge is located at the top of the Marriott (48th floor) – a few minutes walk from the BTS Skytrain Thong Lo. Two elevators are needed to reach the lounge – the main elevator in the lobby on the ground floor – to the 2nd elevator (a much shorter ride). A circular bar is located in the center of this tiny open air lounge – with some table seating on the perimeter. There is some additional outdoor seating on the floor below the bar. Sometimes this bar will offer a sunset discount on drinks.
It is a great place to people watch and hear the hum of this city at your footsteps. Glance at the traffic lined up on the great Sukhumvit as it makes it's way through the city towards the Chao Praya River and be glad you are not stuck in it! And make your way up here to watch a hazy sunset. For more information click here Location: Sukhumvit Skytrain Thong Lo

Patpong has built a wild reputation for intriguing sex shows and "after hours" sexual entertainment. There are still many risque sex shows at night but it is also an evening market – and you will see people from all walks of life here. It is not dangerous – we have seen families with children browsing the night market. The shows are plentiful – the salespeople with their "sexual show cards" will walk up to you and try to get you to see their particular show – these cards list what you will "supposedly" see inside. A common card they show tourists is one that lists "DVD's, CD's, & Sex"!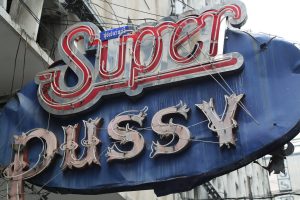 From a financial standpoint, be very careful if you go to one of these shows – the outdoor salesperson may tell you the show is free but that you need to purchase a beer once you get inside. Once you are inside a waitress will show up asking for your order. Ask her how much the cost of each beer is. Ask this question several times. After you have downed most of your beer what typically happens is a big man and a lady will walk up to you and sit next to you. These are not the people that took your order originally. They will demand payment and at this point its most likely NOT the original price you were quoted. They will typically quote you a price of at least 1000 baht per beer and then if you insist on this "new" price being wrong they will pull out a card that says the new price. They may even tell you the person outside who introduced you to their bar does not work for them and therefore his price is not correct. Umm yea!
However you are in the right – this high price is not what they quoted you and was not listed on any menus. It takes some serious guts but all you have to do is pay the original price and then start walking out of the dance bar. If you have to, tell them you will go to the police. This usually shuts them up. We've been through this exact situation a number of times and always end up walking out of the bar after almost yelling at the money collectors. We do NOT pay their inflated prices that they hit us with after we have finished our beers.
Rabbit Hole. Totally hidden away on Sukhumvit Soi 55 in Thong Lor between soi 5 and 7 and between Ainu Japanese bar and Ramen Ajisai. One of those places you have to know about ahead of time – a referral typically as there is no sign. A simple wooden door which one pushes to open during their normal business hours is the only entrance into this dimly lit speak easy.
The first floor features a bar several small tables and a small room in the back with 3 or 4 tables. The upstairs feature rooms for slightly larger groups. The cocktails? Seriously, bring it. The Rabbit Hole delivers an exciting mix of creatively prepared drinks sourcing from a wide diversity of ingredients including some one rarely sees (ie Mangosteen bitters). Hard to choose but our favorites include the bikini bod and the passion martini. All curated by a bartending team, each of whom have earned a number of accolades in the past for their mixology prowess.
A fun and intimate place to hang out with friends or to enjoy a romantic hour or two with that special someone. A mix of locals, those who work in the world of mixology and some tourists who somehow found out about this place. For more information, visit: www.rabbitholebkk.com
Soi Cowboy 2 is a street of decent length which comes alive at night. Come here during the morning and it will feel dead – with no hip vibe whatsoever. But at night, the girls and guys and lady boys come out, the alcohol flows, the neon pink lights shine brightly, the music plays loudly until 3am and the street becomes a mix of girls working the numerous bars and tourists wanting to check out the 'action' – some of whom physically check out the action. And every day, 365 days a year, the process is repeated.
One can enjoy some alcohol in the midst of this urban mishmash – with plenty of bars to choose from. The prices are more then if you find a local bar further on the outkirts of town but typically this is not a street you will be scammed for in regards to purchasing alcohol.
This red light district is highly visible and highly accessible. Located within a very short walk of the Asoke metro stop (as in right next door) and an also short walk from the Ekamai Skytrain stop and the Terminal 21 Mall. Soi Cowboy is a classic example of the contrasts within very short distances in Bangkok. One can walk out of Soi Cowbow, turn right on Asoke Montri Road and with a few feet of leaving the go go world, one is immediately back ot the real world – or simply walk over to Terminal 21 for a contrast in feel.
Several scenes for The Hangover 2 were filmed on this street.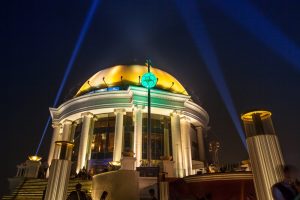 Skybar, Lebua State Tower. The Lebua State Tower was made famous by appearances in the movies, Bangkok Dangerous starring Nicholas Cage and the crazy Hangover II. Lebua always tried to maintain a strict standard of dress code but when Hangover II came out, tourists started showing up in shorts and t shirts and flip flops and during our several visits, the dress code was interesting – with both ends of the clothing extremes represented by visitors.
There a number of restaurants in this high rise – Breeze, ten floors below the top boasts a beautiful bridge (lit up blue at night) that leads out to a lookout over the city. The circular Skybar gets crazily crowded and is on the roof along with the fine dining Sirocco restaurant. In fact this Skybar helped usher in a new trend of what are now a number of other Bangkok Skybars on top of tall hotels. You can enjoy a dinner up here, certainly the amazing views especially along the Chao Praya River at night as it snakes through the city – or simply a drink. The "ball" that drops every New Year is also on display here – it is the world's highest ball drop!
The rooftop lounge serves small bites and drinks. if you want to spend money on good wine you can do so here – several bottles of wine are in the $15,000 to $18,000 dollar range. Compared to other restaurants / lounges the corkage fee (if you bring your own bottle of wine is exorbitant – we were quoted $350 USD). Visit: www.lebua.com/sky-bar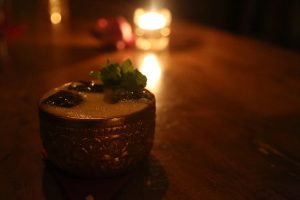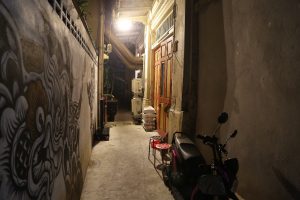 Tep Bar is located in a cool part of town, Charoenkrung (part of Bangkok's Chinatown) not far from the Hua Lamphong metro stop and only a 5 minute walk to the Hua Lamphong Railway Station (Bangkok's primary train station). This part of town, especially feels like walking back in time – tiny sois and alleyways pass by a number small shops and restaurants.
Located in a restored shop / residence gets busy especially on Fridays and Saturdays. Part of the appeal is a live band featuring traditional Thai music. The music is nice if it was turned down many volumes; it is so loud in such a small space that one ends up shouting to try and talk even if you are right next to your companion. This quickly wrecks an evening.
Offers a variety of stiff drinks including some made with strong Thai whiskey. Ask what vodka they have and a host may well carry the bottles to your table so you can pick one. No signage – can be a little difficult to find if coming by car. Approximate hours are daily from 5pm until midnight or 1am.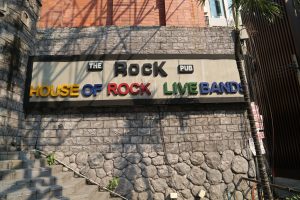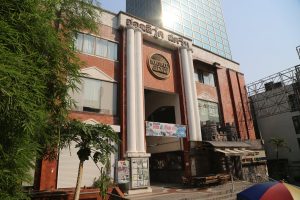 The Rock Pub has become an institution in Bangkok's alternative rock scene – hosting numerous local and International rock bands over it's 30+ years in the business. Located within a few steps of the Ratchathewi BTS Station (exit number 2 or 4) and just down the street from the edgy artwork at Grafitti Park (Chalerma Park). Their founding date is March 1, 1987 and every year rockers from around the country come to play and celebrate.
Door open at 7pm daily bands usually don't start playing until around 10pm – gets the busiest on Friday and Saturday nights – light – midnight and The focus of the music scene here is on the heavy stuff (heavier the better!) from grunge to heavy metal. If you want to fit in, wear black. If you want to stand out and make a visual splash, wear white.
Located on the edge of the brick clad Hollywood Street Shopping Center – from the outside with its faux stone and castle turrets it resembles something out of Medieval times – perhaps even something out of the old Flintstones TV show or the Medieval Times fun park in Orange County California. However it sports a modern vibe once inside. Drinks are affordable and the atmosphere is relaxed (albeit loud). For more information visit, www.therockpub-bangkok.com and stop by their Facebook page for the latest acts to hit their stage.