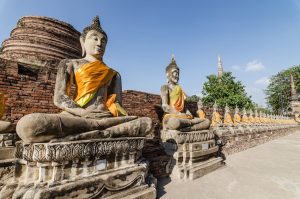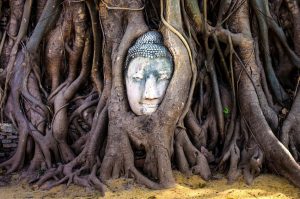 Ayuthaya used to be the largest and main city in Thailand before Bangkok. Its located about 90 minutes from Bangkok by bus. It is well worth seeing if you have a day. It takes most of the day to see this city when you count your travel and visiting time.
Ayuthaya is a mix of ruins in both a restored and un-restored state. These ruins are not all in one location – as a result you have to take transportation between each of the ruins. Visits can reach Ayuthaya from several public transportation locations within Bangkok, including from the Mo Chit bus terminal and on a train from the Hualamphong Station.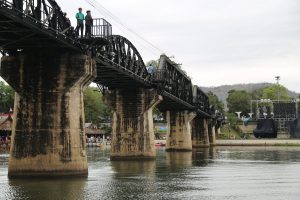 Bridge over River Kwai (Death Railway) in Kanchanaburi is located about 2 hours from Bangkok via mini van (often times longer with bad traffic). The best way to visit the bridge is via mini van leaving from the Mo Chit Bus Station. This station is about a 10-15 minute taxi ride from Chatuchak Market (Mo Chit Skytrain stop or the nearby metro stop). The station is very big and one will need to be uop for a walk to reach the appropriate van section within the station (go to van Terminal number 3). Many different van companies are located here – if you are approached by one whose departure time is not suitable – simply walk a bit further and find another van company with a better departure time. The vans tends to leave when full of passengers (usually 9-12 people). Allow most of the day for the to and from journey plus time exploring the sites of Kanchanaburi.
The vans will complete their journey at the small bus station in Kanchanaburi and from here it is about a 10-15 minute drive to the actual River Khwae Yai and the Death Railway Bridge (either take a taxi, motorcycle or Songthaew (shared vehicle). Transportation most likely will pass by the War Cemetery where the remains of nearly 7,000 POW's who died during the construction of the railway are buried.
The part of the train track in Kanchanaburi is only one small section of the it's entire run from Thanbuyuzayat Burma to Ban Pong, Thailand. Built during WWII by prisoners of war controlled by the Japanese Imperial Army. Tens of thousands of men died during its 16 month construction. Today at times the train tracks crossing the bridge are overwhelmed with tourists all jostling for that perfect selfie or photo of the bridge. Crossing the tracks here is somewhat challenging as there are many pitfalls with uneven metal surfaces and wooden timbers.
A small train still runs on this portion of the tracks – catering to tourists. One can walk all the way across the river on the train tracks. The views are nice but an additional bonus is most tourists don't walk across the entire bridge – and it becomes much less crowded once you reach the mid point of the river. There are nice views from the base of the bridge on the river banks. Also a sizable temple here is worth a quick visit.
At first glance one may think the nearby Jeath Museum is misspelled or perhaps part of the letter D is missing and in reality should be called the Death Museum. But in actuality it is spelled correctly – Jeath referring to Japan, England, Australia, Thailand and Holland which were the countries where most of the POW's came from who built the railway. This museum is built to be a replica of a POW camp – very dated with old exhibits it feels somewhat austere and rundown.
Chachoengsao
Less popular then the Damnoen Saduak Floating Market is the still very cool Bang Khla Floating Market located on the outskirts of Chachoengsao (about an hour and 10 minutes drive from Bangkok). This market is only open on the weekends and select holidays.
This market comes alive around the lunch time hour – with hundreds of families sitting around enjoying the variety of foods that makes the Thai cuisine so intriguing. Giant prawns, BBQ fish, pad Thai, som Tum (papaya salad), giant cockles and lots of other various vegetables. Many of the vendors cook in small wooden dugout styled canoes.
Wat Paknam Jolo is entirely painted in a yellow gold color – both inside and outside.
Nearby Wat Paknam Jolo, hundreds of fruit bats nest in trees near the Bang Paking River. Be sure to climb a set of steps built among the trees for optimal viewing.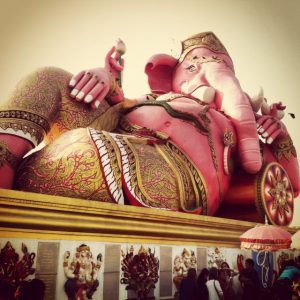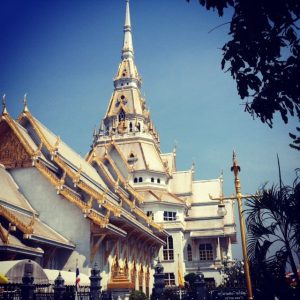 Wat Sothonwararam Worawihan or Wat "Hong" for short. This massive temple lies near the banks of the Bang Pakong River and is often well-attended even on weekday mornings. Plenty of vendors setup shop on the grounds selling various trinkets and religious souvenirs.
Wat Saman Rattanaram or the Ganesh temple, also along the river bank is well worth visiting. Huge colorful statues of various creatures/deities tower above the grounds including the very impressive large reclining Lord Ganesh. Colorful serpents overlook a large "lotus flower" floating in the river – you can "buy" a cup of coins and walk in a circle placing one coin at a time in metal jars as an offering.

Khao Yai National Park – this national park is located in the hills/mountains north east of Bangkok. Travel by car can take anywhere from 3 to 4 hours+ from Bangkok depending on specific destination due to the size of this park. The park contains many hiking and biking trails, caves with bats, and a number of waterfalls. Popular in rainy season for swimming when the streams are full of water. Thailand's first national park. Also contains elephants (we've seen them crossing the roads before), bears and deer among other animals.
There are two primary entrances to the park, one in the north and one in the south. Foreigners are charged significantly more then Thai's. Entrance fee at last check for foreigners was 400 baht. For more information visit the official national parks page: www.thainationalparks.com/khao-yai-national-park
One can spend most of their day around Khao Yai in "Italy".
Palio Village
is a Italian styled shopping complex extremely popular for those taking selfies and other photographs in addition to the cute boutique shops. Can be extremely busy on the weekends. An unusual feel to be walking through this complex in Thailand but with a pseudo faux feel of being in Italy! Also
Toscana Village
features the Leaning Tower of Pisa!
On Highway 304 a major shopping complex (The Verona at tub lan) somewhat modeled after Verona offers additional shopping and eating options (along with the Castelvecchio Bridge and other landmarks frpm that historical Italian city.
Dasada Flower Park is located on the way to Khao Yai and features a wide variety of flowers including many orchids. Also has a small floating market – vendors are not in boats but rather on a fixed platform. A nice aviary with some very colorful birds including many peacocks. Beautiful bathrooms. Visit: www.dasada-happiness.com
There are several wineries located along the Khao Yai Wine Trail including Granmonte Vineyards. Granmonte is an established winery in Asoke Valley – about 2 hours from Bangkok. Along with the winery, they also run the Vincotto Restaurant (delicious Mediterranean cuisine) and a guesthouse.
GranMonte offers hourly tours on the weekends. Their vineyards are very well maintained. They grow a number of varietals including Chenin Blanc, Viognier, Shiraz and Cabernet Sauvignon. Harvest is in February although the grapes try to set a second crop but this is during the rainy season and the vineyard workers remove buds when they flower. Soils are shallow in the vineyard.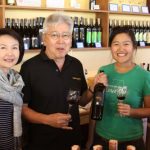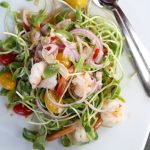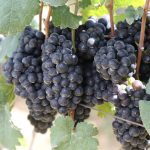 For those wanting to stay on site, GranMonte offers 8 private rooms in their guesthouse near the winery building. VinCotto is also a highlight of a visit. This indoor and outdoor restaurant serves up a variety of International dishes with a Thai twist. With Italian, Spanish and English music playing softly this is a romantic place for lunch.
GranMonte has earned International recognition recently including at competitions in London and Singapore. They are also distributed Internationally with select locations in the Maldives, Australia and Japan. Visit: www.granmonte.com
PB Valley Khaoyai Winery is located nearby offering various wines and non grape wine products. Alcidini Winery is located a bit further (the only one of the three mentioned here we have not yet visited).
Sweeties Vineyard sells delicious freshly picked table grapes right from the vine during parts of January and February. And for those who enjoy mulberry juice and related products visit the tranquil nearby Maemon Farm.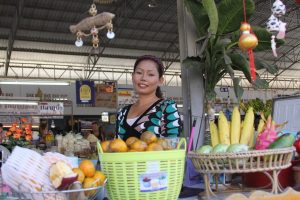 Pattaya – is fairly close to Bangkok and easily accessible via good motorways (Highway 7 and Highway 3 – about 150km from Bangkok). Alternatively, visitors can get to Pattaya by bus – leaving from the Eastern Bus Station – very close to the Ekkamai Skytrain stop.
Pattaya has a reputation for a nightlife that features crazy sex starved individuals (and perhaps those who visit to see these people); there is certainly a part of this statement that rings true – especially on the 'walking' street in central Pattaya (the famed red-light district). With that said, the several times we have visited we've always seen some families with children walking this street in the more early hours. The walking street is closed to traffic in the evening.
There are also a number of resorts along the coastline in and around Pattaya. We have stayed at the low key and relaxed Sugar Hut before – more of a traditional style resort rather then a modern western style one.

Samutprakarn Crocodile Farm is worth a visit. With over 60,000 crocodiles residing here, it is the world's largest crocodile farm! They also boast of having the world's largest crocodile, Yai – at over 6 meters. For more information visit: www.worldcrocodile.com