Bangkok is many things to many people, but it is not necessarily a museum town. A number of the museums are fairly dated and fail to provide a fun, educational, modern and engaging atmosphere. However with that said, there are still plenty of good museums to keep one occupied for at least several days including some rather intriguing, esoteric and hidden away ones. We have visited and reviewed the following 30+ Bangkok museums.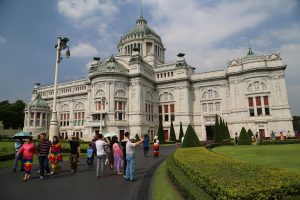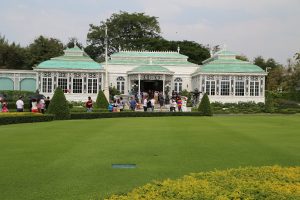 Ananta Samakhom Throne Hall, Dusit Palace is one of the true highlights of a visit to Bangkok. Seems that many have already discovered this beauty based on the incredible amount of buses in the parking lot and the scores of groups that descend to see the dazzling beauty of the interior – but then based on it's location (somewhat outside of the core of historical central Bangkok), many may not realize this is an attraction well worth going slightly out of your way for and or may not realized the signifigance of this location to the Royal Family. The throne hall is just one part of the Royal residences on this property (includes a number of Royal Halls and Royal Villas – of which only a few are open to the public).
A number of drink and fruit vendors have located their portable 'shops' near the bus parking (in case you need some fluid or nourishment while walking in the often hot and humid conditions that Bangkok is noted for).
No camera's are allowed inside (we were told by several staff that it is ok to take photos of the exterior but this contradicted with the staff who kept whistling at visitors to put away their cameras outside of the Throne Hall. The museum shop and ticketing is located within a small but nonetheless impressive and intricately designed building. After you enter this building, you must leave all camera's and cell phones inside clear Plexiglas lockers next to where you purchase your tickets. After you lock the locker, take the key with you until you return to collect your belongings.
Visitor's must also wear proper attire inside – no shorts or sleeveless uppers. Visitor's who arrive under dressed can purchase (for a nominal fee) a Thai sarang to wear inside. At the entrance, guests must split into two lines; one for male and one for female – every one who enters is personally frisked by security guards – then you go through metal detectors and can then collect an audio device for more information about the interior.
The upper level of this throne hall is a dazzling display of gold, marble columns (Carrera marble imported from Italy), several domes, chandeliers and elaborate ceilings. Today this is also a museum – the lower level contains an impressive display of various royal regalia including numerous additional golden objects. The interior design certainly has a European flair – which makes sense considering the architects and sculpture involved were Italians. The building was finished in 1915.
For more information visit: www.artsofthekingdom.com
Bangkok Art & Cultural Center is located across from the MBK shopping mall (nearest Skytrain Stop is National Stadium). This sizable building features three main galleries including the People's Gallery on the 2nd floor as well as several open hall spaces often used for rotating exhibitions. It contains several levels of galleries which contain most eclectic modern art. Often art students from Thailand colleges will display their works of art in here. The ground floor just outside the building is an open space and sometimes contains outdoor sculptures.
The closest BTS Skytrain stop is National Stadium (a few minute walk away with the 3rd floor connected directly to the Skytrain). One can also arrive fairly close to the center by boat – about 300 meters away via the Saen-Saeb canal route (disembarking at the Sapan Hua-Chang landing).
Other media is also often on display. In addition to the exhibition space, the museum contains a cafe, restaurant, bookshops and an art library. For more information visit: www.bacc.or.th
Bangkok Doll Museum is located about a 10 minute drive from Victory Monument (the Skytrain stop) in a section of town that is a tangled web of expressways and large city surface boulevards. In our experience, not very well known by taxi or motorcycle drivers who we talked to in this part of town. The museum was established in 1957.
Features several rooms with hundreds of dolls many of which are in glass display cases taking up the entire width, almost from floor to ceiling. Thai dolls, International dolls, colorful costumed dolls – the diversity is rather remarkable!
In addition to the museum (admission is free) a small workshop is located near the main entrance where you can watch several craftspeople work on various dolls.
The primary room houses the permanent doll collection – the small interior room offers a variety of dolls for sale. Certainly not every city has a doll museum – especially such a a museum over 60 years old.
Bangkok Metropolitan Museum. This totally under the radar house museum is located in the under the radar Samsen area of Bangkok (also known as the Phra Nakhon district) – not far from the banks of the Chao Praya River. Located on the grounds of the local district office. For reference, the always busy Khao San Road is only about a 10 minute walk away from here. This two story museum was established in 2003 and is located in the former home of a man named Phraya Borirak Ratcha (who was a palace guard for one of the kings). The house is built of wood – in a traditional Thai style – raised on stilts and featuring plenty of wooden shutters.
The docents speak very limited English – the first floor contains a number of images of the local neighborhood – with descriptions that are entirely in Thai. The second floor contains some English descriptions explaining the process of making several local handicraft items. The docent will follow you around the museum trying to interject useful comments in limited English.
Four primary topics are highlighted in the museum; local history, local arts and culture, local ways of living and other highlights in the area that might be of interest to tourists.
Bangkokian Museum (folk museum) is located on a tiny street just down from the raised busy Sirat Expressway (toll road) – which by the way several food vendors have located shop underneath its concrete infrastructure and a stop here is convenient for breakfast or lunch in conjunction with a museum visit. This museum was established by the original owner of the home on site – Waraporn Surawadee. She inherited the home from her mother and decided to turn it into a museum – she also donated the land to the Bangkok Metropolis Authority. Ms. Surawadee lived on site and was the museum curator until she passed away at age 81 in 2017.
In 2016 a developer wanted to put in a high rise (relative to the neighborhoods non high rise buildings) next door. Quickly Ms. Surawadee sprang to attention and crowd funded enough money to purchase the lot next door to the museum. Now it serves as a parking lot for the museum.
Visitors enter a small shaded courtyard (certainly a welcome oasis and green space as compared to the surrounding urban sprawl) and sign in to the guest book overseen by a security guard. Admission is free. Two homes are on site: the primary home was built in 1937 and sits on it's original location – it is wooden and very much built in a traditional Thai style. The primary home contains a number of rooms both downstairs and upstairs including several family rooms. Era furnishings, household appliances and decorations are on display. Guests enter via the veranda and remove their shoes – during our visit a very friendly staff member eager to practice her English and inform us about the properties' history quickly greeted us.
The second home in the back was built in 1929 and was moved here from another location (and scaled down to better fit the size of the property). It used to be the home of Dr. Francis Christian an Indian British citizen who was the first husband of Ms. Surawadee's mother. Despite Mr. Christian never living here, one of the highlights of a visit is an old medicine room with equipment from the 1920's and 1930's.
A third building contains a museum in the traditional sense and is located in the back of the property. With numerous items on display it is easy to get 'lost' exploring the history presented here. Numerous historical items are displayed on the first floor including traditional items from Ms. Surawadee's grandmothers family, old coins, baskets and gardening tools. The second floor is the exhibition space – at the time of our visit this space highlighted Bangkok from the past to the present including how people's daily lives have changed over the years.
Closest BTS Skytrain stop is Saphin Taksin (about a 15 minute ride by car to the museum or approximately 25-30 minute walk on foot).
Primary Home

Secondary Home

Museum

Bank of Thailand Museum is located in the prominent Bank of Thailand Building almost in the 'shadow' of the Rama Bridge VIII along the banks of the Chao Praya River. Contrary to what most maps and websites show, the museum is no longer located in the palace Bang Khun Phrom rather it is located on the other side of the palace (just walk underneath the raised roadway that leads to the Rama Bridge VIII).
This impressive building used to house the monetary making operations for Thailand. Today it houses a beautiful library and a number of exhibitions relating to the Bank of Thailand, history of money, money printing machines, information about the massive bank vault on site and various wealth systems. Guided tours last approximately 90 minutes and are held at select times throughout the day – several in the morning and several in the afternoon – at the time of our latest visit, these times are 9am, 930am 1030am 1pm, 130pm and 2pm. Visitor's must be on a guided tour – which are provided free of charge. During a visit we noticed groups were anywhere from around 15 to 30 in size. Can be popular with school children.
The tours are held entirely in Thai (including a short video about the museum and money) but friendly docents hang around your group and walk up to you at key intervals practicing their English and providing you with additional details of the tour in English. The staff highly recommends you download the BOT Museum app (provided you have internet) – this sizable resources will be helpful during your tour as you can scan QTR codes on the exhibits for more information as well as provides an exhibit and map layout in English of the museum along with detailed descriptions (in English) of the exhibits.
Note that the museum is kept quite chilly – especially on the lower floors and having a jacket might be helpful especially if you are a thin person dressed for the normal Bangkok heat and humidity.
Two of our favorite exhibits on the tour include the first floor which contains the giant machines used for printing money and displays on how they work – and one the lower floor an exhibit on the history of money including some very intriguing original Lydian coins from 3000 years ago (the world's first coins created from a natural alloy of silver and gold) produced from what is now part of Western Turkey. Some ancient Thai coins are also presented – ranging from less then a baht up to 4 baht (silver and somewhat circular shaped) as are exhibits showing the evolution of Thai money throughout the years (both coins and paper money).
Also some intriguing monetary history as it relates to Thailand is presented – during World War II Japan made a number of strong requests relating to money – several of which were directly related to the founding of the Bank of Thailand created through an act in 1942. Perhaps of lesser importance to visitors is the exhibit highlighting a number of prominent Thai individuals who over time have influenced Thailand's monetary system (including mini statues of their likenesses).
Batcat Museum & Toys . Yes there is a museum dedicated entirely to vintage toys and batman memorabilia from all over the world. The name cleverly comes from combining Bat from Batman and Cat from Catwoman. Thousands of items are displayed throughout the museum including Stars Wars Memorabilia, the ever lovable Simpsons figurines and plenty of comic book character figurines and models to satisfy even the most hard core Marvel enthusiast. Some of the rooms have balcony style perches so you must definitely walk up the stairs for a different perspective of the obsession.
The rooms are all fairly dimly lit – as a result, visits have a sort of ethereal dungeon like quality to them.
After moving through several rooms containing seemingly thousands of toy figurines one arrives in the Batman Room and one's eyese quickly gravitate to old TV Screen in the corner playing old Batman & Robin shows(during our visit Batman was hanging out of a helicopter on a ladder trying to board a moving ship when a shark attacked him on the lowest rung of the ladder). The special effects in this scene were rudimentary at best, leaving the modern day digital afficionado quite amused while Batman radios up to Robin to drop down the 'shark repellent" of which of course he handily has three bottles ready to go).
And if one has built up an appetite after viewing the endless collection of collectibles – there is no need to walk down the street for some of Bangkok's famous street food (hey Bangkok even has a street food vendor who earned a Michelin star for his culinary prowess) – simply pop over into the adjoining Bat Bar & Cafe for some Batman related grub.
Located not quite half between Suvarnabhumi Airport and the center of town – Batcat Museum is not necessarily easy to get to. The closest Airport Rail Link stop is Hua Mak – from there you can hop in a taxi for an approximately 15 minute ride to the museum.
Visit: www.facebook.com/batcat.museum
Coin Museum is located within a very short walk of Khao San Road. If Bangkok had a museum center – this would probably be it – as several prominent museums are located within this part of the old town. This museum opened in 2014 – the first floor is open to the public (without needing a tour guide) and includes several temporary exhibitions, an interactive demonstration for children and the museum gift shop.
All visitors to the rest of the museum must be on a guided tour (which leaves every 20-30 minutes during their normal hours). The guides don't speak English (this museum is not a big attraction among foreigners). During a visit, one of the front desk staff joined us for part of the tour to help translate. Visitor's are handed blank pieces of paper which can then be placed in front of the wall near the front desk to see various animated moving pictures (representing select coin designs).
The first part of the guided tour involves an interactive exhibition which focuses on Thai history and the use of money – this display includes the ground literally vibrating beneath your feet, visual displays on the wall and some air movement. The tour proceeds to several dimly lit rooms which display what are now unusual types of money used over the years in Thailand and in other countries – ranging from giant stone wheels in the tiny Micronesian island of Yap to various metals.
At one point Thailand was using foreign coins as currency – even coins from Mexico. The Royal Treasury would stamp the official seal on these foreign coins.
Allow around 30 minutes for the guided tour.
Erawan Museum – is more of an attraction then a museum, but perhaps the 'museum' in the name helps differentiate this location from the ever popular Erawan Shrine. Fairly under the radar for most visitors to Bangkok (possibly because of its location a ways away from the center of town), but it shouldn't be this way. Well worth making the effort to visit – and really it's not really much of an effort as the BTS Skytrain runs fairly close to the museum. Founded by Thai millionaire Lek Viriyaphant (died in 2000).
Not really a conventional museum the highlight of a visit here is a massive three-headed elephant statue built upon a massive pedestal. Visitor's are given a plastic admission card which you hand to the staff as you walk up onto the pedestal. Nearly 30 meters tall, this statue towers over the entire complex. Impressive visually from the exterior, the interior is as equally impressive.
The rooms below the giant elephant contain a dazzling array of Eastern antiques, colorful tile and eclectic artwork spread out over three floors (be sure to visit all three and walk to the top where there is a small shrine). The first floor contains some impressive Chinese vases (antiquities) – the second floor has a variety of precious antiques including some pottery from Europe and the third floor contains a number of very old Buddha statues.
The surrounding gardens are also worth visiting – Be sure to walk underneath the 'herd' of elephants all lined up in a row. As you pass through each elephant will acknowledge your presence with a loud trumpeting sound. Walkways wind through the garden next to small ponds crossing over bridges. A number of benches are located next to the pond, all with good views of the three-headed elephant.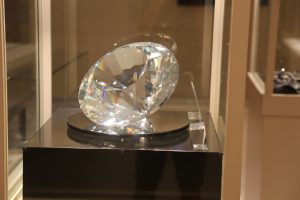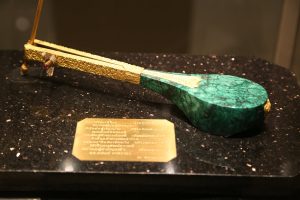 GIT Gem & Mineral Museum is Thailand's first Gem & Mineral museum. It is located in the not to tall ITF-Tower Building on the second floor (simply walk up the short flight of stairs or take the lift). Within about a 5-7 walk from the nearest BTS Station, Chong Nonsi.
The museum is laid out according to several themes including some information about gem mines in Thailand, differences between real and synthetic gemstones, diamonds, how to prepare gemstones and arguably the highlight – their gold exhibit (which includes information about a gold mine located in Thailand). Several large amethyst rocks are on display.
Not a huge museum at all so doesn't require a large time investment – although if you have a strong interest in gems and minerals, you would want to spend more time here. Fairly basic displays. Open Monday through Friday from 10-5pm. Visit: www.git.or.th/2014/museum_information_en.html
Human Body Museum is located on the campus of Chulalongkorn University (closest Skytrain station is National Stadium – about a 12 minute walk). Located behind the Siam Square Shopping center it can be somewhat difficult to find the museum even with the help of Google Maps (due to all the side alleyways and number of buildings on campus). Once you do locate the Faculty of Dentistry building which houses the museum (posters are located outside the building on the ground floor) take the elevator to the 9th floor and sign in with security just outside the museum entrance. Admission is free although donations are gladly accepted.
Chances are this will be one of the most unique museums you will ever visit. The exhibit contains 14 real dissected human bodies that have been preserved through a process called plastination (one can read more about this on the sign boards located next to the main entrance). The bodies are nearly all male. In short, this process replaces water, fluids and fat inside the body with resin and plastic. The bodies have been dissected in numerous ways – each one presented reveals something unique whether it is a human head cut in half, a focus on internal organs or a look at human muscles. The exhibits were donated by the Tokyo Medical and Dental University.
A number of 'spare parts' have also been dissected including a brain, a foot and one body that has been cut through in cross sections every few inches from head to toe. Aside from any squeamish reactions you might have the exhibit is really remarkable and offers a rare and unique look inside the human body. Also a look at what is clearly a heavy smokers lung versus a healthy lung. Supposedly one can hold a human brain in their hand but we never located this on site.
We have seen a number of curious Asian tourists here but curiously never Western tourists.
Investment Discovery Museum – want to learn about Money Monsters? You've come to the right place! Located inside the Thailand Stock Exchange (closest metro stop is the Phra Ram 9 Metro stop (about a 10 minute walk away). The museum is operated by the Stock Exchange of Thailand (SET) with exhibits available in both Thai and English. This museum is very interactive – one is given a plastic card (similar to what you use when riding the Skytrain) – card slots are available at many digital displays throughout the museum. The first display is for entering your information – name, email, phone number and your profile photo will be also taken.
This 'record' follows you throughout the displays – one of the most exciting monetary digital displays is located in the "Big Battle Room" – setup for investing your assets into various Thai stocks. During a recent run through buying and purchasing stocks – we found that either we had great luck or the display was setup to always reward users with positive monetary gains. Either way, in another room we found our profile image dramatically displayed on a wall as being a successful investor.
The focus of the museum is to educated 'newbies' about investing and highlight the importance of financial stability. A recurring theme of the museum is 'money monsters' ranging from unexpected health issues, no savings, over spending etc. And prior to entering the monetary guts of the museum one gets to fight these money monsters. A digital wall display offers numerous money monsters coming at you from all angles – you stand in the middle of the room waiving your hands trying to kill these monsters – all the while looking quite silly as you do so.
Specific rooms offer displays about stocks, bonds, mutual funds and derivatives.
Visitors can watch a number of short films highlighting investment strategies and other monetary related topics. During our visit one of the museum staff accompanied us throughout the museum, steering us towards the most interesting displays.
Kamthieng House is a space that modern Bangkok has left behind – standing in the gardens of this tiny property one is surrounded by the concrete jungle including numerous high rise buildings. A fairly short walk from either the Sukhumvit metro stop or the Asok Skytrain stop. The house is on the grounds of the Siam Society – a group founded in 1904 with their first meeting at the iconic Oriental Hotel. Their mission is to promote and preserve knowledge about all things Thai including the Lanna people; they maintain an excellent library on site (they also offer a variety of regional trips – pop into the entrance of the museum to pickup any of the flyers highlighting upcoming trips).
The Kamthieng Housem, built in 1844 was originally located along the Ping River in the Chiang Mai province. It opened as a museum in its current location in 1966. The home has been well restored and is one of the oldest homes in Thailand representative of northern Thai architecture. The house was passed on through women via matriarchal lineage – originally owned by Mae Saed, the home is named after her grand daughter, Mae Kamthieng. Prior to entering the home visitors can stroll the grounds and view some of the tools of the Lanna culture on the ground floor including weaving implements, agricultural tools and other arts and crafts.
Admission is paid to the the docent at the entrance to the stairs which lead up to the home (shows must be left on the stairs or on the ground floor). A number of tiny rooms contain exhibits relating to Lanna culture including kitchen implements and other culinary tools. From inside the house one feels stepping back into time, a slower more traditional way of being – but then you look out the window overlooking the contemporary buildings and see people rushing to the nearby metro stop and you realize how quickly people's lifestyles have changed in a remarkably short period of time.
King Prajadhipok Museum is located in a handsome building in the core part of old town Bangkok at Phan Fa Lilat Bridge at the corner of Lan Luang Road. Taxi drivers don't seem to know this museum but will quickly recognize Wat Saket (which is a short walk away). The building is historic – completed construction in 1906 – today it contains three floors; the first floor highlights the Queen, the second floor highlights the King's contributions ((Rama VII) to Thailand as well as his personal interests and the third floor contains a number of the King's personal possessions. The museum houses permanent exhibitions but also rotates temporary exhibitions from time to time.
Prior to the museum opening in 2001, this building had a number of uses; early on it was home of the John Sampson Store (selling western fashions and men's suits), then became a construction materials supplier and ultimately was purchased by the Public Works Department for their headquarters in 1933.
Arguably the highlight of a visit is the information about the 1932 coup – which ocurred while the King was vacationing in Hua Hin. He eventually abdicated the throne, making him the first and only Thai King to have ever done so from the current ruling Chakri dynasty.
Note that sometimes friendly folks hang around the museum in the shade of a nearby tree trying to lure tourists into taking a tour in a tuk tuk (at a supposedly much reduced rate with the caveat you will have to stop at a jewelry store).
Admission is nominal – note that the museum has excellent air conditioning. This museum is closed on Mondays and national holidays.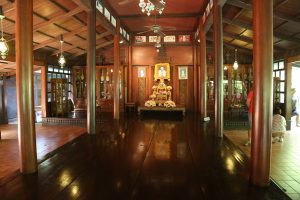 M.R. Kukrit House is a former residence of Thailand's 13th Prime Minister (the first to setup a political party in the kingdom). This small piece of property and cultural heritage is located on South Sathorn Road off of a tiny little alley not far from the Sathron City Tower Building. The closest Skytrain stop is Chong Nonsi – about a 10 minute walk from the station.
The land is valuable considering its location – surrounded by the tall buildings of Bangkok's financial district. Despite being in the city it feels calm and quiet on the 2 acres. The home provides an excellent example of a historic Teakwood Thai house. During several visits we have sometimes seen M.R. Kukrit's son lounging in the hammock beneath one of the main homes.
Features five teak wood homes including a reception hall. All the furnishings have been left very similar to the way they were when Kukrit died in 1995 at age 84. He enjoyed dogs and you may see a few paintings of these animals during your stop here. He was also an accomplished and prolific author. A highlight is the library containing many English books which Kukrit brought back from the UK (he graduated from Oxford University).
Pretty landscaping in the Mai Dat style – similar to Japanese bonsai. Sometimes plenty of nesting pigeons in the nearby trees. Also a friendly large orange koi fish which is over 10 years old (we call him or her, Peachy). Loves surfacing to have visitors pet its head in anticipation of being fed. Address: Prapinit, South Thungmahamek, Sathorn, Soi Sathon 19, Yan Nawa, Sathon – open 10-4pm daily.
Madame Tussauds Bangkok is located on the 7th floor (in this mall the floors are called 'labs") of the Siam Discovery Center shopping mall (across from the Virgin Fitness Center). Perhaps not the normal location when you think of wax museums but it is Bangkok and there are some unusual and interesting attractions located in shopping centers (think Snow Town Bangkok at Gateway Ekkamai and Sea Life Bangkok Ocean World – an aquarium in the basement of Siam Paragon, just to name a few). With a storied history dating back some 250+ years – this Madame Tussauds is Asia's 4th location.
Numerous personalities who have strongly influenced culture and media over the past 100 or so years are represented. Unlike other Madame Tussauds around the world, this one features several wax sculptures of former Thai royalty. Like other wax museums we have visited – it can be a bit discomforting as you walk among the sculptures – especially if it is not to crowded – constantly thinking you are being watched.
At times you want to walk up to Nicholas Cage, or Madonna, or the Dali Lama. When you do so, you shyly ask them how they are doing and what they are doing in Bangkok. But you are always greeted with silence. Exhibits are broken down into those who have made valuable contributions to the music world, arts, politics and sports among other fields. The always popular international icon, Yao Ming towers over those of normal height.
During our visit we were provided with several coupons – one for a free drink and snack at the gift shop and one where you can have a wax model made of your hand. Visit: www.madametussauds.com/bangkok/en
Mineral Resources Museum is a several minute drive from Victory Monument (with light traffic) or about a 20 minute walk from the Victory Monument BTS Skytrain station. Located on Rama VI Road near Priest Hospital – look for the somewhat dated looking entrance with several statues of dinosaurs in front. Some rock specimens are displayed outside under the covered area. Open daily (except Mondays) from 830am until 430pm this museum was originally founded in the mid 1920's as an information center geared towards students. It opened in 1937 as the mineral and stone museum and has been at its current location since 1986. Located on the first floor of the Emerald Building directly next to the Department of Mineral Resources.
This small museum features three exhibits and should be on any rock and mineral enthusiasts list of attractions to see when in Bangkok. Also good for children interested in geology. Separated into a geology exhibit with information about water, plate tectonics and earthquakes, a mineral resources section with cases displaying various minerals and gemstones including some nice quartz crystal displays (found in Thailand – and often donated pieces) as well as a very informative display about the uses of minerals including fuels and petroleum mines in the country. And before you exit be sure to take some time to view the tiny exhibition about dinosaur fossils found in Thailand.
Because of its limited size, one doesn't need a long time to visit – perhaps 30-60 minutes. Exhibits in Thai and English.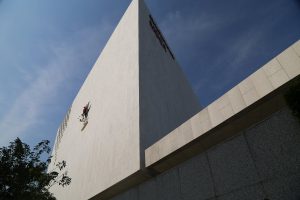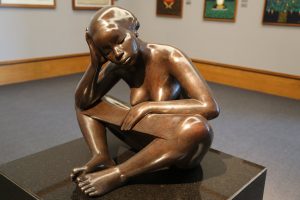 Museum of Contemporary Art (MOCA) is located on the way to Don Muang Airport (one cannot miss its imposing presence) – one can take the BTS Skytrain to Mo Chit and then take a taxi from there – which if traffic is ok will take around 12 minutes for the taxi ride. The BTS extension completed as of 2018 allows one to take the Skytrain almost to the museum. Address: 499 Kamphaengphet 6 Rd. Ladyao, Chatuchak.
This worth while museum is definitely worth going out of your way for – especially if you enjoy art. Houses the largest collection of this type of art in all of Thailand. Features Thai artists across a wide range of genres from paintings to sculptures spanning some 70+ years. Some pieces more eclectic, some quite dramatic, others are intriguing and need more time standing in front of them in contemplation – but regardless, the art work contained here is memorable.
Features 5 floors of large rooms often with sizable paintings presented. Both permanent and temporary exhibitions are on display. A small gift shop on the first floor sells various pieces of art. Make your way up floor by floor with the escalators until you reach number 5 – art here showcases both Thai and International artists. Then take the elevator down to the bottom floor.
Bags are not allowed into the museums but camera's are – photos can be taken but without a flash. Open every day of the week – weekdays 10-6, weekends 11-5pm. For more information visit: www.mocabangkok.com
Museum of Floral Culture . When one visits this intriguing space, one soon realizes the fundamental differences in floral culture between the east and the west. The floral culture in the west is one that at its core is about vases – presenting flower arrangements in a vase containing water. In the east, the floral culture is about disassembling and reassembling flowers – creating a variety of interesting flower arrangements often with string as the conduit. If one spends any time on the roads in Thailand (especially outside of the heart of Bangkok), one often finds flower vendors selling tiny flower garlands at some of the most popular stop lights. These garlands are hung inside the car as good luck but one of their side attributes is the wonderful aromas that linger for a while until the flowers quickly dry.
Visitors to the museum are greeted by many hanging flower arrangements (on long strings) in the central courtyard. The museum was founded by flower designer, former engineer turned artist, Sakul Intakul and is located in an old colonial style home. Once visitors pay the admission they are free to join one of the guided tours.
The interior of the house is divided into multiple exhibits across a number of rooms both on the ground and second floors. Highlights include some of Sakul's own floral creations, the history of floral design, the uses of flowers in Thai culture including at weddings and funerals and a room containing live flowers. Floral exhibits are also dedicated to floral cultures outside of Thailand, focusing on other parts of Asia. And a workshop often hosts classes and special events relating to Thai floral culture.
Visitors will also learn a bit about Sakul – his is a very accomplished floral artist with his works represented in Bulgari Hotels & Resorts in Bali. He also provided created the floral installation for the Rome International Film Festival.
The gardens behind the home are well worth exploring – a small wooden gazebo is located next to the tiny poool – this is an ideal place to park it for a while – especially if you need to take a break from the urban stresses of Bangkok. This space is like a mini oasis in the concrete jungle of the city.
Also worth making the time for is a stop at Dok Mai Thai Salon du The, on the veranda for tea and desserts.
Located on a quiet street in the Dusit residential area about a 10 minute drive north of the Dusit Zoo not far from the Chao Praya River. Open daily except Monday. Visit: www.floralmuseum.com
Museum of Thai Pharmacy is located within a very short walk of the Thong Lo BTS Skytrain stop. Despite being so closed to a part of town where numerous expats visit or live in, we have rarely seen anyone inside this museum (and we often walk by and have stopped in several times). The museum is located on the third floor of the nondescript looking Pharmaceutical Association of Thailand building (located in a short back alley).
The entrance to the building is located on the 2nd floor – if the doors are closed you may have to pickup the phone next to the doors and call in or get the attention of someone in the nearby window. The museum is generally open from Monday to Friday from 9am until 4pm and admission is free. Nearly every description of the items on display are in Thai.
The museum is fairly small – located in one main room but contains hundreds of items. Generally the museum is laid out historically with exhibits about early Pharmacy in the country and how it has evolved over the years. There are a number of interesting displays including various seeds and herbs and fairly early primitive treatments.
And a non-related bonus are the views of the very urban skyline in this part of town from the entrance to the museum.
Museum Siam does what many Bangkok museums fail to do – provide a hip, fun, modern and engaging atmosphere. What is similar however to other museums is the type of building it is housed in; a neoclassical large house that looks both old and impressive simultaneously. It is located in the former building of the Ministry of Commerce. A hip cafe is located on the first floor serving up a variety of good drinks.
The focus here is on "Thainess" – in other words what makes Thailand unique – it's history, traditions, culture and food among other aspects. Covers Thailand's various history in a fun way – especially appeals to Thailand's youth.
Part of the museum is interactive. A number of the exhibits are totally selfie ready and its not uncommon to see visitor's constantly taking photographs inside. Highlights of a recent visit included culinary exhibits, Thai fashion, wats & monks and a grid featuring glass enclosures that would rise out of the ground highlighting certain attractions within Bangkok as well as items of historical significance.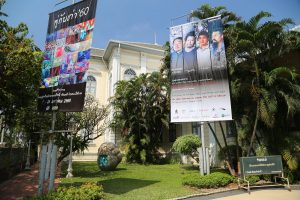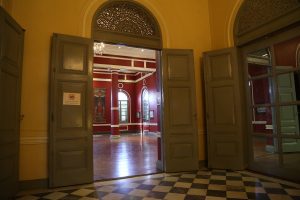 National Art Gallery – is located in a very noticeable yellow colored Colonial styled building (on site of an old coin minting factory which historically produced between 80,000 and 100,000 coins daily). After the mint closed down in this location, the building was renovated and reopened as the museum in 1977.
You can easily spot the main gallery building across the many lanes of the almost always busy Somdet Phra Pin Klao Road. If you are standing on the other side of the road from the museum – despite being so close, you most likely will not be able to cross straight across all these lanes of traffic but will have to walk all the way almost to the Chayo Praya River walk under the overpass and then walk all the way back to the museum. In our experience, nearby taxi, tuk tuk or motorcycle drivers often think you are asking to be taken to the National Museum, which is an entirely different museum in a different location (albeit not far from the National Art Gallery).
The main building/gallery features two stories of fairly large, somewhat gloomy open rooms that do not necessarily provide the best lighting for the pieces of art on display. A decent sized courtyard is located behind the main building (several sculptures are on display here) with access to several side rooms that display rotating exhibits. Open 9am until 4pm Wednesday through Sunday. While seemingly a large museum when you first enter – in reality visitor's don't need to devote huge amounts of time here.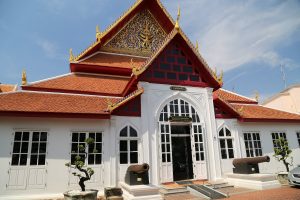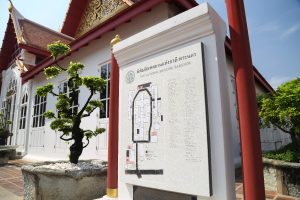 National Museum is located near the Chao Praya River only several blocks away from Khao San Road – bordered by the following streets – Mahathat, Phra Chan Road and Na Phra That. This museum is composed of many separate buildings containing Thailand artifacts, works of art, and other treasured items. It is worth visiting if you enjoy museums, viewing historical artifacts, and you are interested in Thai history and culture. Some of the buildings are air conditioned – most are not. There is a small very inexpensive cafe in the center of this museum.
At the ticket office be sure to pick up the "Brief Guide to the National Museum Bangkok" brochure. This is very informative and contains photos, a map and other directions for The National Museum. Note backpacks need to be checked in at the main gate.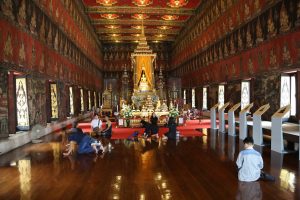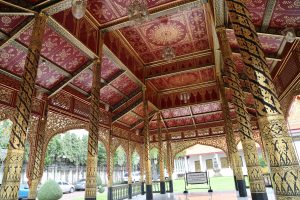 There are numerous historical items contained within each of the buildingson site. Compared to other Bangkok attractions there are few tourists here. Be sure to see the Royal Funeral Chariots contained in building number 17. Some of these very old chariots were used within the last 20 years for royal events. Another highlight is the golden treasure display in building number 11 – the Wayusathan Amares Hall. This used to be the private residence of a the Prince Successor to Rama II. Shoes must be taken off at the bottom of the stairs leading up to this room.
Tickets are 40 baht (general admission) and are free to students in uniform and priests. This museum is open from 9am to 4pm Wednesday through Sunday. They are closed Monday & Tuesday and also on National holidays – although visitors can usually still enter the grounds on these days of closure. For more information call: (02) 224-1370.
Naval Museum Naval Museum is conveniently located in the 'shadow' of the Royal Thai Naval Academy Skytrain stop (from the Skytrain platform one looks directly down onto the museum and grounds). Houses several floors of exhibits including the ground floor below the main building. Somewhat dated, the exhibits cover a period in the Thai's navy ranging from the early Rattanakosin period (late 1700s) to more recent.
A number of weapons and firearms are on display – be sure to visit the armaments room with its wide range of weaponry (including some that date back to the 1930s). During one of our visits, a uniformed man was walking through the exhibits offering insights to visitors in both English and Thai. More recent exhibits include many photographs of time the Thai navy spent in Korea in the 1950s and 1960s. Also a highlight are the models of old ships
Admission is free and the museum is open from Tuesday through Saturday. Photography is allowed.
Phaya Thai Palace is located within about a 10-12 minute walk from Victory Monument – slightly more from the Victory Monument BTS station. The site used to be a rice paddy field – if you grew up farming rice in this part of town – you certainly would not recognize the area today – which is dominated by shops and several large buildings including nearby hospitals.
Originally built in 1909, for a short period was converted into an International hotel – and was the site of Thailand's first radio station. Today the site is owned by the military and the palace is situated next to the Phramongkutklao Military Hospital.
Admission is free to guests – mostly setup for Thai tourists and all visits are by guided tour only (which takes up to an hour). Only open during certain hours on the weekends, the tours are available for the first 40 visitors (each of which is given a badge which they wear around their neck).
The tour includes a visit to the courtyard/gardens in the back and the gardens in front as well as a stop inside the immediately eye-catching Thewarat Sapharom Hall located on the front of the grounds (incidentally, this is the only original building that still stands on the site). Check out the hand painted frescoes and gold work inside.
And if you are in the mood for a bite to eat stop at the cute Cafe de Norasingha located across from the main entrance.
Pipit Banglamphu Museum is a small museum located within a short walk of Khao San Road. Shoes must be taken off and left outside the entrance – admission is free. Excellent air conditioning. This museum opened in 2014 inside what used to be the Kuru Sapha Printing House – and focuses on the history and life of the Banglamphu part of Bangkok. The name Banglamphu came from the Lamphu trees which used to attract fireflies, back when Bangkok actually had fireflies. The last Lamphu tree was destroyed in the major flood of 2011 when the Chao Praya River swept over its normal river banks flooding much of the Banglamphu neighborhood.
The second floor contains a Treasury Department Museum. Visitor's to the first floor are self-guided. Exhibits are in both Thai and English. A noteworthy exhibit on the use of brick is worth some time exploring. Brick in Thailand has been used dating back to 1100 BC. Bricks were used in pagodas and other historical sites.
Compared to busy Khao San Road and some of the other nearby streets, the courtyard is a very quiet place which one has to walk through before entering the museum.
Prasart Museum is a real find that is highly worth seeking out. To reach the museum via mostly public transportation, take the Airport Rail Link from either the Skytrain or Metro and get off at the Hua Mak station (roughly halfway between central Bangkok an Suvarnabhumi Airport). From there you can take a taxi or motorcycle the short distance to the actual museum. They strongly recommend you make an appointment ahead of time (call, 02 379 3601 – in our experience English is spoken). If you show up during their normal hours on Friday, Saturday or Sunday (the gate to the property will be closed and you will have to call from your cell phone to see if they have time to show you around).
If you show up by yourself you will be charged the same price for two people. The fairly steep admission price combined with the location being outside of the main part of Bangkok keeps the crowds away.
This oasis covers 5 acres and was founded in 1980 by Thai real estate developer, Prasart Vongsakul. His mission is to collect and preserve antiquities from not only Thailand but other parts of Southeast Asia as relating to Thailand, display historical architecture (several small structures are located throughout the property including a Buddhist Chapel, the Red Palace and a European-style home) and provide an educational space for those interested in learning more about Thai antiquities.
During our visit, a long time family friend Peter showed us around the property. The tour took about one hour and we visited the inside of all the homes and learned about each architectural style, some of the flora and fauna in the garden and finished with a look at the inside of the main European styled house (contains an amazing variety of historical Thai antiquities and collectibles from Royal Family items, to dishware, to jewelry to furniture).
Prasart often purchases rare pieces from Sothebys or Christies including historical architectural accouterments. His unique collection covers a wide range of history from prehistoric, pre-Thai, Sukhothai, Lanna Thai, Ayutthaya to the Rattanokosin period.
Once your tour is over you can spend additional time wandering the beautiful tropical gardens on your own (features a number of rare and unusual plants).
Railway Outdoor Museum is not to be confused with any other larger train exhibit or railway museum in Bangkok. To clarify such, we start with it's location which is clearly evident and differentiates this from any other train exhibit in the city. It is located next to the Railway Police Division's office (the State Railway of Thailand) just across the Nopphawong Bridge off of the Liap Khlong Phadung Kasem Alley (next to a small canal).
This outdoor space is accessed via a small gate – features several very dated looking trains which visitors can walk inside and explore some of the basic exhibits. The exterior of one of the trains is painted in the various flags of the ASEAN nations – the other train's exterior is painted colorfully presumably by children. Located next to an old paved court where children will sometimes be playing football.
Not necessarily worth seeking out as a destination in it's own right – if you are in the area with nothing else to do, might make a good stop especially for young children.
One will also learn basic details about the State Railway of Thailand; the Bangkok Station first opened in 1891.
Rattanakosin Exhibition Hall opened in 2010 and offers a number of exhibits focused on Thai lifestyle and culture. Located within a short walk of Democracy Monument, about 10 minutes from Khao San Road and very near to several prominent temples including Wat Saket and Loha Prasat. During a recent visit the exhibitions seemed geared towards Thai (we were the only farang in our group). All visitors must join one of the guided groups – several different options are offered on these tours – focusing on a variety of exhibits. Allow a minimum of two hours for each tour although if you tire, you may request to leave early and one of the guides will accompany you out. The guides speak both English and Thai and tours incorporate a number of multi media presentations. English speaking visitors may elect to use one of the English audio guides.
All tours start on the first floor in front of a lighted display portrayed on the wall (if you wave your hands frantically above your head, a number of birds will take flight in this digital display). The first floor is open to the public without needing a guide – and includes a cafe, a library, a coffee shop and several small souvenir shops.
Tours progress pass through a hall containing a pictorial display of key points in Thai history. Visitors are allowed a few minutes to explore this section on their own and then are led upstairs through various exhibits. One of the exhibits includes an in depth look at Thai lifestyle and culture including life in small villages. Other exhibits (divided into 9 halls) focus on the history of this particular part of Bangkok and also of the Thai Royal Family. Open daily except Mondays – the price of admission is quite reasonable considering the length of each guided tour. Website is only in Thai: www.nitasrattanakosin.com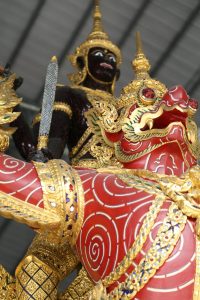 Royal Barge Museum is located on the small Bangkok Noi canal just off of the Suhkumvit River (not far from the Siriraj Hospital). Access can be via the canal using the Chao Praya Express Boat – get off at Wang Lang Pier (N10) or for a more private experience – hire a Tuk Tuk and request they stop at this museum. Alternatively one can acess this museum via city streets and what is one of the more unique entrances to any museum we have visited around the world – a raised narrow concrete path the leads through various slums ultimately arriving at the museum. (the museum is well signed along this path). Total walking time from the street to the museum along the path took us about 8-10 minutes during our most recent visit.
Visitor's pay a reasonable admission fee – double the admission fee if you want to take photographs inside.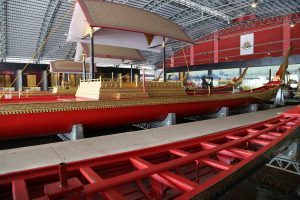 Only several of the barges are on display at any time – these are intricately designed and colorful and the use of gold is extensive. They are rarely used/seen on the water – used only for special ceremonies. We visited once many years ago in November and were told the barges aren't often here this month because of the annual Royal Barge Ceremony in December.
If you become thirsty – there is a vendor who sells cold drinks from his refrigerator almost directly across from where you pay the admission fee.
Queen Sirikit Museum of Textiles – see our mention under the Grand Palace on our Wats & Temples page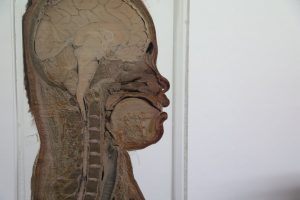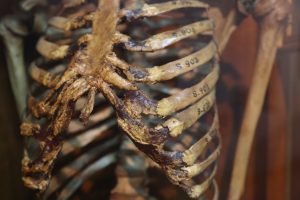 Siriraj Medical Museum. This possibly disturbing museum to some is located in Building 28 on the grounds of Siriraj Hospital (the main museum). You can reach the hospital by taking the Chao Praya River Express Boats – get off at Pier #10 (Wang Lang). Or if you are on the opposite side of the Chao Praya River you can take one of the boats that crosses the river from either Maharaj or Prachan Cross piers. Once you reach Pier #10 (Wang Lang) it is about a 10-15 minute walk to reach the museum.
No photographs are allowed inside – probably for obvious reasons. The content is graphic and involves displays of terrible injuries including stab and bullet wounds. You may become nauseated after seeing jar after jar of perfectly preserved still-borns or other children with various defects. Several rapists are on display including a serial killer – well-preserved through natural mummification.
A tsunami exhibit shows the devastation and many injuries sustained during this natural disaster. There is also a separate display on parasitology and some of their effects on humans.
Five museums make up the overall collection spread throughout several buildings on campus, they are: Ellis the Pathological Museum, Congdon Anatomical Museum, Sood Sangvichien Prehistoric Museum and Laboratory, Parasitology Museum, and the Songkran Niyomsane Forensic Medicine Museum.
The Congdon Anatomical Museum contains a wide array of preserved human organs and other parts of the body. One room is devoted to skulls and bones – another room contains two dissected humans, one a male and one a female. Also a number of small babies/children. An amazing dissection of a whole-body nervous and arterial system is on display – with the eyeballs being the most eerie and prominent part of this skilled dissection. This is a rare opportunity for the general public to see a wide range of human anatomy on display.
Guests sign in on the ground floor prior to visiting each museum.
Suan Sukkad Palace is located about a 5 minute walk from the Phaya Thai Skytrain station. This space is another city oasis that feels so different from the nearby concrete jungle (there are good views of Thailand's second tallest building located nearby). Originally a vegetable garden for growing mostly cabbage and lettuce, the name Suan Sukkad litterally means 'cabbage garden'. Despite its name, the buildings here don't necessary look like what one associates with a palace. Nevertheless, the museum was created in 1952 when Royal Highness's Prince and Princess Chumbhot of Nagara Svarga converted their private homes into the museum (at that time the homes were dismantled from their prior location and moved to this site).
The first example of a Thai Royal Family opening up their homes to the public while still living on site.
The property is divided into several sections – the primary modern Chumbhot-Pantip Centre of Arts was built in 1996 and houses a sizable collection of antiquities including the Banchiang Collection (prehistoric artifacts). Other Thai style older homes contains a variety of art, musical instruments (in the Prince Paribatra Music Room), a geology exhibit and cultural related displays. In addition to the antiquities, arguably the highlight of a visit is the Lacquer Pavilion. It is over 450 years old, has been moved several times since its original location – this tiny home features beautiful gold lacquer works and hand painted designs. Today there are 8 unique homes on site.
For more information, visit: www.suanpakkad.com
Sunthon Phu Museum is located towards the back of Wat Thepthidaram Worawihan. Located next to the impressive Loha Prasat complex and within a short walk of the beautiful Wat Saket.The museum is a collection of small rooms centered around a small courtyard honoring the life and times of poet Sunthon Phu. Sunthon, often called the "Shakespeare of Thai Literature" or "the Bard of Rattanakosin" Suthon ordained at this temple and spent three years of his life here. The museum rooms are where he lived during his time here.
The Adventure of Sudsakorn was Thailand's first animated film (dating from 1979). This film was was based on a character from Sunthon's nearly 50,000 line poem, Phra Aphai Mani.
A monk will often give you a highly personalized tour of the museum guiding you through each of the rooms within the museum. One room contains story boxes – open up one of them to read more about Sunthon (in Thai and English). Despite Sunthon being born in 1786, technology plays a role here – during your tour if you stand in certain areas you will be superimposed into a digital image (which can then be emailed to you by one of the monks).
Another highlight of a visit is singing some of Sunthon's versus with a monk. The monk will set the tone and you will follow suit, verse by verse. The accoustics in the room will make you sound like a Thai opera star!
Suvarnabhumi Airport Museum . Totally under the radar but in plain site of most arriving passengers (on the western end of the terminal), this museum is located on the departures level 4 at Suvarnabhumi Airport. With most arriving passengers focused on one thing and one thing only – getting their luggage out of their vehicle and directional focused on getting into the airport and getting checked in – one can visit Suvarnabhumi many times over the years and never even see the museum building.
Built in a prominent triangle shape it is literally just across the lanes of traffic from the curbside drop off area for departing passengers. Not well advertised within the airport and not well promoted online, a visit here is truly for the passenger who has done their research and enjoys visiting aviation themed airport museums.
Passengers with luggage can leave their suitcases and other items in a small holding area next to the main check in counter. A tour of the museum is guided with a short intro video provided in the first room. The museum features 10 rooms each containing a different theme ranging from the history of the site, the the construction period to the auspicious room number 9 where you will learn about this lucky number and the role it plays in the airport.
Other rooms highlight the construction materials used in the airport, the King's contributions and his visits to the airport and displays about the eco-friendly design and materials used in the museum building.
Did you know Suvarnabhumi Airport is surrounded by a 23.5 kilometer dike to prevent the land from flooding? Creatively, a bicycle and pedestrian path run the entire length – this takes about an hour to cycle the complete distance at a leisurely pace.
During our visit they gave us a souvenir airport key-chain which whenever we look at it we fondly recall our pleasant time here.
Thai Labor Museum is located about a 10 to 15 minute walk from the nearest metro stop, Ratchaprarop. Very much under the radar, during our latest visit we were the only one in the museum. Arriving well after the opening hours, the museum was still locked and dark in side – we simply rang the bell and a staff members immediately came out. Look for the poignant red statue of a man and woman pushing a wheel – the wheel representing human labor throughout history and the historical struggles of the labor force in general.
We also felt a bit like a celeb as the local very welcoming staff followed us around for a bit snapping off photos while we browsed the exhibits. Admission is free although donations are gladly accepted. We were accompanied by at least one staff member during our entire visit as we moved from room to room.
The museum is located in a building that originally housed the Railway Police Station. It became a museum in 1993. The museum highlights the history of the Thai labor force and the often harsh conditions that various working generations had to go through – eventually leading to labor rights and changes in law. The museum features 6 rooms beginning with forced slavery during ancient Thai society through present day Thai society.
Especially of interest are the exhibits highlighting the reforms made during the Fifth Reign (King Chulalongkorn which marked major changes, resulting in Thailand moving to a more modern society). Other interesting exhibits also detail Thai labor in the 1930's and the 1940's including the repercussions of World War II. And be sure to check out the exhibit about the Rickshaw 'coolies' – the human powered rickshaws used for transportation in Bangkok for decades until they were eventually phased out by the 1950's. An old one of these rickshaws is even on display.
An exhibit might catch your eye in the last room – items are strewn all over in a display reminiscent of some of the Thai Tsunami exhibits we have seen over the years. Remember, this is a labor museum, so this is not a Tsunami exhibit – rather is is a look at Thailand's worst industrial accident in its history – the Kader factory fire in 1993 in which 188 people lost their lives (this wasn't the first fire at this particular factory).
The museum has enough exhibits in English to keep the interest of most western tourists (the tv monitors broadcast more information often mirroring the written words on some of the displays.
The museum is open (with holiday exceptions) Wednesday to Sunday from 10-430pm.
Vimanek Teak Mansion is located on the grounds of the Royal Dusit Palace and is the world's largest golden teakwood building. It is 3 stories and contains 81 rooms. It is not a particularly old building (constructed in 1868 moved to current location in 1900) but it is worth visiting not only for the ornate construction and beautiful teak wood but also for the art, jewelry, and other royal treasures contained within – especially the fine china, glassware and ceramics.
English and Thai tours are given. Because this is royal property you must wear long pants to enter. Sandals are ok. No cameras are allowed inside – although after the tour you can retrieve your camera from the lock box (20baht fee for storing items). You must remove your shoes and use the storage lockers before you enter. Foreigner entry price differs from Thai entry price. Vimanmek closes at 3:30. It is easy to miss the "royal gift shop" which is located near the storage lockers. All proceeds from sales at this shop benefit the Royal Family's personal non profit projects in Thailand.
The "Royal Honey" sold in containers that look like they should hold Shampoo is worth a taste – as well as the "milk" tablets. Also note the foot-spray sold here works wonderfully!
There are other things to do here besides tour the Vimanmek Teak Mansion. There is a large marble building, another wood building, a royal carriage museum (free) and a museum housing the current King's photography. Dusit Palace is located off of Thanon U-Thong not too far from Khao San Road and the Banglampu district. Best reached by taxi. About a 12-15 minute taxi ride from Victory Monument (depending on traffic). For more info call: (02) 628-6300-9.
NOTE: the mansion has been closed since July 2016 due to extensive renovation. We stop by the entrance once or twice a year to check its status. NO ETA on reopening. We will update this review once we have new information.

We plan on visiting the following museums in 2020/2021 as time permits:
Art in Paradise
Aukland Museum Bangkok Noi
Bang Khun Phrom Palace
Baan Kudichin Museum
House of Museums
Human Imagery Museum
Naval Museum
Royal Thai Airforce Museum
Silpa Bhirasri National Museum
Sunthorn Museum
Thai Newspaper Museum
Thai Philatelic Museum