Bangkok is many things to many people; one thing it is not is a museum town. Many of the museums are fairly dated and fail to provide a fun, educational, modern and engaging atmosphere. However with that said, there are still plenty of museums to keep one occupied for at least several days including some rather esoteric and hidden away ones.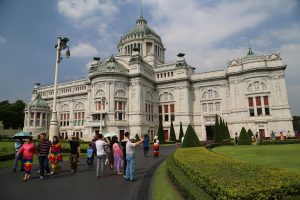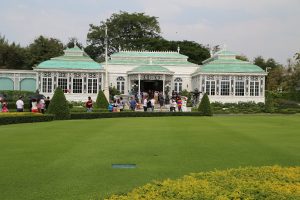 Ananta Samakhom Throne Hall, Dusit Palace is one of the true highlights of a visit to Bangkok. Seems that many have already discovered this beauty based on the incredible amount of buses in the parking lot and the scores of groups that descend to see the dazzling beauty of the interior – but then based on it's location (somewhat outside of the core of historical central Bangkok), many may not realize this is an attraction well worth going slightly out of your way for and or may not realized the signifigance of this location to the Royal Family. The throne hall is just one part of the Royal residences on this property (includes a number of Royal Halls and Royal Villas – of which only a few are open to the public).
A number of drink and fruit vendors have located their portable 'shops' near the bus parking (in case you need some fluid or nourishment while walking in the often hot and humid conditions that Bangkok is noted for).
No camera's are allowed inside (we were told by several staff that it is ok to take photos of the exterior but this contradicted with the staff who kept whistling at visitors to put away their cameras outside of the Throne Hall. The museum shop and ticketing is located within a small but nonetheless impressive and intricately designed building. After you enter this building, you must leave all camera's and cell phones inside clear Plexiglas lockers next to where you purchase your tickets. After you lock the locker, take the key with you until you return to collect your belongings.
Visitor's must also wear proper attire inside – no shorts or sleeveless uppers. Visitor's who arrive under dressed can purchase (for a nominal fee) a Thai sarang to wear inside. At the entrance, guests must split into two lines; one for male and one for female – every one who enters is personally frisked by security guards – then you go through metal detectors and can then collect an audio device for more information about the interior.
The upper level of this throne hall is a dazzling display of gold, marble columns (Carrera marble imported from Italy), several domes, chandeliers and elaborate ceilings. Today this is also a museum – the lower level contains an impressive display of various royal regalia including numerous additional golden objects. The interior design certainly has a European flair – which makes sense considering the architects and sculpture involved were Italians. The building was finished in 1915.
For more information visit: www.artsofthekingdom.com
Bangkok Art & Cultural Center is located across from the MBK shopping mall (nearest Skytrain Stop is National Stadium). This is a fairly new huge gallery is free to enter. It contains several levels of galleries which contain most eclectic modern art. Often art students from Thailand colleges will display their works of art in here.
Other media is also often on display. For more information visit: www.bacc.or.th
Coin Museum is located within a very short walk of Khao San Road. If Bangkok had a museum center – this would probably be it – as several prominent museums are located within this part of the old town. This museum opened in 2014 – the first floor is open to the public (without needing a tour guide) and includes several temporary exhibitions, an interactive demonstration for children and the museum gift shop.
All visitors to the rest of the museum must be on a guided tour (which leaves every 20-30 minutes during their normal hours). The guides don't speak English (this museum is not a big attraction among foreigners). During a visit, one of the front desk staff joined us for part of the tour to help translate. Visitor's are handed blank pieces of paper which can then be placed in front of the wall near the front desk to see various animated moving pictures (representing select coin designs).
The first part of the guided tour involves an interactive exhibition which focuses on Thai history and the use of money – this display includes the ground literally vibrating beneath your feet, visual displays on the wall and some air movement. The tour proceeds to several dimly lit rooms which display what are now unusual types of money used over the years in Thailand and in other countries – ranging from giant stone wheels in the tiny Micronesian island of Yap to various metals.
At one point Thailand was using foreign coins as currency – even coins from Mexico. The Royal Treasury would stamp the official seal on these foreign coins.
Allow around 30 minutes for the guided tour.
Erawan Museum – is more of an attraction then a museum, but perhaps the 'museum' in the name helps differentiate this location from the ever popular Erawan Shrine. Fairly under the radar for most visitors to Bangkok (possibly because of its location a ways away from the center of town), but it shouldn't be this way. Well worth making the effort to visit – and really it's not really much of an effort as the BTS Skytrain runs fairly close to the museum. Founded by Thai millionaire Lek Viriyaphant (died in 2000).
Not really a conventional museum the highlight of a visit here is a massive three-headed elephant statue built upon a massive pedestal. Visitor's are given a plastic admission card which you hand to the staff as you walk up onto the pedestal. Nearly 30 meters tall, this statue towers over the entire complex. Impressive visually from the exterior, the interior is as equally impressive.
The rooms below the giant elephant contain a dazzling array of Eastern antiques, colorful tile and eclectic artwork spread out over three floors (be sure to visit all three and walk to the top where there is a small shrine). The first floor contains some impressive Chinese vases (antiquities) – the second floor has a variety of precious antiques including some pottery from Europe and the third floor contains a number of very old Buddha statues.
The surrounding gardens are also worth visiting – Be sure to walk underneath the 'herd' of elephants all lined up in a row. As you pass through each elephant will acknowledge your presence with a loud trumpeting sound. Walkways wind through the garden next to small ponds crossing over bridges. A number of benches are located next to the pond, all with good views of the three-headed elephant.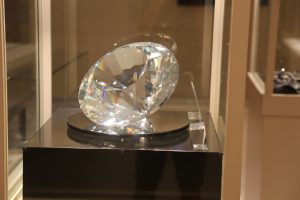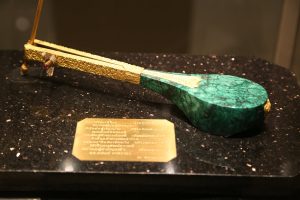 GIT Gem & Mineral Museum is Thailand's first Gem & Mineral museum. It is located in the not to tall ITF-Tower Building on the second floor (simply walk up the short flight of stairs or take the lift). Within about a 5-7 walk from the nearest BTS Station, Chong Nonsi.
The museum is laid out according to several themes including some information about gem mines in Thailand, differences between real and synthetic gemstones, diamonds, how to prepare gemstones and arguably the highlight – their gold exhibit (which includes information about a gold mine located in Thailand). Several large amethyst rocks are on display.
Not a huge museum at all so doesn't require a large time investment – although if you have a strong interest in gems and minerals, you would want to spend more time here. Fairly basic displays. Open Monday through Friday from 10-5pm. Visit: www.git.or.th/2014/museum_information_en.html
King Prajadhipok Museum is located in a handsome building in the core part of old town Bangkok at Phan Fa Lilat Bridge at the corner of Lan Luang Road. Taxi drivers don't seem to know this museum but will quickly recognize Wat Saket (which is a short walk away). The building is historic – completed construction in 1906 – today it contains three floors; the first floor highlights the Queen, the second floor highlights the King's contributions ((Rama VII) to Thailand as well as his personal interests and the third floor contains a number of the King's personal possessions. The museum houses permanent exhibitions but also rotates temporary exhibitions from time to time.
Prior to the museum opening in 2001, this building had a number of uses; early on it was home of the John Sampson Store (selling western fashions and men's suits), then became a construction materials supplier and ultimately was purchased by the Public Works Department for their headquarters in 1933.
Arguably the highlight of a visit is the information about the 1932 coup – which ocurred while the King was vacationing in Hua Hin. He eventually abdicated the throne, making him the first and only Thai King to have ever done so from the current ruling Chakri dynasty.
Note that sometimes friendly folks hang around the museum in the shade of a nearby tree trying to lure tourists into taking a tour in a tuk tuk (at a supposedly much reduced rate with the caveat you will have to stop at a jewelry store).
Admission is nominal – note that the museum has excellent air conditioning. This museum is closed on Mondays and national holidays.
Madame Tussauds Bangkok is located on the 4th floor of the Siam Center shopping mall. Perhaps not the normal location when you think of wax museums but it is Bangkok and there are some unsual and interesting attractions located in shopping centers (think Snow Town Bangkok at Gateway Ekkamai and Sea Life Bangkok Ocean World – an aquarium in the basement of Siam Paragon, just to name a few). With a storied history dating back some 250+ years – this Madame Tussauds is Asia's 4th location.
Numerous personalities who have strongly influenced culture and media over the past 100 or so years are represented. Unlike other Madame Tussauds around the world, this one features several wax sculptures of former Thai royalty. Like other wax museums we have visited – it can be a bit discomforting as you walk among the sculptures – especially if it is not to crowded – constantly thinking you are being watched.
At times you want to walk up to Nicholas Cage, or Madonna, or the Dali Lama. When you do so, you shyly ask them how they are doing and what they are doing in Bangkok. But you are always greeted with silence. Exhibits are broken down into those who have made valuable contributions to the music world, arts, politics and sports among other fields. The always popular international icon, Yao Ming towers over those of normal height.
During our visit we were provided with several coupons – one for a free drink and snack at the gift shop and one where you can have a wax model made of your hand. Visit: www.madametussauds.com/bangkok/en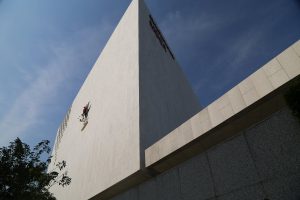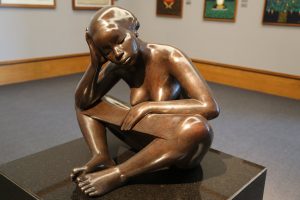 Museum of Cont emporary Art (MOCA) is located on the way to Don Muang Airport (one cannot miss its imposing presence) – one can take the BTS Skytrain to Mo Chit and then take a taxi from there – which if traffic is ok will take around 12 minutes for the taxi ride. The BTS extension completed as of 2018 allows one to take the Skytrain almost to the museum. Address: 499 Kamphaengphet 6 Rd. Ladyao, Chatuchak.
This worth while museum is definitely worth going out of your way for – especially if you enjoy art. Houses the largest collection of this type of art in all of Thailand. Features Thai artists across a wide range of genres from paintings to sculptures spanning some 70+ years. Some pieces more eclectic, some quite dramatic, others are intriguing and need more time standing in front of them in contemplation – but regardless, the art work contained here is memorable.
Features 5 floors of large rooms often with sizable paintings presented. Both permanent and temporary exhibitions are on display. A small gift shop on the first floor sells various pieces of art. Make your way up floor by floor with the escalators until you reach number 5 – art here showcases both Thai and International artists. Then take the elevator down to the bottom floor.
Bags are not allowed into the museums but camera's are – photos can be taken but without a flash. Open every day of the week – weekdays 10-6, weekends 11-5pm. For more information visit: www.mocabangkok.com
Museum Siam does what nearly all Bangkok museums fail to do – provide a hip, fun, modern and engaging atmosphere. What is similar however to other museums is the type of building it is housed in; a neoclassical large house that looks both old and impressive simultaneously. It is located in the former building of the Ministry of Commerce. A hip cafe is located on the first floor serving up a variety of good drinks.
The focus here is on "Thainess" – in other words what makes Thailand unique – it's history, traditions, culture and food among other aspects. Covers Thailand's various history in a fun way – especially appeals to Thailand's youth.
Part of the museum is interactive. A number of the exhibits are totally selfie ready and its not uncommon to see visitor's constantly taking photographs inside. Highlights of a recent visit included culinary exhibits, Thai fashion, wats & monks and a grid featuring glass enclosures that would rise out of the ground highlighting certain attractions within Bangkok as well as items of historical significance.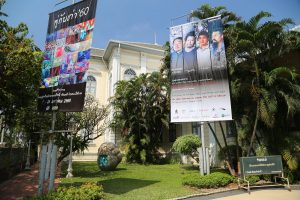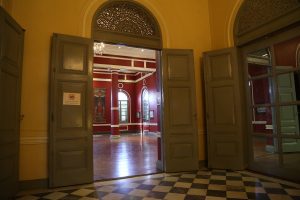 National Art Gallery – is located in a very noticeable yellow colored Colonial styled building (on site of an old coin minting factory which historically produced between 80,000 and 100,000 coins daily). After the mint closed down in this location, the building was renovated and reopened as the museum in 1977.
You can easily spot the main gallery building across the many lanes of the almost always busy Somdet Phra Pin Klao Road. If you are standing on the other side of the road from the museum – despite being so close, you most likely will not be able to cross straight across all these lanes of traffic but will have to walk all the way almost to the Chayo Praya River walk under the overpass and then walk all the way back to the museum. In our experience, nearby taxi, tuk tuk or motorcycle drivers often think you are asking to be taken to the National Museum, which is an entirely different museum in a different location (albeit not far from the National Art Gallery).
The main building/gallery features two stories of fairly large, somewhat gloomy open rooms that do not necessarily provide the best lighting for the pieces of art on display. A decent sized courtyard is located behind the main building (several sculptures are on display here) with access to several side rooms that display rotating exhibits. Open 9am until 4pm Wednesday through Sunday. While seemingly a large museum when you first enter – in reality visitor's don't need to devote huge amounts of time here.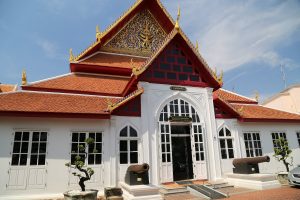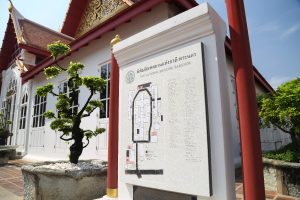 National Museum is located near the Chao Praya River only several blocks away from Khao San Road – bordered by the following streets – Mahathat, Phra Chan Road and Na Phra That. This museum is composed of many separate buildings containing Thailand artifacts, works of art, and other treasured items. It is worth visiting if you enjoy museums, viewing historical artifacts, and you are interested in Thai history and culture. Some of the buildings are air conditioned – most are not. There is a small very inexpensive cafe in the center of this museum.
At the ticket office be sure to pick up the "Brief Guide to the National Museum Bangkok" brochure. This is very informative and contains photos, a map and other directions for The National Museum. Note backpacks need to be checked in at the main gate.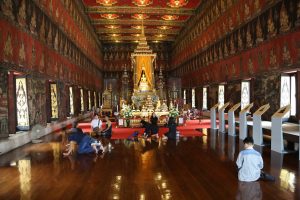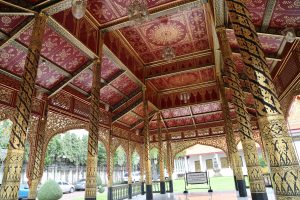 There are numerous historical items contained within each of the buildingson site. Compared to other Bangkok attractions there are few tourists here. Be sure to see the Royal Funeral Chariots contained in building number 17. Some of these very old chariots were used within the last 20 years for royal events. Another highlight is the golden treasure display in building number 11 – the Wayusathan Amares Hall. This used to be the private residence of a the Prince Successor to Rama II. Shoes must be taken off at the bottom of the stairs leading up to this room.
Tickets are 40 baht (general admission) and are free to students in uniform and priests. This museum is open from 9am to 4pm Wednesday through Sunday. They are closed Monday & Tuesday and also on National holidays – although visitors can usually still enter the grounds on these days of closure. For more information call: (02) 224-1370.
Phaya Thai Palace is located within about a 10-12 minute walk from Victory Monument – slightly more from the Victory Monument BTS station. The site used to be a rice paddy field – if you grew up farming rice in this part of town – you certainly would not recognize the area today – which is dominated by shops and several large buildings including nearby hospitals.
Originally built in 1909, for a short period was converted into an International hotel – and was the site of Thailand's first radio station. Today the site is owned by the military and the palace is situated next to the Phramongkutklao Military Hospital.
Admission is free to guests – mostly setup for Thai tourists and all visits are by guided tour only (which takes up to an hour). Only open during certain hours on the weekends, the tours are available for the first 40 visitors (each of which is given a badge which they wear around their neck).
The tour includes a visit to the courtyard/gardens in the back and the gardens in front as well as a stop inside the immediately eye-catching Thewarat Sapharom Hall located on the front of the grounds (incidentally, this is the only original building that still stands on the site). Check out the hand painted frescoes and gold work inside.
And if you are in the mood for a bite to eat stop at the cute Cafe de Norasingha located across from the main entrance.
Pipit Banglamphu Museum is a small museum located within a short walk of Khao San Road. Shoes must be taken off and left outside the entrance – admission is free. Excellent air conditioning. This museum opened in 2014 inside what used to be the Kuru Sapha Printing House – and focuses on the history and life of the Banglamphu part of Bangkok. The name Banglamphu came from the Lamphu trees which used to attract fireflies, back when Bangkok actually had fireflies. The last Lamphu tree was destroyed in the major flood of 2011 when the Chao Praya River swept over its normal river banks flooding much of the Banglamphu neighborhood.
The second floor contains a Treasury Department Museum. Visitor's to the first floor are self-guided. Exhibits are in both Thai and English. A noteworthy exhibit on the use of brick is worth some time exploring. Brick in Thailand has been used dating back to 1100 BC. Bricks were used in pagodas and other historical sites.
Compared to busy Khao San Road and some of the other nearby streets, the courtyard is a very quiet place which one has to walk through before entering the museum.
Rattanakosin Exhibition Hall opened in 2010 and offers a number of exhibits focused on Thai lifestyle and culture. Located within a short walk of Democracy Monument, about 10 minutes from Khao San Road and very near to several prominent temples including Wat Saket and Loha Prasat. During a recent visit the exhibitions seemed geared towards Thai (we were the only farang in our group). All visitors must join one of the guided groups – several different options are offered on these tours – focusing on a variety of exhibits. Allow a minimum of two hours for each tour although if you tire, you may request to leave early and one of the guides will accompany you out. The guides speak both English and Thai and tours incorporate a number of multi media presentations. English speaking visitors may elect to use one of the English audio guides.
All tours start on the first floor in front of a lighted display portrayed on the wall (if you wave your hands frantically above your head, a number of birds will take flight in this digital display). The first floor is open to the public without needing a guide – and includes a cafe, a library, a coffee shop and several small souvenir shops.
Tours progress pass through a hall containing a pictorial display of key points in Thai history. Visitors are allowed a few minutes to explore this section on their own and then are led upstairs through various exhibits. One of the exhibits includes an in depth look at Thai lifestyle and culture including life in small villages. Other exhibits focus on the history of this particular part of Bangkok and also of the Thai Royal Family. Open daily except Mondays – the price of admission is quite reasonable considering the length of each guided tour. Website is only in Thai: www.nitasrattanakosin.com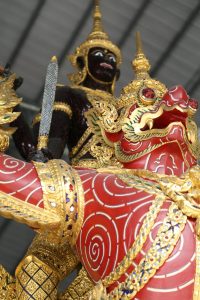 Royal Barge Museum is located on the small Bangkok Noi canal just off of the Suhkumvit River (not far from the Siriraj Hospital). Access can be via the canal using the Chao Praya Express Boat – get off at Wang Lang Pier (N10) or for a more private experience – hire a Tuk Tuk and request they stop at this museum. Alternatively one can acess this museum via city streets and what is one of the more unique entrances to any museum we have visited around the world – a raised narrow concrete path the leads through various slums ultimately arriving at the museum. (the museum is well signed along this path). Total walking time from the street to the museum along the path took us about 8-10 minutes during our most recent visit.
Visitor's pay a reasonable admission fee – double the admission fee if you want to take photographs inside.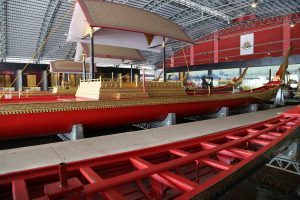 Only several of the barges are on display at any time – these are intricately designed and colorful and the use of gold is extensive. They are rarely used/seen on the water – used only for special ceremonies. We visited once many years ago in November and were told the barges aren't often here this month because of the annual Royal Barge Ceremony in December.
If you become thirsty – there is a vendor who sells cold drinks from his refrigerator almost directly across from where you pay the admission fee.
Queen Sirikit Museum of Textiles – see our mention under the Grand Palace on our Wats & Temples page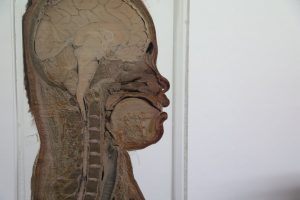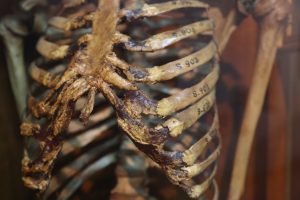 Siriraj Medical Museum. This possibly disturbing museum to some is located in Building 28 on the grounds of Siriraj Hospital (the main museum). You can reach the hospital by taking the Chao Praya River Express Boats – get off at Pier #10 (Wang Lang). Or if you are on the opposite side of the Chao Praya River you can take one of the boats that crosses the river from either Maharaj or Prachan Cross piers. Once you reach Pier #10 (Wang Lang) it is about a 10-15 minute walk to reach the museum.
No photographs are allowed inside – probably for obvious reasons. The content is graphic and involves displays of terrible injuries including stab and bullet wounds. You may become nauseated after seeing jar after jar of perfectly preserved still-borns or other children with various defects. Several rapists are on display including a serial killer – well-preserved through natural mummification.
A tsunami exhibit shows the devastation and many injuries sustained during this natural disaster. There is also a separate display on parasitology and some of their effects on humans.
Five museums make up the overall collection spread throughout several buildings on campus, they are: Ellis the Pathological Museum, Congdon Anatomical Museum, Sood Sangvichien Prehistoric Museum and Laboratory, Parasitology Museum, and the Songkran Niyomsane Forensic Medicine Museum.
The Congdon Anatomical Museum contains a wide array of preserved human organs and other parts of the body. One room is devoted to skulls and bones – another room contains two dissected humans, one a male and one a female. Also a number of small babies/children. An amazing dissection of a whole-body nervous and arterial system is on display – with the eyeballs being the most eerie and prominent part of this skilled dissection. This is a rare opportunity for the general public to see a wide range of human anatomy on display.
Guests sign in on the ground floor prior to visiting each museum.
Sunthon Phu Museum is located towards the back of Wat Thepthidaram Worawihan. Located next to the impressive Loha Prasat complex and within a short walk of the beautiful Wat Saket.The museum is a collection of small rooms centered around a small courtyard honoring the life and times of poet Sunthon Phu. Sunthon, often called the "Shakespeare of Thai Literature" or "the Bard of Rattanakosin" Suthon ordained at this temple and spent three years of his life here. The museum rooms are where he lived during his time here.
The Adventure of Sudsakorn was Thailand's first animated film (dating from 1979). This film was was based on a character from Sunthon's nearly 50,000 line poem, Phra Aphai Mani.
A monk will often give you a highly personalized tour of the museum guiding you through each of the rooms within the museum. One room contains story boxes – open up one of them to read more about Sunthon (in Thai and English). Despite Sunthon being born in 1786, technology plays a role here – during your tour if you stand in certain areas you will be superimposed into a digital image (which can then be emailed to you by one of the monks).
Another highlight of a visit is singing some of Sunthon's versus with a monk. The monk will set the tone and you will follow suit, verse by verse. The accoustics in the room will make you sound like a Thai opera star!
We plan on visiting the following museums in 2018/2019 as time permits:
Counterfeit Goods Museum
Human Body Museum
Mineral Resources Museum
Royal Thai Airforce Museum
Suvarnaphumi Airport Museum