Sometimes you need a respite from the chaos of of Bangkok's urban world – and fortunately one does not have to go very far to find any of a number of Bangkok's green spaces. Despite being surrounded by buildings and busy streets, often these spaces feature much cleaner air then the nearby surroundings, are often quieter and sometimes offer a variety of activities for all ages (paddle boats, picnicking, exercise equipment and playgrounds).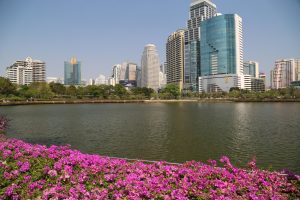 Benjakitti Park is an oasis of calm and serinity among the highrises of Sukhumit. Dominated by a long lake with some greeen space this park is popular with locals looking to escape the urban chaos for a short while. A very well marked path along the edge of the lake is divided into lanes for both bikers and joggers/walkers.
Visitors can also rent bikes on an hourly basis and for those looking to enjoy a more intimate view of the lake – little swan peddle boats are also available for rent. Located a short distance from the Asok Skytrain and MRT Stations. We have always accessed it via Sukhumvit Soi 10 (at the end of this soi). About a 10-15 minute walk from Asoke. Open 5am until 9pm.
Benjasiri Park is located directly on Sukhumvit near the Emporium Shopping Centre and just down from Dinosaur Park. This small park is easy to access based on its location in one of the city's more busy areas and nearby access to the Phrom Phong BTS Station.
The park features a number of pieces of sculpture from various Thai artists as well as a small lake. Often on cooler days you will find people laying on the grass (mostly foreigners) near the lake or sitting on the benches in the shade of the nearby trees (mostly locals). A small Thai style building sits on a concrete pier which is built over the edges of the lake.
A small playground for children is popular with daytime mothers and their kids. Evenings can be a busy time at the park with people doing various exercises. Also a popular place during certain festivals – Loi Krathong and Songkran. This park is open from 5am until 9pm.
Chalerma Park (graffiti park). One of Bangkok's smallest parks, this public space is most easily accessed and within a short walk from the Ratchathewi BTS station (use exit number 1). This park and playground has been taken over by graffiti artists (since 2013) with a number of both small and larger murals decorating the walls of the adjoining buildings.
The playground features several swings, a metal slide and a number of tires including one that is swinging from a tree. And as you would expect most of these tires have been brightly colored by various street artists. Stroll over to the most colorful of the walls – with a set of concrete stairs leading partially up to the walls before ending at a dangerous looking deep empty space in the concrete. No safety railings here so use caution.
One part of the park features a large concrete space surrounded by wall murals and flowers growing out of tires. In fact this park contains an unusual amount of tires.
Popular with young artists wanting to make a public statement. Also popular with young hipsters wanting to take selfies or do fashion photography, presumably for their own Instagram accounts that also presumably contain tens of thousands of followers.
Chatuchak Park is located near the Mo Chit Skytrain stop and the Chatujak Park Station (Metro) and is one of the older parks in Bangkok having opened in 1980. Also located within easy walking distance of the always busy Chatuchak Weekend Market – a visit to the park makes a welcome respite from the crowds at the market (although even despite the large size of this park, on the weekends there are still many people here – most lying around on the grass enjoying each other's company and food and drink).
This is one of Bangkok's larger parks; it also encompasses Queen Sirikit Park (a botanical garden) and several other lesser parks including Rod Fai and Wachirabenchatat Parks (although Kampaengphet 3 Road does run through the park and divide the parks). There is plenty to do here for people of all ages; closest to Chatujak Market one finds the Children's Discovery Museum, the impressive Clock tower and ponds and plenty of grass to relax on.
Also worth visiting – (albeit a longer walk) is the Bangkok Butterfly Garden. There are plenty of walking/jogging paths in the park (especially popular in the early mornings used by exercise enthusiasts).
Chuvit Garden is located directly off of Sukhumvit slightly closer to the Nana Skytrain stop then the Asoke one. Either way, its a fairly short walk from both BTS stations. Founded in 2006 and named after himself by Thai politician Chuvit Kamolvisit – this privately owned but open-to-the-public park is a small oasis from the nearby urban jungle and controlled chaos found just outside its gates on Sukhumvit.
Clean and well kept, the park features a number of benches. Nice spot to come and do some reading. Hours are a bit odd – 8am until 10am, then closed, and reopens from 4pm until 10pm.
Lumpini Park is best visited quite early in the morning – say from 4:30am until 6:30am. The reason for this is that these are the times when the park is usually the busiest. People get up early to run around the road on the inside of the park, to practice their Tai Chi, and other exercises. Often you will see groups of people congregated around a radio or other speakers all unanimously doing their exercises together. One of the more interesting exercises you will is see is a group of people simultaneously yelling quite loud. For "westerners" it may be a bit of an unusual experience to watch this!
This sizable and well-loved park is located at the junction of Rama IV and Ratchadamri roads. The shores of the man-made Lumpini Lake are popular spots to hang out. Features tennis courts and a gymnasium. Easy waking distance from either the Silom or Lumpini Metro stops. Or the Sala Daeng Skytrain stop. Often home to temporary events such as the Tourism Authority of Thailand's annual Tourism Fair held in February.
Rommaninat Park is a welcome find when you are strolling the hot and humid streets of this part of Bangkok and need a break from the noise and pollution of the nearby urban scene. Features a small pond and a fountain (located on top of a small hill). A medium sized park that is remarkably quiet considering the surroundings. Wondering about the watchtower on site? This was formerly the site of the Bangkok Remand Prison.
A Corrections Museum used to be located on site – but at the time of our latest visit, this museum was closed indefinitely.
The park features a small garden, a very nice outdoor gym with a variety of exercise equipment that is open to the general public. Includes somewhat dates but still an impressive collection of weight lifting equipment. Also a small children's playground.
Rama VIII Park is located on the banks of the Chao Praya River on the Thonburi side with part of the parks border being the edge of the highway right next to the iconic Rama VIII Bridge (this bridge even appears on some 20 baht bills). The park opened in 2012 on the site of the former Bang Yikhan liquor factory. As a result of its proximity, there are excellent views of this bridge from within the park. Medium sized, the park contains several parts including the recreation area right next to the river – good for jogging, walking or just admiring the riverfront area. A monument to King Rama VIII overlooks the river (a larger then life statue)
Despite being fairly close to Khao San Road (one can actually walk across the bridge on either side of the road) there are often very few tourists here. The bridge contains a very high observation deck (unfortunately currently closed to the public). Several paths cross through the park – one leading to a small outdoor weight lifting area. Another leads to the bathrooms – available free of charge to visitors. Easy pedestrian access to and from the Rama VIII Bridge to the park.
Santi Chai Prakan Public Park is conveniently located along the banks of the Chao Praya River only a short walk from Khao San Road. Nice views of the river and of the nearby prominent Rama VIII Bridge. This little green space used to house a sugar processing factory and is located in the Banglamphu neighborhood. The park is often host to a number of expats walking their dogs or reading on several of the benches located here. The park opened in 1999 to celebrate the King's 60th birthday.
Also site of the Phra Sumane Fort (very noticeable due to its white color and the fact there are not a lot of similar looking forts in Bangkok). This fort was originally built in 1783 to defend the city against potential invaders moving to attack from the river. Bathrooms are located at the edge of the park and are free to use for the general public.
Despite the park's fairly small size, there are a number of trees planted on site. Also still a number of old school residential neighborhoods surround part of the park including a tiny canal on its northern border.
We first visited this park decades ago – at the time a number of vendors were here including several expat western tourists who were leading classes for locals in how to speak English. Those days of freedom to do business wherever you like in Bangkok are over – these days the park is kept very clear of any vendors.
Those in the mood to rise early can join locals in a group exercise starting at 630am. Easy walk from a number of budget guesthouses including those located along Soi Ram Butri or those in the Samsen neighborhood.
Santiphap Park is one of our favorite parks in Bangkok. This 8 acre park is very narrow in width and is located within a short distance of Victory Monument. It runs between the very busy and non touristy Ratchawithi Road and the not as busy but very touristy Rang Nam Alley. Despite its fairly small size, a visit here is a welcome escape from all the nearby urban chaos and continual noise. A wonderful green space to seek some relaxation.
The park is well landscaped – we've seen a small field of sunflowers at various times – once side of the park has a tiny garden. An oval walking or running track encircles the entire park (about 1km in length) and is commonly used by those seeking exercise. Need more exercise? A small outdoor gym with a variety of exercise equipment is available for free use to the general public.
A number of benches are located in the park – with many surrounding a small pond. A kids playground and a restroom are also located on site. Also known as the Peace Park – a bronze sculpture of a dove is located in roughly the center of the park and is modeled after a Pablo Picasso painting. the statue ties in well with the name of the park and the fact that a number of birds live on its grounds. The park was previously used for a housing complex which was ultimately torn down; this park opened to the public in 1998.
Saranrom Park is located within a very short walk of the Grand Palace and Wat Po and next to the scenic Rop Krung Canal. Formerly the grounds of Saranrom Palace – converted to a public park in 1960 this is one of Bangkok's oldest parks. The palace on site was built in 1866 and was home to several royalty and their guests. Like other area parks a pathway circles the property – often used by joggers.
The park features several nice fountains and some hidden away places to sit down and enjoy a good book.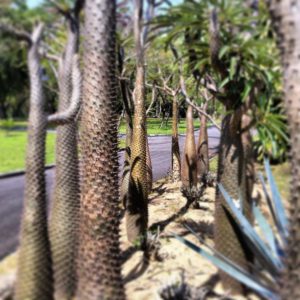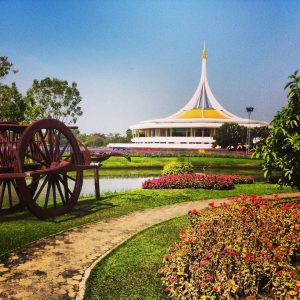 Suang Luang Rama IX . The park opened in 1987 in honor of the King of Thailand's 60th birthday – it is Bangkok's largest park. To get here, take the Skytrain to Udom Suk station on the Sukhumvit Line – exit #3 and immediately at the bottom of the stairs, look for taxis to take to the park. Total taxi fee should be around 70-80 baht. Bring your walking shoes if you intend to explore much of the park – the center is a large lake where you can rent small paddle boats for additional exploration. Much of the park is open but there are several formal gardens, a desert section, and a tropical type aviary. Mornings often see groups exercising – there is a play area and an outdoor gym next to the northern parking lot. Bathroom use is 3 baht. Entrance to the park is a very reasonable 10 baht! With so much space – this is a great place to take families.