The town of Chamonix is a great place for shopping, relaxing, or people watching. Chamonix reminds me of Whistler, British Columbia. It has the feel of being a high mountain village when in actuality it sits only approximately 3400 feet above sea level. There is an excellent variety of shops and stores to browse through. Many local tourist shops sell stunning photographs of the surrounding mountains.
These photographs are often only a few US dollars. They make good inexpensive presents for friends and family back home. Initially everyone is happy with a present such as a photograph. You are happy because the cost was so little, and the recipient of the photograph is happy because it is a picture of beautiful scenery. However when the recipient tries to frame the photograph they will soon find out that an inexpensive present can easily turn into a very expensive one due to the high framing costs. To save money, I purchased an inexpensive frame at a local thrift shop and did my own framing.
The tourist shops in Chamonix are a cut above other tourist shops found elsewhere in France. Some shops sell nothing but cuckoo clocks. The prices are fairly reasonable for these. There is plenty of selection so it is a good idea to price shop before you actually decide on a purchase. One a clear day there are excellent photo opps from the main part of town. At dusk the lighting is the best on the snow capped mountains.
Reserve des Aiguilles Rouges is a nature reserve located 7 miles north of Chamonix at the Col des Montets. This area is spectacular because it has a diverse variety of alpine vegetation. There is a visitors center located here and it is open from June to September from 9:30am until 12:30pm and then again from 1:30pm until 6:30pm. Near this reserve you can find a botanical garden. The hike through the garden is a little over a mile in length. For more information about this reserve call PHONE NUMBER 04 50 54 02 24.
Musee Alpin is located in Chamonix. They have exhibits of art, photographs, and lithographs. The exhibits show the history of mountain climbing in the Chamonix area. The open hours for June through mid October are from 2pm to 7pm and between December 25 and Easter, they are open from 3 to 7pm. The entrance fee is about 6 Euros.
Le Brevent is the highest peak on the western side of the Chamonix valley. It stands almost 8300 feet. This mountain and surrounding area is known for its excellent views of Mount Blanc. Le Brevent is located on the mountain range opposite Mount Blanc. To get to this mountain you can take the tramway. From the valley floor you can see it ascending and descending. For more information about this tram call PHONE NUMBER 04 50 53 13 18. A one way trip costs 12 Euros and a round trip from Chamonix costs 24 Euros. In the summer the tram begins running at 8am and its last ride is at 5:45pm. In the winter the tram begins operation at 9am and finishes running at 5pm. Le Brevent has a heated lounge, refreshment bar, and a restaurant.
For those of you interested in ice skating on your vacation, Chamonix has a place for you. It is an indoor ice skating rink and it is located in the Centre Sportif at 165 Route de la Patinoire. It is open daily from 10am until noon and then again from 3pm until 6pm. The entry fee is 6 Euros and if you want to rent skates expect to pay about 5 Euros. They are closed in the summer. You can reach them at PHONE NUMBER 04 50 53 12 36.
There is a large swimming pool in town. Only European style shorts are allowed.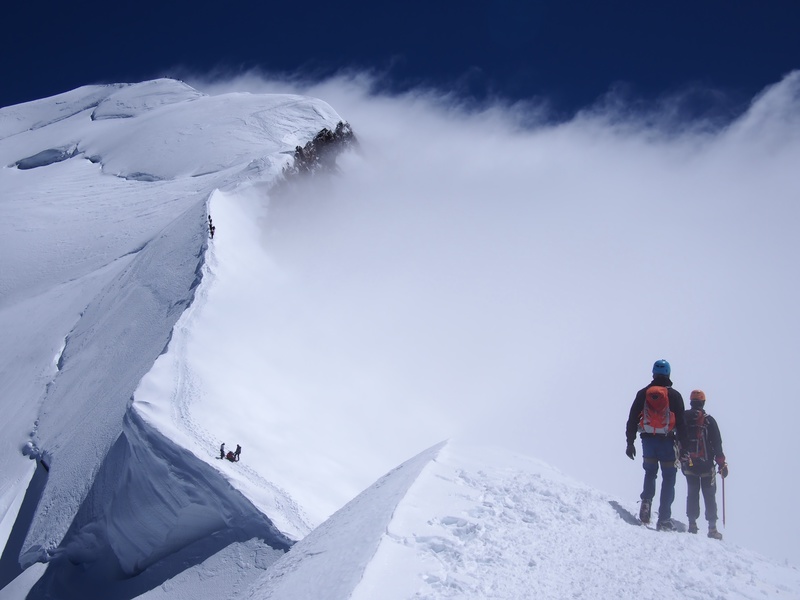 Skiing is part of what has made Chamonix famous. Three winter Olympics were held in the area, the latest was held in 1992. There are over 100 miles of ski runs in the Chamonix area. The many miles of cross country runs and the 64 chair lifts, with some as high as 12,500 feet, help to make Chamonix one of the premiere ski destinations in the world. The Vallee Blanche descent is over 12 miles and takes about 4 hours to descend.
The vertical drop on this glacier is over 6600 feet. It would be wise to have a guide on this descent as there are quite a few crevasses in the glacier. Some of the resorts are open for most of the year and one is even open 365 days a year.
An event worth mentioning that I saw in Chamonix in mid July is the arm swing contest. This isn't the technical name for it, but I never found out the real name. This sport attracts people from as far away as the United States and Canada, as well as many Europeans. One person holds onto supports sticking out of a wooden wall. He/she then swings back and forth using their arms and legs. Finally after building up enough momentum they let go and try to swing them selves across the wall onto another support sticking out of the wall. They try to hold onto that support, and they are able to hold on to it, the next round begins. After all individuals have completed one round successfully, the supports are moved further away from where the person is swinging. Therefore, it becomes harder and harder each time to successful swing yourself over to the moved supports. This event occurred at night, and attracted a lot of local people as well as tourists. It lasted for about 1.5 hours (men's and women's competition).