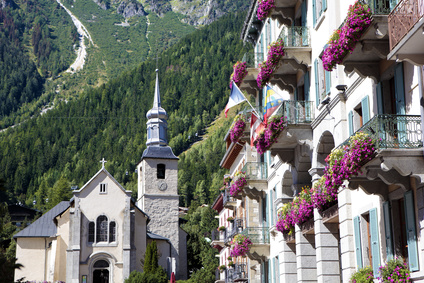 There are several good places to stay in Chamonix. I was in Chamonix in the middle of July and had no problem getting a hotel. All the tour books and people I spoke with agree that July and August are the busiest months for the summer season. The following hotels and hostels are not nearly all of the ones in Chamonix.
They are merely provided to give you some information about prices and local lodging. I'm sure there are some accommodations that aren't listed on this page, that should be. If you stay at a hotel in Chamonix, please tell me about your experience. That way I can update this page, and include more information for fellow travelers. Additional hotel information in the Chamonix area is available here: www.chamonix.net/english/accommodation
Some of the cheaper lodgings are listed below.
L'lle des Barrats is located near the base of the Aiguille du Midi cable car. It is open from May through September. For more information call PHONE NUMBER 04 50 53 51 44.
Le Deux Glaciers (the two glaciers) is located on the Route des Tissieres in Les Bossons, about a mile and a half south of Chamonix. It is open all year except from mid November to mid December. For more information call PHONE NUMBER 04 50 53 15 84.
Visit: www.campingsavoie.com/Siteanglais/Haute_Savoie/clients/deuxglaciers/f1.html
If you enjoy camping there are several campgrounds located in and around Chamonix.
Le Arrolles is located about a mile and a half south west of Chamonix in a small village called Les Pelerina. It is located at 281 Chemin du Cry and is open from late June until September. PHONE NUMBER 04 50 53 14 30.
Another camp ground is the Glacier d'Argentiere located at 58 Chemin des Moilettes. This campground is open from June through September. It is located near the Argentiere train station. The rates are 10 Euros each plus an additional 5 Euros for the actual camp site. For more information call PHONE NUMBER 04 50 54 17 36.
A hostel called the Auberge de Jeunesse is located a mile or two south west of Chamonix at 127 Montee Jacques Balmat in the small town of Les Pelerins. The price per person for a shared room of four or six people is 15 Euros. This price includes the cost of a continental breakfast. Normal meals at this hostel cost 4 Euros per person. Unfortunately check in time is after 5pm. This hostel is closed from October until mid December. In the winter only weekly stays are accepted. They also offer ski packages in the winter time and there in the summer, there are nearby hiking trails available. Visit: www.fuaj.org
Chalet Ski Station is located at 6 Routes des Moussoux, neart the Planpraz and Le Brevent tramways. Beds are 12 Euros a night, sheets are 2 Euros, and showers are 1/2 a euro per shower. This chalet is closed from mid May until late June, and then again from mid September to mid December. For more information call PHONE NUMBER 04 50 53 20 25.
Gite Le Chamoniard Volant is somewhat rustic. Bunks are available in rooms for 4, 6, or 8 people. They are located on the eastern outskirts of town at 45 Route de la Frasse. The reception is open from 10am until 10pm and the receptionists speak English. PHONE NUMBER 04 50 53 14 09.
Visit: www.chamoniard.com/pages/site_anglaispag.html
Gite la Montagne is an attractive place located in a forested area about 0.7 miles north of the main train station in Chamonix. It is located north of the train station at 789 Promenade des Cremeries. I have been told that the staff does not speak English. Note: telephone reservations are accepted only on the day of your arrival. Rooms are locked from 10am until 5pm – curfew is at 11pm. Rooms tend to be packed with people. A single bunks costs around 12 Euros per night per person. This hotel/hostel is closed from the November 11 to December 20th.
Visit: www.gites-montagne.com/locations/maison-chalet-350-chamonix-mont-blanc.html
Gite Le Grans Charmoz guesthouse is located right in Chamonix at 468 Chemin des Cristalliers, about 1000 feet north of the main train station. An American couple run and own this hotel. Doubles are about 32 Euros which includes the use of the shower and sheets. However, towels are not provided. Dorm beds are also provided for 12 Euros per person. They even have apartments upstairs for stays of more then a week. PHONE NUMBER 04 50 53 45 57.
Hotel Valaissanne is a small place located at 454 Ave Ravanel Le Rouge about a quarter of a mile south of the town center. It is located at 454 Ave Ravanel le Rouge. They offer doubles for 35 Euros per person.
Here are additional more expensive lodging
Hotel Alpina opened in late 2006 Visit: www.bestmontblanc.com/en/alpina.html
Hotel le Stade is centrally located at 79 Rue Whymper. Their prices for singles are 40 Euros. PHONE NUMBER 04 50 53 05 44.
Hotel de L'Arve is located at 60 Impasse des Anemones. They have convenient parking nearby. Their singles start at 50 Euros PHONE NUMBER 04 50 53 02 31. www.hotelarve-chamonix.com website in French.
Hotel Richemond is quite large and is located at 228 Rue du Docteur Paccard. They have rooms for one or two people. Prices for singles start at 70 Euros. PHONE NUMBER 04 50 53 08 85. www.richemond.fr Website in French & English.
Hotel Gustavia is very centrally located chalet type lodging at 272 Ave Michel Croz. They have nice double rooms for 120 Euros in the high season and 70 Euros in the low season. PHONE NUMBER 04 50 53 00 31. www.hotel-gustavia.com
Hotel Mont Blanc is rated 4 stars and is located just south of the tourist office at 62 Allee Majestic. They have very fancy rooms and breakfast is included with your stay here. Rooms start at 180 Euros per person. PHONE NUMBER 04 50 53 05 64.
Hostellerie du Lion d'Or is a very nice, clean, comfortable, quiet hotel located at 255 Rue du Docteur Paccard. I stayed at this hotel and have no complaints. Waking up in the morning and having the warm mountain sun shining through the curtains, and looking out the window at snow covered peaks, is a great experience. This hotel is run by an Australian who used to live in California. He runs a Spanish restaurant behind the hotel. This hotel is very centrally located to all the shops and the prices are quite reasonable for the location. Expect to pay about 30 Euros for a single person, or 40 Euros for doubles.