Part of the experience of staying in Colima City is having the opportunity to take neat side trips, just outside of the city. It is friendliness and simplicity of the local people that make this area around Colima city a neat place to visit. Side trips give you a chance to really mingle with the locals. If you take side trips in this area of Colima, chances are you will not see any other tourists. I love walking through some of the small villages, where the local people rarely if ever see tourists. On warm days in the afternoon sun, I stroll by local village elders sitting quietly in the shade, reading, smoking, talking, but most often, dozing. Small children play some sort of kick ball games in the dust of the old cobblestone streets.
Sometimes, you will encounter a drunk man, and if you do, give him a cautious amount of room, and let the effects of his inebriation wear off as he talks to no one in particular. Sometimes you will find a small soda shop on a corner of some street. There usually are elderly people sitting in the shade of the store's roof. Tip your hat, smile and walk in to purchase a refreshing drink, usually a Fanta. Fanta seems to be the choice of soft drink in all countries but the United States. Absorb their questioning looks, but don't ignore them completely. Look their way to, as they have their own story to tell. A simple smile will usually ease any unease. Practice your Spanish, give them some of your time, take some of theirs. Tell them where you are from.
Comala is a small town of about 8000 people, about 7 or 8 miles north of Colima. Comala is known for its fine woodworking artisans. These people make very nice carved wood furniture. If you are here Sundays or Mondays there are markets to walk through. The people seemed quite friendly in this town. I walked through some of the side streets, and several families invited me into their homes, when they saw me admiring there house through their front door.
Most people just leave their front doors open, so as you walk by on the sidewalk you can get glimpses of the inside of their homes. One family invited me in for a drink while they told me about how they built their own house, and then they continued to talk to me about their jobs, and their family.
Like Colima, Comala gets the occasional bus tour from Manzanillo. I say occasional, because Comala isn't what most people who stay in Manzanillo are looking for. Its a small town, with one central plaza; it does not have the feel of a tourist town. There are not enough shops to support a large tourist industry. There are several restaurants in the main plaza that have outdoor seating for meals. I saw one mariachi band playing during the lunch time hour.
There is a small neat church in the main plaza or zocalo. Near this church is a government building which I was able to climb to the roof, and get a great view of the surrounding city. There are several sidewalk cafes surrounding the main plaza. Most of them are open from 11am or 12pm to 6pm.
Lastly, when in Comala be sure to check out the small artists cooperative located a short walk from the main zocalo. This is where local artists create unique furniture, crafts, ceramics, leather, and other objects.
Suchitlan is an Indian village located about 5 or 6 miles north east of Comala. This town is famous for its authentic animal masks, however, chances are there won't be any in stock, or you can't find the stores where they produce these. I did locate one lady, who was known by all the local villagers. I ended up walking around this small village for almost 1/2 before I located a small thatched roof hut, down a small trail which wound down to a small creek. I yelled for this lady, and she came out, but told me that she didn't have any more masks, she had brought all of them to Colima to sell in the central plaza.
I did not visit this town on a Sunday. Sunday would be the best day to visit if you are interested in purchasing wooden masks. Sunday is the day that they sell masks in the small local markets.
Continuing on about 10 miles past Suchitlan you will be driving through some very pretty countryside. The road will climb into the hills, and the vegetation becomes greener. There are several restaurants along this section of the road. One I highly recommend. There are signs for it, and you will see a small dirt road leading off of the main road. This road ends several hundred feet off of the main road in a small parking lot. After climbing a few steps, you arrive at the restaurant. This restaurant is situated in an incredible location. It sits on the edge of a tall peninsula, with incredible views of the volcano from your table. You are eating underneath a thatched roof, sipping a Fanta (or possibly a more stimulating drink), and the entire feel of the place feels tropical.
Photo courtesy of Vincente in Suchitlan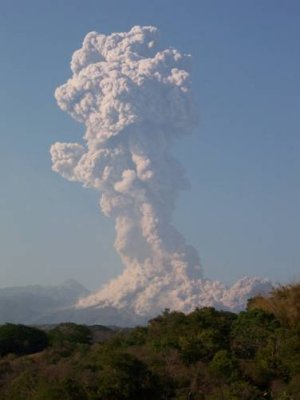 Notice the leaf cutter ants near the steps, near the parking lot. I saw these ants carrying small pieces of leaf to their home in the ground. Some of the bushes near the steps to the restaurant were completely devastated, and many of these bushes had lost their leaves.
As you continue on this road, which winds among the hills towards the volcanoes, you will come upon a level spot in the road, which you probably will find parked cars and people wandering around on the sides of the road. This is the "Zona Magnetica" or Magnetica Zone. Apparently this is a section of the road where your car will roll up hill. I tried this with my rental vehicle. I put the car in neutral and took my foot off the brake and sure enough, the car rolled up hill. I was told scientists had studied and could not determine the cause of this phenomenon. I think it is an optical allusion.
As you continue driving you will wind further up in the hills towards the volcanoes. The paved road will end about 12 miles north of Comala. At the road's end you will find a smaller road leading to an elegant Hacienda. This Hacienda is the site of a former 19th century coffee ranch. It was converted to a hotel several years ago, and all the tour books I have read say that it is open to the public. However, when I tried to drive in, many armed guards ran up to the front and sides of my rental car, and stopped me from entering. I played dumb tourist, but they still wouldn't let me in.
The end of the paved road turns to dirt and rubble, but you can continue driving further up the road, if you drive slow. There was one bad section in the road, which requires a little off road driving experience, but for the most part the road was good. This bad section of the road was the area that crossed through the creek. To drive this requires driving very slow, and getting the underside of the car wet. I stopped at the creek and took out a watermelon that I had purchased earlier in the day. I sliced it open with my handy dandy trusty Swiss army knife, and let the sweet juice dribble down my throat. I sat on one of the many large rocks overlooking the small stream and watched the locals return from a hard days work. Most of the workers I saw did not have cars and they were walking home. They took off their shoes before the stream and waded across. Those workers that did have transportation back to their home villages, were fortunate not to have to walk, but unfortunate in that they were crammed in large open air trucks with lots of other workers.
After eating through the majority of the watermelon, I decided to walk down the road a ways. One nice feature of this area, is that there are large sugar cane trucks hauling the cane out of the fields, down to markets in Colima city and elsewhere. Every time one of these trucks rounded a corner or went over an unusually large bump several pieces of the cane would fall out of the back of the truck and land in the road. This was exciting to the locals, as they would rush over to the fallen piece(s) of cane and begin chewing on the sweet pieces. I found a few that the locals had not discovered. There is nothing like chewing on fresh sugar cane.
If you continue on this road, you will eventually come to La Maria which is home to a nice lake called the Laguna La Marie. This is also a camping and picnic spot. There are even a few cabins here that have small kitchens.
You are now a lot closer to the volcanoes then you were in Colima city. It is possible to climb these mountains.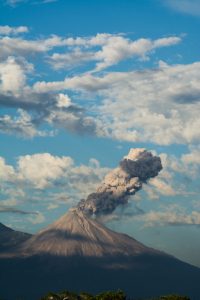 Nevada de Colima is the taller of the two at about 14,202 feet, and the Volcan de Fuego de Colima is about 13,000 feet. These volcanoes usually have snow on their summits from December/January through March or April. During the height of the snow season there may be over 25 feet of snow on the summits of these two volcanoes.
There is a dirt road that leads up the Nevado de Colima. It takes you to within a couple of hours walk of the summit when there isn't any snow on the mountain. From Colima the drive is about 2.5 to 3 hours one which puts you in position of hiking the rest of the way to the top of either mountain. Contact the main tourist office for more information about climbing these volcanoes. Another possibility is to contact the University of Colima's Vulcanology department, and find out if they are going to be taking research vehicles to the volcanoes. Colima's university is located about 1.5 miles north east of the main downtown zocalo or plaza.
An interesting town that is in the complete opposite direction of the above towns is called Tampumacchay . It is located almost due south of Colima off of Highway 110. Tampumacchay contains shaft tombs that date from 200AD. These tombs are located on the grounds of a small hotel in a small suburb of Tampumacchay called Los Ortices. Los Ortices is located about 10 or 11 miles south of Colima city. This small hotel is open to the public and hotel staff will guide you around and through the tombs.