This is information that was not able to find a home in any of the other categories in this article.

Bathrooms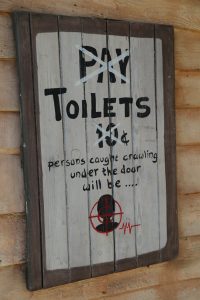 Just about all the public bathrooms in Europe have an access charge. Usually this runs from several cents to several dollars depending on the country and the location. The bathrooms in places that you had to pay to get in were usually included in the price of admission. By charging an entrance fee to get into restrooms, most of the bathrooms were extremely clean.
If you want to use free restrooms there are several places you can look. One is McDonalds which have over 26,000 locations all over the Europe. Another place you might want to consider looking for a bathroom is in large stores, and especially large stores in malls. As a last resort for using the bathroom you can always find several bushes in a park and hide. On several occasions I saw some of the locals doing this, although they were not hidden very well.

Drinking Fountains
First of all there are continuously running drinking fountains in most of Europe but especially in Greece and Italy. This is very good considering the extremely hot weather that often times plagues parts of Europe in the middle of the summer.
I drank out of all fountains from Italy northward. I had no dire results. I even drank out of fountains in Rome and in Venice. I found Rome to have some of the best tasting water. It was also very cold and clear. The only country that I did not drink the water from was Greece. I have met some North Americans that have drank the water in Greece and have not gotten sick. It may have been just fine, but I stuck to bottled water and soft drinks. A particular soft drink that you find all over Europe is Fanta, a product of coca cola, that slowly is becoming more popular in the United States.

European Travel Books

The tagline for this book is "a journey through every country on the continent" and this is certainly an appropriate description. Lonely Planet, long known for their detailed country guide books has put together a wonderful coffee table sized book organized by specific geographical locations within Europe. Each country is then highlighted with individual reviews and accompanying photos. This is part of their "Continent" book series. Find out what each country is known for, learn about the "essential experiences", cuisine, festivals, history, culture and much more. Also look for the "surprises" section listed under some countries; this lists items that perhaps most people do not associate with that particular country. This book makes a great gift especially for those armchair travelers as well as those embracing the "staycation" philosophy of travel.
This is the ultimate book for those adventurous independent travelers looking to spend considerable time overseas on a "big" trip. The economy or your "normal" job have you down? Pick up this book, start dreaming and then make this dream a reality. This book contains real life stories from seasoned 'on the road' travelers, top tip lists, and big trip experiences and favorite spots are highlighted. This is the perfect book for gap year travelers, high school or college grads who are looking to take a year off, or anyone wanting to get away for a while. The book is divided into four easy to read chapters. Highlights of the book also include trip planning, types of trips to consider, where to go, and much more!


Purchase Book
Also consider these other guidebooks to Europe.
"Lets Go Europe" is almost 1000 pages of Europe information. It provides some general Europe information as well as gives information about particular countries and other travel information. It sells for about $30 US. It has some street maps.
An excellent book which lists all type of information for traveling through Europe by train is called "Europe by Eurail". This book includes maps, updated information on fares, updated every year, tips on keeping costs down, and pre planned itineraries. This book has been published every year since 1976.

ID Cards
For those people who are students, usually under the age of 24 years of age, or senior citizens, those above age 60, having an ID card was needed to get a discount on attractions and museums. For students, purchasing the International Student Identity card is a waste of money. A school ID with your age listed worked in all the museums and attractions that I visited. I even forgot my card several times and I was still able to convince the cashiers that I was a student. However, this didn't work all the time and I was forced to go back to my hotel to retrieve the card at one museum.
If you are planning on renting a vehicle or motor cycle/scooter for a short while, usually a day to several days, plan on giving up your drivers license or passport. The rental company will hang on to this until you return their vehicle.
Consider photocopying your passport, drivers license, credit cards, and other important information. Take several copies and put one in your money belt and another somewhere in your luggage or backpack. Also leave a photocopy of at least your passport with someone in your home country.

Internet Access
Internet access is all over Europe. Cafe's started creeping up in the early 90's and by the late 90's the physical infrastructure had been built to support Internet access almost everywhere. We often keep our phone on when walking down streets to find free WiFi. Some cities have more open free networks then others – especially as you move towards southern and south eastern Europe.
The prices for Internet access really varies from country to country. Most places charge a minimum of 15 minutes. Some places are even free, but these are the exception rather then the rule. Most places charge a dollar or two for an hour of access.
Most of the Internet cafes serve food and beverage. Some are more popular with tourists than others. Some cafes off of the beaten path are a hangout for mostly the local people.

Student Travel Organizations
Council on International Educational Exchange (CIEE):
205 E. 42nd Street
New York, NY 10017-5706.
Their TELEPHONE NUMBER is 888-268-6245.

They are geared towards student travelers, and they have worldwide academic and volunteer work opportunities. www.ciee.org
International Student Travel Confederation:
Bredgade 25H DK-1260
Copenhagen K, Denmark
Their TELEPHONE NUMBER is 45-33-33-96-00

This is an international organization promoting travel for young adults. You can visit their web page at: www.aboutistc.org