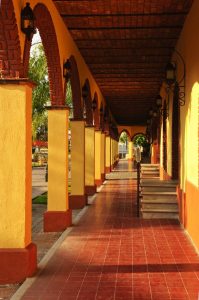 Located about 20 minutes by taxi or car from the main zocalo and Hotel Frances, Tlaquepaque offers one of Mexico's best shopping. This is a tourist Mecca and a shoppers dream. The stores in what used to be a small suburb of Guadalajara, offer many many items. Most of the stores sell crafts made by local people. Some sell antiques. Some sell religious antiques for prices up to $100,000 US dollars.
There are some incredible silver and gold trinket and jewelry stores. Tlaquepaque will put to rest the myth that is formed at border towns such as Tijuanja, that all Mexico has to offer is cheap goods. For example, some of the items I saw for sale in Tlaquepaque are the following: solid gold masks of various sizes, solid .999 silver large figurines, German pewter pottery, rod iron works, oil paintings, early religious antiques, rugs, pottery, furniture, and much more.
Mariachis in their sequined suits and glitter are ever present in this town. They are often seen performing in the gazebo in El Parian, a circular building in the center of town, or at restaurants. In fact, Mariachis originated in Tlaquepaque. They used to perform at weddings in the mid 1800's.
Tlaquepaque is also famous for its hand woven rugs, its hand painted pottery, and its silver and copper work. Calle Independencia is the main street through this town. It has been refurbished and looks quite fancy and inviting. However, once you leave this main street you are away from the shops that sell the quality items. I walked around some of the side streets and I did find some shops, but nothing of the caliber of those shops along Calle Independencia.
This street is open to pedestrians only. The buildings along this street date from the late 17th century to the 20th century. They used to serve as homes for wealthy Guadalajarans back when Tlaquepaque was its own separate town from Guadalajara.
One building and shop in particular stand out in my mind. It is called Sergio Bustamante.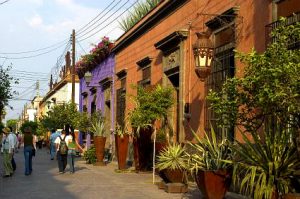 They also have several other locations such as in Mexico City and Puerto Vallarta. This store is almost like a museum. They have a jewelry section with lots of gold, a painting section, and several rooms for displaying pottery. In the center of this store is a small waterfall and pond, with flamingos and other exotic birds walking around. For more information about Sergio Bustamante please visit their web site at:
www.coleccionsergiobustamante.com.mx
For more information about this shopping area contact the Tlaquepaque Tourist Office. They are located at 160 Donato Guerra. Three phone numbers are listed.
They are: 5233) 3639-5519 or (5233) 3659-7110 or (5233) 3657-8354 From the USA you need to dial a 011 first. Their toll free PHONE NUMBER from within Mexico is: 01-800-024-2727
An excellent restaurant located near the main street is a restaurant/ bar called El Abajeno. Besides the great food enjoyed in a relaxing courtyard/garden setting, experience authentic mariachi dancers. This restaurant is located at Ave Juarez 231 and their phone number is 635-9015.