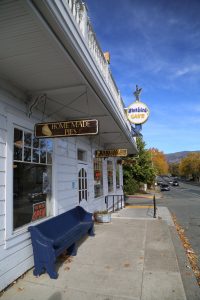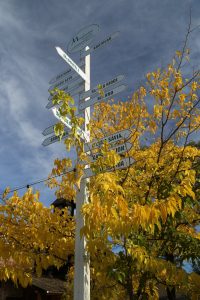 The small scenic town of Hopland is situated about two hours (1 hour 45 minutes on a good day) north of San Francisco along the 101 Freeway. Hopland is about 40 to 45 minutes north of Santa Rosa in Mendocino County. The 101 is a freeway the entire way from San Francisco until several miles south of Hopland where it turns into a 2 lane road. The freeway ends a few miles south of Hopland and becomes a two lane road through Hopland and several miles to the north of Hopland. Picture the 101 in downtown LA, and then picture the 101 through Hopland. The same road. Yes!!! Always a joke of ours when we are here and are ready to drive somewhere, "better check to see how busy the huge 101 is before leaving"!
The section between Squaw Rock to a few miles south of Hopland used to be a very dangerous drive. Several times we have seen accidents happen on this stretch of roadway. However, now its a very nice 4-lane freeway (although slumping hillsides in several sections have caused problems and or short lane closures in the area) – which has really improved this section of roadway.
A intriguing rock shop is located on the eastern side of the road just south of Hopland (Pieta Creek River Bend Rock Shop). They have many different specimens of rocks on old wooden display cases outside of the store, as well as many nice pieces inside.
Hopland makes a great day trip from Santa Rosa, or even a long day trip from San Francisco. Its far enough away to be out of the influence of the Bay Area. It is located among the California Coastal foothills, among gentle oak covered rolling hills. Hopland is a rustic community located in a farming region.
Although there are many wineries in Mendocino County including a number of tasting rooms in Hopland, this area does not have the recognition that Napa and Sonoma County has. However, there are some stellar wines being produced here and your typical tasting will not usually be crowded arm to arm at the bar as you might find at some of Napa's larger wineries. And there may not be tasting fees and the prices certainly won't be like Napa.
Check out Hopland's Wine Tasting Passport Weekend held every May here: www.hoplandpassport.com
This photo above was taken near the summit of Hopland road, Highway 175 in mid march in the middle of a rare snowstorm![/caption]Hopland is about 16 airline miles from California's largest natural lake, Clear Lake. You can drive to Clear Lake from Hopland in about a half hour on the extremely windy Highway 175.The weather can vary dramatically between seasons in this part of the state. There can be buckets of rain falling from the sky in the winter, while in the summer temperatures are often over 100 degrees F.
The main sites and attractions we recommend seeing while you are in the Hopland Area are the Center of Town (lots of little wine tasting venues), Real Good's Solar Living Center, the Sho-Ka-Wah Casino, and Campovido Farm & Vineyard.