The height of the tourist season is during the climbing season from mid May through the end of September. During these months you often see larger numbers of tourists. We have been to Huaraz a number of times, mostly in the climbing season. However during our latest visit we came to Huaraz outside of the climbing season and it was amazing to see how few tourists were in town, and as a result the hostels and hotels were rather empty.
Our Recommendations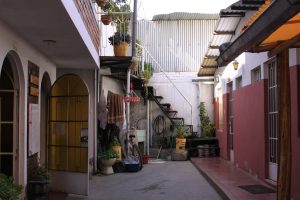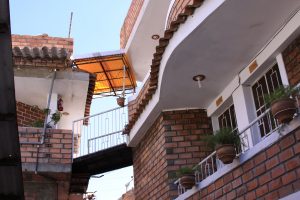 La Cabana Hotel is a small family run hotel/guesthouse located within walking distance of the main street, downtown, and the main Plaza. It takes about 10 minutes to walk here from the center of town. You walk up hill to reach this hostel and there are several convenience stores and Internet cafes on your way to the hostel. You can enter one of two ways, either through a gate on the main street into the family's living room where you will proceed to your room, or as most people do through a main gate that leads directly into the guesthouse quarters.
This hostel is a great place to stay and meet other climbers – there are pictures of nearby summits and climbing photos in the main family living room. You can leave some of your gear in their storage room if you plan on returning. The staff here is very friendly. Look for private hot showers, TV's in the rooms, free use of a kitchen, a garden, a roof top patio with excellent views of Huaraz (minus the annoying electrical lines) and the Huascaran range in the distance. All of this makes this guesthouse Dave's choice when staying in Huaraz. Laundry services are provided for additional fees. Spanish speaking staff. Cost per night per person is about $5. Ask for Senora Flor. Located at Jr. Jose De Sucre 1224. PHONE 043 423428 Email: flormila14@hotmail.com
There are two main buildings to the hotel each containing multiple stories. Rooms are single, double or multiple. Don't tell anyone, but we always stay in lucky double bed room number 206 before our climbs or treks 🙂
Also note as you walk out of the Cabana Hotel there is an extremely cheap restaurant about a block to your right hand side. Dinner typically will be around 3 or 4 soles and there is usually so much food that you cannot eat it all! The restaurant advertises "economical meals"!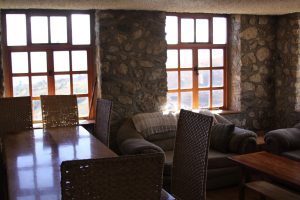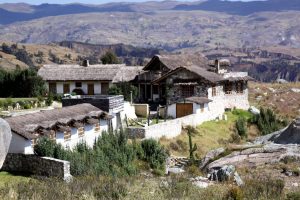 Way Inn is located at 3172 meters or above 12,000 feet in the foothills of the Cordillera Blanca above the town of Huaraz. It takes about 25 minutes to reach here from downtown Huaraz and as of press time it should cost around 25 soles for the one way trip. The owner Alex is from the UK and also has a vehicle on site for transportation. This lodge is certainly not in Huaraz and is rather isolated however it is the gateway to excellent bike rides and treks nearby. It also has great views and because of its elevation could be considered as a place to stay after initially adjusting to the altitude in Huaraz. he grounds are scenic with comfortable beds, an indoor fireplace, a small sauna and hammocks. Breakfast is also served on site.
Horse back riding can be arranged and bikes are also available for rent on site (a must do!). Camping, private rooms and dorm style rooms are available. Reserve well in advance during the high summer tourist season.
For more information visit: www.thewayinn.com
Other Accommodation