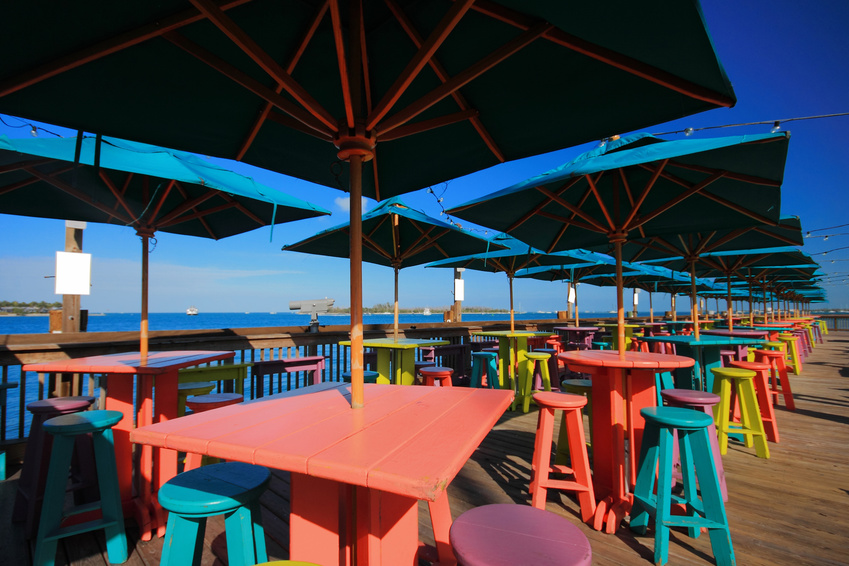 To begin this section I would like to give you one of the more popular recipes for Key Lime Pie. This is a well-known pie that is a specialty dessert of the Florida Keys. This particular recipe was taken from Key Kookin by the late Glad Whitley.
Ingredients:
4 eggs (separated)
1 cup sugar
1 tablespoon sugar
1 tablespoon gelatin (in 1/2 cup ice water)
1 half cup Key lime juice
1 half teaspoon salt
Beat egg yolks until thick, add 1/2 cup sugar to eggs slowly while beating. add salt, then lime juice; beat well. Cook in a double boiler about 10 minutes or until thick. Transfer to mixing bowl, add gelatin, and beat for 5 minutes. Set aside to cool. Beat egg whites until stiff, add sugar and beat until of a satin smooth consistency. With a wooden fork, beat in egg whites to the cooked moisture until well-blended without lumps of egg whites. Pour into a pre-baked 9-inch pie shell, and either freeze for the future or chill in the refrigerator.
As with many of the restaurants in the Florida Keys, most restaurants in Key West serve fresh fish. Some that come to mind are wahoo, grouper, snapper, tuna, & dolphin fish. More than likely all will be caught in the local waters. Don't miss the Conch dishes. These can be breaded, served raw in salads, or made into conch chowder. Conch was part of the main diet of the original Key's natives. Today the conch you find in restaurants is imported from the Bahamas because in the United States it is a protected species.
Dave highly recommends picking up a copy of "The Menu" a detailed listing of all the restaurants in Key West. It includes full page menus and prices. All the restaurants listed below are in "The Menu".
As you are shopping you will find several juice and smoothie sidewalk vendors, especially on Duvall Street. They use fresh fruit and mostly tropical ones such as mango, papaya, and pineapple.
These restaurants are divided by type of food. All restaurants listed below are in the (305) area code.