Los Angeles, CA – Beverly Hills is a wealthy community much loved by locals and visitors. Drive around some of the local neighborhoods and into Bel Air. Whoooee. Fancy. You can see the homes in the flats, and each one has a clearly showing security sign on a stake driven into the ground somewhere in their front yard. Drive up into the hills and you are lucky if you can even see the homes – as often they are gated or protected in front by large bushes. The gardeners must be given explicit instructions to not cut these! Beverly Hills is also known for its fashion and its expensive shopping. And American icon, Will Rogers served as the city's first mayor.
A few places to visit while in town are the following: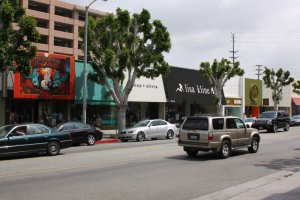 Robertson Blvd (north of Wilshire) – Several blocks of Robertson Ave starting at about 4 blocks north of Wilshire is an upscale trendy shopping district. This area is also less than 1/2 a mile from the Beverly Center (as described above). You may see some name brand shops in this area but name brand shopping is not as common here as in other more well-known shopping districts of Beverly Hills…as say Rodeo Drive. The highlights here are high end boutique stores. Looking for t-shirts made in India for $150 to $200 per shirt?
You can find them here! This is an area of Beverly Hills where sometimes celebrities are seen shopping – in tow with Paparazzi hanging on their every move. We travel with a large camera and while hanging out in a nearby gas station we had several people ask if we were following celebrities including one mother daughter team who had driven up from San Diego to this particular section of Beverly Hills just to try and spot the "stars". Regardless of whether you see any stars or not, you will see some very fashionable dressed shoppers, maybe a Chihuahua or two and a number of very expensive items for sale.
For those who are looking for name brand purses and bags but don't want to spend the very high prices $3000 to $25,000+ consider a stop at "I Want That Bag", an authentic bag reseller located at 464 S. Robertson Blvd – Phone: (310) 274-9696. They have a very good selection of hand bags, all of which look quite new and upon close inspection we could not see they had been used. A number of celebrities bring their bags into this store on consignment.
The well-known Kitson has several locations on Robertson Blvd including at 115 N. Robertson – Visit: www.shopkitson.com

Rodeo Drive , one of Beverly Hills most famous attractions is an exclusive collection of high priced well known lifestyle brands (clothing, jewelry, purses, & other boutique stores). The core of Rodeo Drive only extends 3 blocks (although Rodeo Drive passes through residential streets to the north and becomes South Rodeo Drive south of the center of town).
Even if you don't come here to shop it's worth a stop merely to see the well-dressed focused shoppers or to see the gawking tourists who come here from around the world. And if you are after material goods in the thousands, tends of thousands and or hundreds of thousands of dollars – Rodeo Drive will be ideally suited to your budget.
The south entrance of Rodeo Drive is via stairs that lead up to the actual shops – which almost looks like a movie set. Dressy clothing not required to walk through this area – many tourists are here during certain times of the year. Good photo ops at these locations. Looking for public parking? Park in the fancy valet parking garage located under the fancy Rodeo Collection Shopping Center (valet parking only). Rodeo Drive is right off of Wilshire Blvd in Beverly Hills.
Paley Center for Media is located near the corner of Santa Monica Blvd and S Beverly Blvd in Beverly Hills. This is not a museum necessarily, but more of a repository or library of visual media (TV, movies). The first floor contains the John H Mitchell Theatre which features several daily screenings often of older episodes of well-known TV shows.
During a recent Thursday visit we were the only one in their large theatre for 2 screenings. Not a bad way to be considering just outside you have the hectic crazy traffic congestion on Santa Monica Blvd. Admission is technically free but a donation of $10 is requested per each adult. The center is located in Beverly Hills and there are tons of surrounding shopping opportunities. Or if shopping is not your thing, walk minutes to the Beverly Hills sign along Santa Monica Blvd and have someone take your photo. Allow about 30-45 minutes here.
The second floor contains a number of consoles where you can choose titles from a selection of over 150,000 works – make your selection and then you will be directed to the actual viewing monitors. Its easy to squirrel away a number of hours on this floor. A scene in the movie "Hancock" was also filmed here. For more information visit: www.paleycenter.org

Virginia Robinson Gardens are located in the hills of Beverly Hills in a quiet residential neighborhood at 1008 Elden Way in Beverly Hills. A visit to this hidden gem is a highly recommended glimpse back in time into the rich history of this family and of Beverly Hills itself. Come here for this history but also come for the beautiful gardens, interior furnishings and architecture and views (you can see Catalina Island on a clear day).
Limited docent led tours are by reservation (via phone or email and preferably at least two weeks in advance of your visit) and usually last about 90 minutes visiting both the main home, guesthouse and gardens. Parking is available on site once you are paged through the gate (drive past the house and wind up the hill until the road ends in the parking lot. Harry and Virginia's home was built in 1911; this property has the unique distinction of being the first home and luxury estate built in Beverly Hills. As you drive through the neighborhood to reach their home on a knoll you can try to imagine how this area looked 100+ years ago.
The estate belonged to Virginia Robinson. She was married to Harry Winchester Robinson (heir to J. W. Robinson Co. a number of department stores in Southern California and Arizona). Harry he died some 45 years prior Virginia who died 45 days short of her 100th birthday in 1977.
After marrying and prior to this estate being built, Harry and Virginia went on a three year honeymoon to Europe and India. Upon returning to Los Angeles they hired Virginia's father Nathaniel Dryden to design what would be their home. The main home was built in 1911 predating even the nearby famous Beverly Hills Hotel. This property was originally owned by the founder of Beverly Hills, Burton Green.
The 6 acre gardens are maintained by the Los Angeles Parks and Recreation Department. They were left to the city by Virginia Robinson in her will.
The Australian King Palm Forest is a very peaceful part of the property. Tall palm trees grow here and provide excellent shade as you look out to the hills just north of the property – onto some of Los Angeles's most wealthy and prestigious neighborhoods. Part of the forest includes landscaping lava that Virginia had flown in from Hawaii. Also of interest is the huge South African Coral tree that grows on the property. This 90 year old specimen is the "mother" tree for many of the coral trees that grow in Los Angeles.
Linger by the massive bougainvillea that drapes itself over the fence next to the tennis court. During bloom it is a brilliant cascade of color showering one end of the tennis court with it's bright flower like leaves. This bougainvillea was planted from a tiny pot at the time they purchased in South Africa – look at the trunk now; it is massive. And Virginia used to play tennis against Charlie Chaplin on this court… even when both were in their 80's. Imagine those matches and those conversations. And Charlie certainly wasn't the only famous guest entertained on the property – other notables included Marlene Dietrich and Fred Astaire. Some of her neighbors over time were Glenn Ford, Lillian Disney and Elvis Presley.
The estate used to house three luxury Duesenberg automobiles but were sold over time. One is currently owned by Jay Leno. He researched the whereabouts of all three vehicles and the staff received a letter from him in the mail one day providing more details on their current locations. Perhaps one or more of these could be returned to this grand estate one day.
For more information visit: www.robinsongardens.org
Spadena House is located at 516 Walden Drive in Beverly Hills. Otherwise known as the "Witch House" it was built in 1921 to be used for offices and dressing rooms for Willat Studios, local silent film studio. This home was not built in this current location – it was later moved here. Today it is privately owned and visitors can stand on the sidewalk to take some photographs… just don't pick the berries "the witches instructions".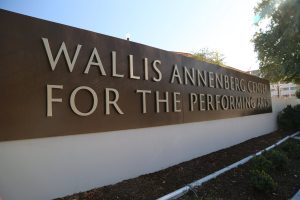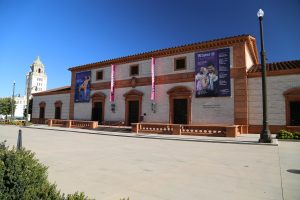 Wallis Annenberg Center for the Performing Arts is located off of Santa Monica Blvd almost directly across from the famous Beverly Hills sign. Named after philanthropist and heiress Wallis Annenberg (huge patron of the arts, locally see the Annenberg Space for Photography, USC Annenberg School for Communication and Journalism and the Annenberg Community Beach House in Santa Monica). This center features 70,000 square feet centered around the original built in 1933 Beverly Hills Post Office which is now the theatre's lobby. The building contains two theatres; the 150-seat Lovelace Studio Theaters and the 500-seat Bram Goldsmith Theater.
A diversity of shows are offered including plenty of classical music performances, dance and chorus. For more information visit: www.thewallis.org
Beverly Hills official website: www.beverlyhills.org

Want more LA & Orange County shopping experiences? Visit our Shopping Page