For the nation's second largest city LA's downtown is actually very small and is eerily quiet on the weekends. We were recently standing in the middle of a major 6 lane boulevard in downtown just laughing to ourselves about the total lack of people and cars present! Certain streets are surprisingly empty. Depending on where you are (compared to the congestion of the freeways), even on weekdays parts of downtown can feel surprisingly empty.
Most people do not associate Los Angeles with walking but in fact if you are in shape and have some time downtown can be an excellent area for walking. A number of unique districts are all within walking distance of downtown and you can easily walk through the main core (tall buildings) of downtown in a short time. The city has informative round colorful signs posted at any landmarks or in locations of historical interest.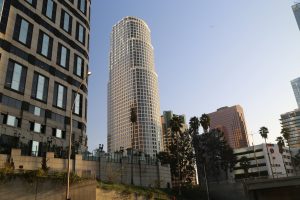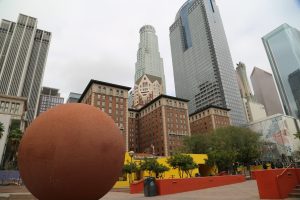 Parts of downtown on the weekends do see traffic and visitors especially along Hill Street, near Pershing Square and just south of the main part of downtown in old town and the jewelry mart area where there are shops that are open for business on the weekends. Also the LA Live area (in the western part of downtown next to the Staples Center and Convention Center) can be popular especially when public events are being held. You can walk the entire downtown district in about half a day, taking some time to stop and explore various outdoor sites along the way.
Bunker Hill is a modern clean part of downtown that features some of downtown's main high-rises and financial buildings. Steps wrap around the edge of the US Bank building (the quintessential Los Angeles high-rise), leading to the top of Bunker Hill where you will be greeted by a bronze statue of a naked woman on a pedestal.
The Wilshire Grand building (1,100 feet tall) is the tallest building in Los Angeles. Entering the building one follows the signs to the hotel/elevators – using the digital touch pad located between the elevators key in floor number 70/reception and be whisked up to this level in merely 40 seconds. Guests can visit this level regardless of whether they are staying at the Intercontinental hotel. Highlights include the views – smartly, a liberal use of glass windows surrounds this floor offering views in all directions. A bar at one end offers limited seating along with food. Our choice for drinks, the Hollywood Hemingway. Its a strong one.
At 4pm daily the tallest open-air bar in the western Hemisphere opens (accessible via a separate elevator near reception). Spire 73 offers even better views of the city to be enjoyed on the sometimes crisp nights at this altitude next to fire pits with a unique cocktail or whiskey in hand. A cover charge is added on for visitors after 8pm. Several other restaurants are also associated with the hotel.
The nearby US Bank building is significant because of its quickly identifiable shape but also because it is the city's second tallest building and is among the tallest buildings in the United States west of the Mississippi (for reference and perspective, the tallest building in the world, the Burj Dubai is nearly 2.5 x the height of the US Bank building!) This building has also been featured in a number of movies and is one of the buildings that tells you "this is Los Angeles".
The city has posted a number of informative permanent signs located at some of the highlights downtown and these are interesting reads. Note that Lonely Planet has published a free pocket guide for downtown Los Angeles which you can pick up in front of the Grammy Museum.
Regarding parking, LA's downtown is somewhat interesting in that there are a number of open air ground parking lots (rather than massive parking garages you would normally find in cities of this size). Parking is always cheaper on the weekends, dramatically so in some cases.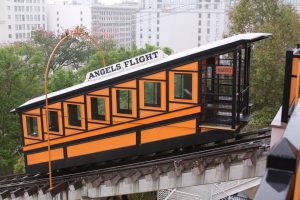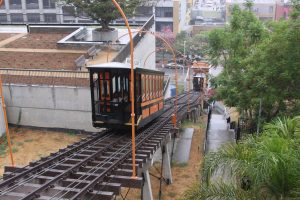 Angels Flight is located on the back (south side) of Bunker Hill just off of Hill Street next to the small park in this area. This is an extremely short funicular. This funicular was rebuilt in its current location about 1/2 block from where it originally was located.
The Saga of Angels Flight: The original Angels Flight opened in 1901 and closed in 1969 – a victim of area redevelopment. It reopened in 1996 but after an accident closed from 2001 until reopening in March 2010. It currently closed until August 2017. Open / closed – that is the theme of Angels Flight over the years. However, as of our latest update it is currently open.
Also note the small hillside park next to Angels Flight. This is a nice spot to lie down on the grass when its warm out (and how often is it not warm in LA?). This park was featured in the movie 500 Days of Summer. And in a more recent flick, Angels Flight had a brief appearance in the film, 2016 film La La Land.
The cost of a one way ticket is most recently $1. Visit: www.angelsflight.org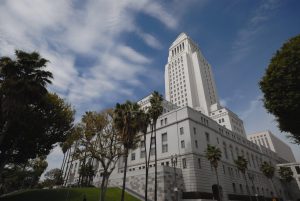 City Hall – This impressive timeless looking building was completed in 1928 and is home to the Mayor's office as well as the City Council offices. The public observatory is located on the 27th floor (M-F). To get here requires taking 3 elevators (after going through security and getting a name tag); the first one to the 22nd floor, the 2nd to the 26th floor and then a short stop up one floor.
Spy the backed up traffic on the 101 to your east, look down on the grime of skid row splayed out for blocks to the south west, or the LA River, and then continue walking around the outdoor platform until you are staring right at downtown. On the 26th floor just below the Tom Bradley room there are many paintings of all the mayors of Los Angeles. There however, is sadly one major picture missing, that of a woman mayor (although Los Angeles actually had an acting women mayor for one day – Estelle Lawton Lindsey). This was the tallest building in California for 30+ years.
This building has made appearances in a number of movies including War of the Worlds. No parking is allowed in front of the building but there are several private lots in the vicinity – hint: parking gets cheaper the further you are from City Hall. Visit: www.lacityhall.org

Fashion Institute & Museum – see our review here

Grammy Museum – see our review here

Los Angeles Convention Center is located in the western part of downtown near where the 110 and 10 freeways merge. This is a major convention center with often multiple events held on the same day due to its size. There are four different exhibitor halls, a main concourse and lots of meeting space.
Several parking garages serve the convention hall; note that it can be quite difficult to determine which parking garage is closest to where you need to be in the Exposition Center – ultimately all garages on site will eventually connect to each of the center's halls but you might be walking quite a distance. Follow the signs to the garage that serves the particular hall where your event is being held.
If you are here on the weekend and don't mind parking a bit further from the convention center you can find cheaper parking in some of the lots 4-5 blocks away – especially if you arrive early (before 10am) to take advantage of their early bird specials. Visit: www.lacclink.com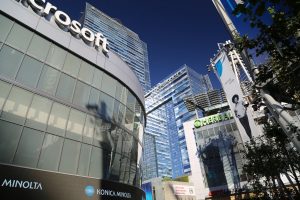 LA Live is a massive entertainment complex that cost nearly 2 billion located across from the Staples Center next to downtown. This is the largest entertainment complex on the West Coast and includes the indoor Microsoft Theatre and outdoor Microsoft Plaza, the Grammy Museum, a number of restaurants, bowling and an arcade.
The 54 story Ritz Carlton anchors one end of this complex as well as a huge 14-screen movie theatre. If you drive by the 110 near downtown on a regular basis you most certainly would have had plenty of time to watch this skyscraper being built – during its construction you probably were able to watch actual floors come together during an afternoon drive by on this freeway.
LA Live is LA's 1.7 billion dollar answer to try and get people to hang out in and around the western part of downtown and to add a central plaza for musical and other events. This certainly has worked especially on the weekends as a number of events are held in the plaza.
This entire complex is situated right across the street from the Staples Center and near the Convention Center. This is a popular place to be whenever there are sporting events across the street. During part of late Fall and early winter an ice arena is setup across from the Microsoft Center. Visit: www.lalive.com
Museum of Contemporary Art (MOCA) – see our review here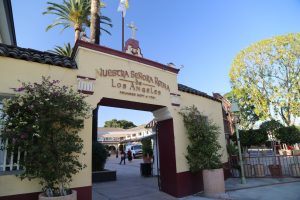 Olvera Street is the birthplace of Los Angeles; this extremely historical district is located across from Union Station near downtown Los Angeles and is where the original Pueblo was built in 1781. Parking is available within a block or two walk – private lots, typically timed at 20 minutes. Public restrooms are in the main square under the round pagoda.
It is often crowded here on the weekends – and especially so when special events are held on site. One such event is the Blessing of the Animals which is held annually on the Saturday before Easter Sunday. This includes a parade and many people bring their animals to receive the holy water blessing.
Today, tiny Olvera Street is well setup for tourists – the main street contains a colorful collection of various Mexican souvenir shops and Mexican restaurants. On occasion, live music will play in the plaza. Since this was the original site of Los Angeles many years ago there are a number of very historical buildings on site including the Avila House built in 1818 which is the oldest home in Los Angeles. It is open for public tours. A number of free museums are located within the Olvera Street complex including the Italian American Museum, a Fire Station museum, Social Justice Museum and several other Latino themed museums.
For more information, visit: www.olvera-street.com
OUE Skyspace – see our review here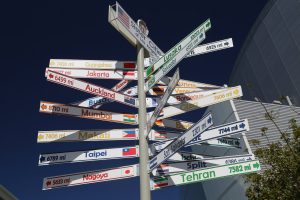 Sister Cities – Los Angeles currently has 24 sister cities from around the globe. The photo of the "sister cities sign" here was taken almost across from City Hall near downtown. This is a dual relationship between Los Angeles and her sister cities – culturally and financially.
We are still waiting for the other City of Angels (Bangkok, Thailand) to jump on board and become a sister city of Los Angeles.
For more information visit: www.sistercities.lacity.org

Staples Center – see our review here

Union Station is the main railway station for all of Los Angeles; it is located at 800 North Alameda Street. This is the hub for the Metro rail, Metro Link and Amtrak. In addition the Fly Away buses from LAX arrive and leave here at set intervals ranging from 20 minutes to every hour (depending on the time of day or night) 24 hours a day. The historical building itself is worth visiting even if you are not going anywhere (dates from 1939)! Its a throwback to a perceived golden age of travel if you will – with a buzz of people coming and going, a grand waiting room, several exquisitely restored side rooms including the Fred Harvey room, the inviting Traxx bar and several snack shops. If California's high speed rail project is ever completed this will also be the final stop from San Francisco – it will approximately be a 2.5 hour trip one way.
Walt Disney Concert Hall – see our review here
Wells Fargo Museum – see our review here