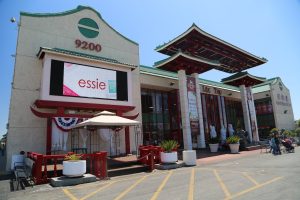 Little Saigon is located in the town of Westminster in Southern Orange County between the 405 and the 22 freeways (with good traffic about 45 minutes south of downtown LA). This is NOT a small town. It is predominately a Vietnamese community and is one of the largest Asian communities located anywhere in the USA. If you are not of Vietnamese heritage and you are in some of the stores and shopping districts in Little Saigon, chances are you will be among the few non Vietnamese here.
Little Saigon is home to the largest Vietnamese community outside of Vietnam. This area of Orange County is similar to parts of San Jose California in the types of homes, topography, climate and culture. This is a major district – Vietnamese shops, malls, and grocery stores span literally miles and because Little Saigon is so spread out, you definitely need a car to get around. Most of the shop signs are in Vietnamese and in certain areas, you will not see non Vietnamese people. There are over 3500 Vietnamese-American owned businesses in this area. Several Vietnamese newspapers, radio & television stations serve the local community – all in Vietnamese.
A good introduction to Little Saigon would be to cruise Bolsa Ave off of the 405 – and once you see the signs for Little Saigon, anywhere within a couple of miles of Bolsa Ave in either direction you will be within Little Saigon. There are an overwhelming number of good pho noodle shops are located in Little Saigon as well as a plethora of other Vietnamese restaurants. Find a busy Intersection that is surrounded by Vietnamese shopping centers and do a count of all Pho restaurants within viewing distance!
Asian Gardens Mall is located in one of the more popular shopping areas, (see photos directly below) and is located at 9200 Bolsa Avenue. Traffic can literally backed up onto Bolsa Avenue just getting into the Mall. A nearby dirt parking lot is slated to be paved over with new condos – this will only compound the parking problems. This mall has over 150,000 square feet of shops (300+ shops) including a very large well-known mostly gold jewelry mart on the second floor. One statue must have weighed almost 20 ounces in gold – talk about pricy! Going into this mall is like walking into another country! A stage is available on the first floor for live performances. Many other popular spots in Little Saigon are in similar situations, especially on the weekends. The crowds are unbelievable at times (weekends mostly) and its next to impossible to get parking spots in the parking lots. What this area *really* needs is a multi-level parking structure.
There are many Vietnamese shopping centers along Bolsa – including some very large Asian markets. Dave loves visiting these for their variety of fruits and vegetables. Some tropical fruit is present, although because of US fruit importation laws and or out of season, some of the tropical fruit may be frozen. One market that has a great selection of tropical fruit not often found in California is the Tien Phat Market located at 9291 Bolsa Ave in Westminster. Phone: 714 893-7970. They even carry Mangosteens which for the first time in USA history, were legally being imported starting in mid 2007! However, buyer beware – with rising oil and gas costs the prices are not cheap here for any of the fruit and you can easily rack up a $100 bill like Dave has numerous times. As a result, we only visit this market for the types of fruit that are difficult to find at other nearby Asian markets. Most of this fruit is imported from overseas. You can find some of the more common fruit at nearby markets for cheaper, although for variety of tropical fruit in one place, this market is your best bet. As with shopping for any fruit imported from overseas freshness and time of season play big roles. Shop very carefully and if possible ask for samples before you buy.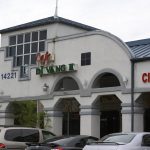 Coffee Shop
Cafe Di Vang is a very interesting coffee shop. First of all you are allowed to smoke inside (no ashtrays so cigarettes are stomped out on the floor). With California's total switch from a smoking state where you could almost taste the smoke circles in any public place to the current laws that severely restrict and ban smoking, it is almost uniquely refreshing to find a place such as Cafe Di ang where smoking is accepted. This is not the main reason clientele visit this coffee shop. The main reason is to see the extremely scantily clad mostly Vietnamese women servers. Needless to say the majority of the clientele is male. Vietnamese tea is served for free, while their other specialties are a variety of fruit smoothies and coffees. We've never seen a menu here, the servers just tell you what they have available. People bring laptops and netbooks here for working – who knows maybe they are using their built in webcams to take videos and or photos! Also card games are very popular here, both the physical type as well as the electronic games that are available in certain parts of the cafe. They have several locations – the one we visit is located off of North Euclid.
Dessert Shops
As with massage businesses and pho noodle shops, there are tons of dessert shops in Little Saigon with almost one per every little shopping center. One of the nice ones we have found is the relatively new Gala Bakery at 15020 Moran St. right off of Bolsa next to the Asian Gardens Mall. Our favorites are the Vietnamese Yogurt and the not quite fermented rice wine. We have also visited Van's Bakery at 9211 Bolsa Ave #125 (in the large shopping center almost across from the Asian Gardens Mall). They offer a variety of French, Chinese and Vietnamese specialties and desserts. Also wedding and birthday cakes. Call: (714) 898-7065.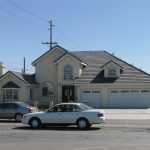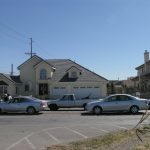 Haunted House – this is definitely *not* something you will find in the tour guides but it is well known among the locals that live in the area. The modern looking corner house at the junction of Euclid and Hazard Ave is known to be a home of ghosts and other dangerous otherworldly things. It has a long story. A family of occupants some years back were driving home (to this home site) and they were all killed in a car accident. Subsequently their house was sold and two additional tenants complained of hearing strange noises and telling about unaccounted for events. They all moved out leaving the house empty. Next, it was thought that destroying the house would eliminate these problems. Not so, during the construction of the current home, a worker fell from the roof and was killed. To the best of our knowledge, the house remains empty to this day. Please review the two provided photos, taken from the other side of Hazard Street from the parking lot of the little strawberry farm. Yes there still is some farmland in this part of Orange County. We did not dare to actually step on the "ghost" property.
Massage
More recently a variety of massage shops have opened up in and near the Little Saigon area especially in the vicinity of Westminster & Magnolia streets. All of the ones we list below start at $15 to $20/hour and are either in the neighboring towns of Westminster or Garden Grove. We have personally visited and used the massage services from a few of these. With coupons or special promos, sometimes you can find 1 hour massages for $11.99!
The cheapest massage place we have seen is King Foot Massage at $9.99 for one hour – located on the north side of Bolsa not far from Magnolia. We have been visiting Little Saigon for a number of years and each year the massage prices go down a little bit further. At $9.99/ hour these prices cannot go down much further and that has got to be one of the cheapest if not the cheapest 1 hour massage business in the United States.
Bamboo Wood Foot Massage is at 14024 Magnolia Street, Suite 203 on the 2nd Floor in the Trong Khu Shopping center at the Magnolia Plaza. Open 7 days a week 9-9pm. Phone: 714 892-1373
Foot Massage Professional is located on the South East corner of Bolsa and Magnolia streets. Look for the 7-11. They are located upstairs – take the elevator. With a coupon clipped from one of the local Vietnamese newspapers this massage business offers some of the cheapest 1 hour massages around ($15). The room is small with massage chairs lined up next to each other but it is quiet. Both men and women masseuses. Walk-ins welcome, appointments may also be made. Open daily from 10am to 10pm, but note the final appointments should be made no later than 9:30pm. Ask for Cue. Phone: (714) 892-8968
LV Hand & Foot Massage is the first natural herbal soak & traditional Chinese foot massage center in So Cal. They are located at 9741 Bolsa Ave Suite 112. Phone: 714 775-0586. Visit: www.lhfootcare.com
Thailand Style Foot Massage is located at 10532 Mc Fadden Ave in Garden Grove (the corner of Ward and Mc. Fadden). Open 7 days a week from 11-8pm. Phone: 714 839-2040.
True Life Reflexology, branch #1, at 14072 Magnolia St., #106 Westminster. You can tell your masseuse to press at various pressures based on what is comfortable for you. Mostly men giving massages here. Branch #2 is at 15576-A Brookhurst (714) 839-3151.
Restaurants
The latest craze in Little Saigon is "crawfish" restaurants – often frequented by the 20 and 30 generation – the place to see and be seen. We will try one of these restaurants during our next visit to Little Saigon.
A couple of Pho shops we recommend are Pho Thanh Lich at 14500 Brookhurst Street. Phone: (714) 531-5789 and Pho Thanh located near the center of Little Saigon at 9625 Bolsa Ave. The "guts" of a good Pho start in the broth and both of these restaurants do an excellent job. Phone: (714) 839-9882
Looking for excellent Dim Sum? Try the Kimsu-Seafood Restaurant at 10530A Bolsa Ave between Ward and Euclid Ave's. They have a huge selection and the dishes are yummy.
Looking for one of the cheapest sit down dinners in Little Saigon? Look no further than Nha Hang Restaurant. This restaurant has been in its current locations for a number of years and specializes in $1.99 dinners with also a number of dinners priced in the $3 range as well. The food is average but the portions are decent and that's all you can ask for at a restaurant serving dishes in this low price range!They are located in small shopping center at 11707 Edinger Ave, Fountain Valley. Phone: (714) 531-0088.
Tet (New Year) – the Vietnamese Lunar New Year (Tet) is a big deal in Little Saigon, especially along Bolsa where part of this huge major thoroughfare is closed down for several hours for a colorful parade. This new year is always held in late January or early to mid February depending on the year and is always at the same time as the Chinese New Year.
Dancers, martial arts, politicians and other community groups march in this parade. Many "poppers" and other assorted noise makers are shot off during this parade and afterwards you can see their red remnants on the street and in the parking lots of the nearby shopping centers. There is also usually a huge flower mart on Bolsa near the Asian Garden Shopping Mall during Tet.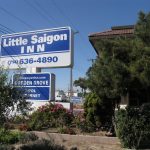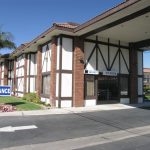 Little Saigon Hotel . Need a central hotel within Little Saigon? Try Little Saigon Inn located on Westminster near the intersection of Brookhurst Blvd. It is within walking distance of many Vietnamese & American restaurants and they list a few nearby attractions on their website.
Check out Dat Phan , a very funny Vietnamese stand up comedian who often performs at comedy clubs in the greater Los Angeles area. Visit: www.datphan.com
Do you have a favorite restaurant or business in Little Saigon? Please email Dave@pon.net and he will post your comments here. More information about Little Saigon is available on Westminster's chamber of Commerce website: www.westminsterchamber.org/tourist/index.php