Cardrooms/Casinos – There are no Indian Reservations within the city limits of Los Angeles so technically there are no casinos within Los Angeles. Rather these businesses are cardrooms, but each cardroom cleverly has decided to incorporate the word casino in their names (which is misleading to the average gambler). These cardrooms do not have slot machines, rather their focus is on card games including but not limited to blackjack, poker and bingo. As of our last update, several cities within Los Angeles County allow casinos including Bell Gardens, City of Commerce, Compton, Gardena and Inglewood. If you are intimidated by card games – the cardroom landscape of Los Angeles might be a bit challenging and perhaps Vegas would be a better option (if slot machines are what you are after).
Often tour operators or cardrooms maintain their own fleet of buses which service select communities within Los Angeles and Orange County – providing free transportation to and from the cardroom. After visiting the following cardrooms, some several times – we have noticed that the patrons tend to be mostly Asian locals and tourists.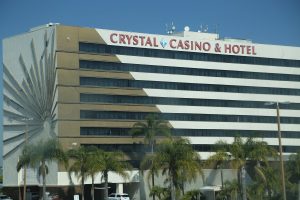 Crystal Casino & Hotel is located off of the 91 freeway in Compton about 10 minutes from LAX and or downtown Long Beach. Address: 123 East Artesia Blvd. This casino can be very crowded on weekends especially for bingo where you may see several hundred people parked out on long tables playing this game. No fees are charged for any of their card games – 35 card tables are on site.
A variety of card games are offered including 21 Blackjack, EZ Baccarat, Fortune PaiGow Poker, Free Bet BlackJack, Spanish 21 and Ultimate Texas Holdem. For more information, visit: www.thecrystalcasino.com

Commerce Casino is located on the east side of the 5 freeway near the Citadel Shopping Center. This prominent casino and hotel is easily seen from the freeway coming from either direction. Billed as having the largest card table room in the world (240 tables) – despite the size, often it can get very busy here on some weekends. We have been here several times – once was on an early Monday morning and there were already folks lined up around numerous tables.
In addition to the card tables, Commerce Casino offers poker, bingo and a number of ongoing tournaments including Poker and Hold em'. Also home to four restaurants. Unlike some of the other Los Angeles based casinos where you feel like you are walking into a jail because of all the security guards and stares from the security guards – entering the Commerce Casino feels 'freer'. The father of one of our good friends owned some oil wells in the city of Commerce; our first visit to this casino came during a visit to these wells. Visit: www.commercecasino.com
Hollywood Park Casino

Hustler Casino

Larry Flynt's Lucky Lady Casino

The Bicycle Hotel & Casino

The Gardens Casino is located at 11871 E Carson St in Hawaiian Gardens within a very short drive of the 605 freeway. Keeping a Hawaii theme, a fake volcano stands out front on Carson Street – complete with painted orange flowing lava – and palm trees are planted liberally around the property. Hawaiian Gardens is the smallest city within Los Angeles County (only a square mile in size) and as a result, this casino provides a significant amount of revenue for the city (well over 60%).
Very popular with Asian visitors – there is even a small religious shrine out front which is usually decorated with fresh flowers. Like other casinos in Los Angeles, they are open 24/7. We have been here very early in the morning on a Monday and seen people who were obviously sleeping in their vehicles in the parking lot after a full night of card games. Some were stumbling back inside the casino for more gaming action.
Offers a number of popular card games including No Limit Hold 'Em, Texas Hold' Em, Seven Card Stud and Omaha. There is plenty of parking on site. The one restaurant on site, Triple 7 Sports Bar & Grill features a smorgasbord of cross culinary options. For more information visit: www.thegardenscasino.com
NOTE: this page is in the middle of a major update. Check back by end of 2019.