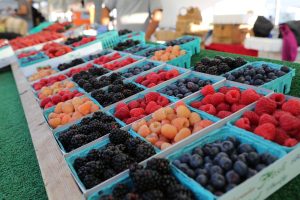 There are well over 100 farmers' markets in Los Angeles County. We have visited 40+ farmers markets as listed below – and to date, two have earned our 'top choice' award

; the Hollywood Farmers' Market every Sunday and the South Pasadena Farmers' Market on Thursday.
We also list select farmers' markets in Orange County. When visiting a market for the first time, it is always a good idea to:
1. walk as much of the market as possible, identifying the fruits and vegetables available and pricing first – then walk back and do your shopping.
2. bring cash – most vendors only accept the green stuff
3. bring your own reusable bag
4. not load up on heavy amounts of fluid before visiting – many farmers' markets do not have portable toilets on site
5. leave pets at home (certified farmers' markets do not allow pets on site)
Based on personally visiting each of the markets below, we have listed the size of each one ranging from Small, Medium to Large. This page will continue to be updated with "new" markets as we have the chance to visit and review them.
A California Certified Farmers' Market means farmers are growing their produce and providing this directly to the consumer without any distributors. Government officials check to make sure this standard is kept up with all vendors represented at any of these markets.
All markets below are year round unless other wise indicated.
MONDAY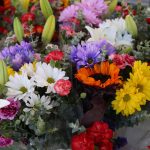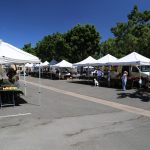 Bellflower Farmers' Market is one of the rare Monday held farmer's markets in greater Los Angeles. The market is held at the corner of Clark Avenue at Oak street in the Simms Park parking lot from 9am until 1pm. Despite taking up some of the parking lot for the produce vendors there is still plenty of parking here. The park is right next door to the parking lot and several tables are located within a short distance of the vendors (in case you want some immediate enjoyment of the fruit you just ordered!).
This market is laid out in a general "L" shape – with vendors scattered about (not all immediately next to each other). Walk to the back where one of the vendors will be selling a variety of breads. When in season, melons, apples and stone fruit along with veggies all year round. Also a vendor selling a good selection of various cut flowers. Market Size: Small – visit: www.bellflower.org/depts/parks/market.asp
TUESDAY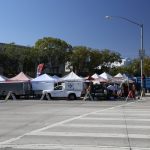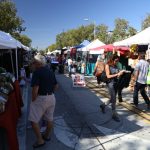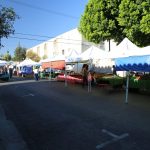 Culver City Farmers' Market is located on a block of Main Street in downtown Culver City right sandwiched in between to very busy streets – Venice Blvd and Culver Blvd. One wonders how often vehicles have to be towed prior to the market opening each Tuesday (based on the location of the vendor booths in parking spots). The market is open from 2pm to 7pm daily on Tuesdays – rain or shine. There is a very good selection of both vegetables and fruit – as well as a number of vendors selling food items and drinks. The bulk of the market is along both sides of Main Street – however a few non produce vendors often spill over onto Culver Blvd.
Because of the nearby location of the film studios – sometimes parking meters on streets can be completely taken over by the vehicles of these film crews. There is 2-hour free street-side parking just south of Culver Blvd in vicinity of this market if you don't mind walking about 10 minutes. Two parking garages nearby also offer free two hour parking. Market Size: Medium to Large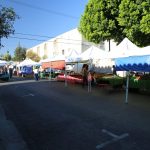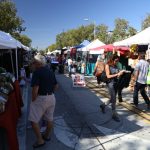 Old LA Farmers Market is located in the community of Highland Park (north of downtown Los Angeles) next to a parking lot near the corner of Marmion Way and 57th Ave. From the 110 it is a very short drive to this market – exit Avenue #57 from the freeway. There is substantial parking in the adjoining parking lot – as well as usually on side streets. The Metro Gold Line stops right behind the market. This market is open Tuesdays from 3-8pm.
The vendors are spread out along two sections in an "L" Shape – one row focuses on mostly fruits and vegetables (with some food and drink vendors among them) and the other section focuses on vendors selling various merchandise. There is even room for a stage in the corner of the "L" shape and during a recent visit several musicians were playing on this raised stage. A number of the vendors speak Spanish and the clientel is fairly diverse. The prices of the fruit and veggies seems more reasonable compared to other Farmers Markets we have visited in Los Angeles. Market Size: Medium to Large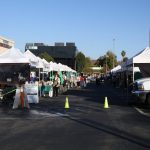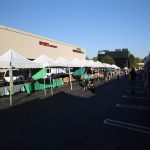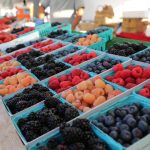 Sherman Oak's Farmers' Market is held in the back parking lot of the Westfield Shopping Center just off of Riverside Ave (Address: 14006 Riverside Dr). Exit Woodman Ave off of the the 101 Freeway. The backdrop for this market are the walls of Ross and Sports Authority. There is plenty of open air parking surrounding the market. A port a pottie is behind the booths.
One row of vendors sells lots of fresh produce and vegetables. Another row focuses on various food items and drinks – although like other area Farmer's markets Market Size: Medium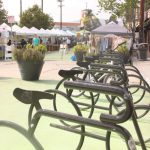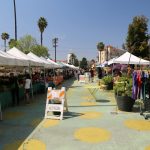 Silver Lake Farmers' Market is conveniently located at 3700 Sunset Blvd not far from the intersection of Hollywood Blvd. They are open from 2 to 7pm on Tuesdays. The market is small – only about a block and winds around a side block slightly with a few vendors. The vendors setup their booths on green pavement and offer a variety of fresh seasonal produce. Summertime is a great time to visit as there are a number of vendors selling fresh peaches, nectarines and other summertime fruit – one vendor Rick's from Fallbrook carries seasonal exotic fruit including white Sapotes as well as an excellent selection of citrus. Bicycle parking is available – the bike racks are in the shape of bicycles! With no traffic you can drive here from Union Station in about 10-12 minutes. For more information call: (323) 661-7771. Market Size: Medium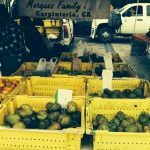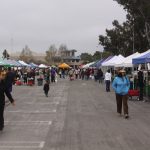 Torrance Farmers' Market is located at 2200 Crenshaw Blvd and is open on Tuesdays and Saturdays from 8-1pm. There is a large open air parking lot on site – parking is not a problem. 60 Farmers come from all over the southland to sell their products.
Lots of super fresh vegetables as well as seasonal fruits. There is plenty of citrus as well as lesser known fruits including Cherimoyas and white Sapotes (when available). In addition to all the farmer products – plants and trees are for sell and a small part of the market is dedicated to small plate foods. Market Size: Medium

WEDNESDAY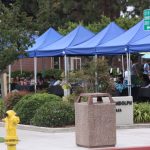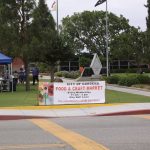 Gardena Farmers' Market is located at 1670 W 162nd St just down from Redondo Beach Blvd in Gardena and is open from 9am to 1pm. Gardena is also home to the Larry Flynt Casino which you will see if you exit off of the 110 Freeway on your way to this market. Of note, the tents at this market are all blue rather than the standard white fare you see at farmer's markets across Los Angeles. The market is held on the grounds of the Gardena Community Center. During a recent visit we only found one veggie/fruit vendor – all the others were selling either food or crafts. This market is extremely small and only a few vendors are represented. Market Size: Small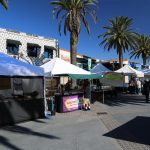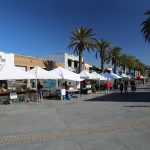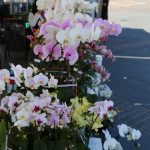 Hermosa Beach Farmers' Market is held right next to the main Hermosa Beach Pier every Wednesday (at the Pier Plaza). This market is open from 11-4pm. The easiest parking is in the open air lot across from the Comedy and Magic Club – where you pay via ticket machines that correspond each parking spot to its own painted number. Simply type in your parking slot number to determine if there is any time left (if not, you can use a credit card to pay for time).
This medium sized market is a mix of local and non local fruit vendors, vegetable, meats, oil & vinegar, flowers and several vendors selling food. This is one of the nicer farmer's market locations in the Los Angeles area – due to it's proximity to the beach and the pier. In addition the market is surrounded by a number of restaurants and beach type shops. Market Size: Medium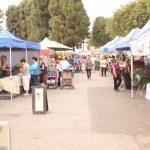 Huntington Park Farmers' Market is located in a parking lot next to the sizable Salt Lake Park at 6938 Bissell Street and is open from 930 am until 130pm on Wednesdays. This is a medium sized market with not only seasonal produce but also several food vendors including a couple selling Mexican food and a drink vendor. During summer, there is a nice selection of stone fruit including peaches and nectarines. Some vendors bring seasonal citrus. There is plenty of parking on an adjacent parking lot – although getting in and out of here can be somewhat crowded at times. Market Size: Medium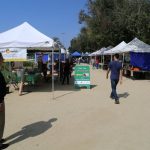 MLK Campus Farmers Market formerly Watts Healthy Farmers' Market is held every Wednesday from 9 to 2pm in a parking lot on the campus of MLK Hospital at 1670 E. 120th st. Los Angeles. This small market is held in collaboration with Kaiser Permanante and features a number of vendors lined up across from each other. Also several specialty food booths. One vendor comes from Riverside every week and brings lots of fresh citrus as well as honey.
A nice addition to this particular market are the healthy cooking courses held during the market hours several times a year – often around community events or special holidays. There is plenty of parking in the adjoining parking lot.
See more at: www.seela.org/markets-mlk-campus Market Size: Small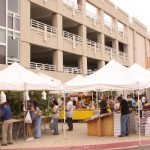 Panorama City Farmers' Market is located at 13652 Cantara Street and is open from 9am to 130pm on Wednesdays. This tiny farmer's market is located on the Kaiser Permanente complex just off of Roscoe Blvd which is just a few minutes from the 170 Freeway.
The market itself is located right next to a 4-story parking garage – which can fill up quickly in the early mornings. The focus here is on fresh fruits and veggies – rather than having a food component. The vendors are small family farms. Market Size: Small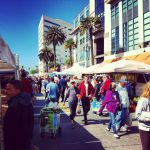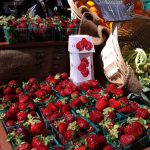 Santa Monica Farmers' Market is the largest certified Farmer's market in the entire state of California! The original market was on Wednesday and opened in 1981. The Wednesday Market is open from 830am until 130pm and is located across multiple blocks and streets around the intersection of Arizona and Second Street in downtown Santa Monica – crossing over part of the 3rd Street Promenade (a well know shopping street). Today the market has expanded to four different locations, two downtown spots on Sundays and on Wednesday and Saturday. Parking is near the entrance to the market on Second Street – several parking garages operate within a very short walk of the market.
Unlike a number of Farmer's Markets in the region, the Wednesday market focuses almost entirely on produce – vegetables and fruit. It is not uncommon to see large bags or carts being wheeled through this market, stacked high with fresh produce. A number of local chefs use the market to source fresh products for their kitchen. Other Farmer's markets tend to be cheaper in the Los Angeles metro region but few come close to the sheer number of vendors represented here. For more information visit: www.smgov.net/portals/farmersmarket Market Size: Large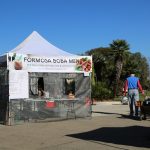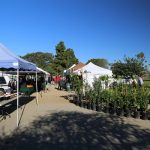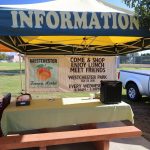 Westchester Farmers' Market is located at 7000 W Manchester Ave and is open from 830am to 1pm. You can either park off of W Manchester Ave and take a short pleasant stroll on a concrete path to the market or park right next to the market on Lincoln Ave (PCH). This market is located nearly in the "shadow" of LAX and from the market you can see the control tower in the distance.
This small market (founded 1993) features several fruit and veggie vendors and lots of seasonal items (including some delicious melons in late summer) – the Formosa Boba Men vendor (nice teas, recommended their Mango Mojito) and some Taiwanese bits, coffee and a vendor selling several veggie wraps. Several picnic tables are located on the northern part of the market. They are open as advertised, 'rain or shine' although in Los Angeles it is more rain than shine! For more information visit: www.facebook.com/westchesterfarmersmarket
THURSDAY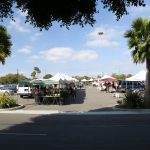 Costa Mesa Farmers' Market is located at 88 Fair Drive at the Orange County Fairgrounds. Because these fairgrounds are so sprawling it is important to know exactly where to go to find this market otherwise you might be wandering around aimlessly when you first arrive. The market is held in the Southwest corner of the fairgrounds right in the parking lot. The market is mid sized and is held every Thursday from 9am to 1pm. Several fairly short rows of booths are represented, selling everything from produce to fruit.
This market is associated with the Orange County Farm Bureau Sponsored Certified Farmers' Markets. Each vendor represented here is inspected by the county agricultural commissioner to make sure they are selling only what they grow. For more information about this particular market as well as other Orange County markets, visit: www.orangecounty.net/html/shop-produce.html#cm Market Size: Medium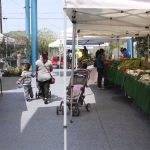 Central Farmers' Market is a tiny market nestled between buildings in the small courtyard of the Central Avenue Constituent Services Center at 4301 S. Central Ave in South Central.
This market has been active for over 10 years. Parking is on side streets around the block. They are open from 10 to 3pm on Thursdays only. Just a handful of vendors are represented here, one of the smaller area Farmer's Markets.
Several citrus vendors are here (pricier than some area Farmers markets, but good quality), avocados, some plants for sale as well as a representative of LA Green Grounds (www.lagreengrounds.org). Public restrooms are available right next to the vendors. Market Size: Small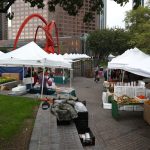 Downtown LA Farmers Market is held at the Bank of America Plaza at 333 S. Hope St every Friday from 1130am until 3pm. This is an interesting place for fresh produce as the backdrop here is as urban as you can find at any farmers market in LA County. The downtown buildings tower directly behind the market booths – with the core of downtown just several blocks away. The red "four arches" sculpture is a prominent landmark – the booths stretch around this sculpture. There are a limited number of metered parking spots just down the street from the market – or area parking garages can be used. However, it is a good bet that most customers simply walk here.
Because of its location the market serves a clientele that you don't normally see at other area farmers markets. In this case, most customers are typically well dressed business people taking a break from work. A number of vegetable and fruit vendors are here as well as a vendor with a sizable booth that displays a wide diversity of fresh cut flowers. We have seen some of the vendors at other area farmers markets. The prices seem to be a bit higher here than some of the other markets we have visited.
Lunchtime is a very popular time to visit the market as many employees from the nearby office buildings come down here to frequent some of the food vendors. During recent visit the Hawaiian BBQ vendor is clearly the crowd favorite – as a line that must have been pushing 100 people stretched for some distance while the neighboring vendors were totally empty. This vendor really scrambles however as remarkably the line kept moving. There are several places to sit down and enjoy a lunch from one of the vendors – grassy areas, tall steps etc.
Market Size: Medium to Large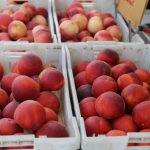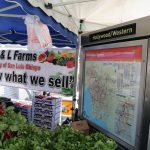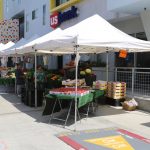 East Hollywood Certified Farmers' Market is held every Thursday from 330-730pm and again on Saturday from 10am until 2pm. Conveniently located along the edge of Hollywood Blvd directly in front of the Hollywood and Western Red Line Metro stop. Some street side metered parking may be available. Also within a very short drive of the 101 freeway.
The market was founded to provide fresh fruit to the local Thai town community. Vendors from from around Central and Southern California. Electronic benefit transfer or EBT is accepted. Just a handful of markets represented – but with plenty of fruits and vegetables. No food vendors. Prices very similar to other farmers's markets.
Closed on rainy days and holidays. Market Size: Small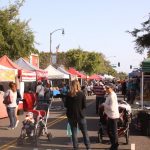 El Segundo Farmers' Market is medium sized and is held every Thursday from 3-7 pm. Main street is completely blocked to through traffic for two blocks. Vendors setup their tents on both sides of the street. One block is reserved for prepared and other foods whereas the other block contains fruit and vegetable vendors.
While a number of Los Angeles Farmer's markets are setup in parking lots, this one is note. Downtown El Segundo has a number of shops and restaurants and as a result, a visit here is not only about the Farmer's Market. Location: 400 block of Main Street – cross street is Holly Ave. No public bathrooms although a gym along the market route can be used in a pinch. Market Size: Large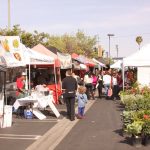 La Cienega Market is medium sized and is located at 1801 S. La Cienega Blvd.(Corner of 18th St.) on the edge of the La Cienega shopping plaza along the always busy La Cienega Blvd. They are open from 2 to 7pm Thursdays. There is plenty of parking lot parking here as well as some street parking. The market boasts a good number of prepared food and drink vendors as well as a smaller sample of fruit and vegetable vendors. When in season, delicious Cherimoyas grown in Fallbrook (San Diego County). These are not as cheap as some of the other markets but are of high quality. The clientele is fairly diverse. Market Size: Medium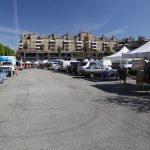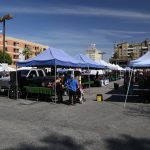 Long Beach Downtown Farmers' Market is held every Friday from 10-3pm. The market is held in a parking lot on the south side of 3rd Street at the corner of Pacific Avenue. Look for the large and historic First Congregational Church of Long Beach as an easily identifiable landmark across from the market. Parking if you can find it, is in metered spaces surrounding this parking lot.
Several rows of produce vendors are setup here with a small section of food vendors located towards the back of the market (Mexican food, Korean BBQ, drinks etc). Seating is very limited with just two tents covering plastic chairs and small tables. Otherwise several curbs can be used for seating. A variety of fresh produce and fruit is available seasonally. Several porta-potties and and a hand soap sanitizer station are available on site. Market Size: Medium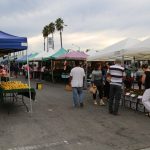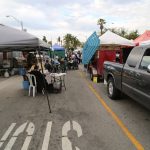 Long Beach Uptown Certified Farmers' Market is held every Thursday from 3pm until 630pm on a block of East 46th Ave at the corner of Atlantic Ave next to the Bixby Knolls shopping center anchored by CVS Pharmacy and a US Post office among other stores here. This is very close to the 710 Freeway – exit West Del Amo Blvd. There is plenty of parking in the open air parking lot that services these stores – although you might have to walk a few minutes depending on how full the shopping center is.
The market has a diversity of vendors as well as customers. There are the obligatory produce vendors you see at all Farmer's markets – selling fruit and vegetables (with one vendor focusing on more Asian greens) and also several food vendors. One sells drinks and Tamales – for the price, one of the cheapest meals you can find anywhere in town. Another vendor sells a variety of eggs including Balut, a developing duck embryo in eggs that are boiled and then eaten. The kettle-corn and peanut vendors are quite popular as evidenced by all the folks surrounding these vendors. Market size: Medium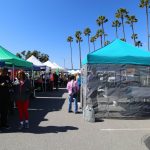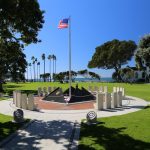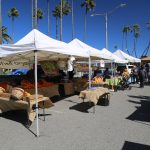 Redondo Beach Farmers' Market is held every week on Thursdays from 8am until 1pm on the edge of Veterans Park. This is a prime spot for a Farmer's market as the ocean and beach are just below where the market is held – and a short walk further is the ever fun Redondo Beach Pier. Not all farmer's markets in the Los Angeles area have this good of a view!
This market features two 'levels' – the upper level contains a diversity of mostly non produce vendors including cut flowers, bakery items, potting plants and other food stuffs. The lower 'level' is spread out – the vendors all lined up on one side of the street and contains mostly produce (fresh vegetables and fruit). Location, 309 Esplanade. Parking is metered on nearby streets or free in part of the parking lot next to the park that is not taken up by the market. Market Size: Medium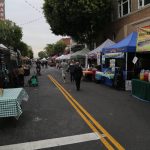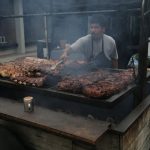 San Pedro Farmers' Market is held every Friday in downtown San Pedro from 9 until 2pm on 6th street between Pacific and Mesa Streets. The vendors are somewhat spread out – with one end of the market selling fruits and vegetables and the other end of the market focusing on food vendors. There are a series of tables and chairs in the middle of the market and a live musician often plays in front of these.
Parking is on side streets – some metered. Look for the fish taco vendor – they sell a variety of different types of fish – these are a good value and not to mention quite tasty as well. The BBQ vendor at located on the edge of the west side of the market is in a good location – the wafting aromas of delicious tri trip are enough to lure in vegetarians. Several vendors sell non food products. Market size: Medium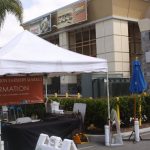 South Bay Pavilion Certified Farmers' Market is a small to medium sized market held every Thursday from 10am to 3pm in part of the parking lot of the huge South Bay Pavilion Shopping Mall in the city of Carson (20700 Avalan Blvd).
There are two rows of tents – one for fresh fruits and vegetables and the other for prepared foods and artisan items. Since this market is held right in the middle of a parking lot – there is plenty of parking! There are disproportionately more vegetables here than fruit compared to some of the other area markets we have been to. It is also located very close to the 405 Freeway with easy freeway access. Market Size: Medium

South Pasadena Farmers' Market is one of the better farmers' markets we have shopped at in Los Angeles. Great location right next to the South Pasadena Metro Gold Line station. Certainly one of the most product diverse markets. Vendors come from all over Central and Southern California. Excellent selection of produce and a memorable selection of various food vendors including during our latest visit, hummus, oysters, ice cream, several food trucks, a selection of cheeses and yogurts and more.
Open every Thursday of the year from 4-7pm, rain or shine. Nearby parking is free – either just north of the train tracks in residential neighborhoods (a short walk to the market) or in the public Mission Meridian Parking lot. Bicycle riders can enjoy free secure parking on site. Often some live music on site (usually just individuals playing single instruments). Very family friendly. For more information visit: www.southpasadenafarmersmarket.org
Market Size: Medium
Westwood Village Farmers Market is held every Thursday at 1036 Broxton Ave from 12pm until 6pm. Located within walking distance of the UCLA Campus in the heart of Westwood. Often will see students, staff from the nearby Ronald Reagan Medical Center or professors popping in to shop and then walking back to campus. Westwood and the college (unlike some other towns in Los Angeles) have embraced the scooter sharing and during our visits, we always see scooters waiting around on the sidewalks.
This approximate 2 block section of the Braxton offers a variety of artisan products (not just fruit and veggies) – more artisan vendors then most small farmers markets in Los Angeles. Sometimes various creatives are on site offering face painting, live music or clown like activities. Pupusas Salvadorenas booth is a long time vendor (selling a variety of natural fruit drinks). This market is managed by FarmerMark – an organization that is responsible for hosting several other farmers markets in Los Angeles and Orange County. Market Size: Medium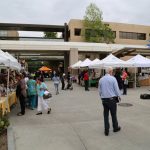 Woodland Hills Certified Farmers' Market (Thursday) is located directly in front of the entrance of the Kaiser Permanente Hospital in Woodland Hills. This market is open every Thursday from 10-230pm. Address: 5601 De Soto Ave (a very short drive in from the 101 Freeway). Parking is free and is available in a nearby above ground parking structure.
This is an interesting location for a farmers market – there are other Farmer's Markets in town held at Kaiser Permanente Hospitals but this is the only one we've seen located right next to the entrance of the hospital. As as result you may find yourself dodging wheelchairs (as we did during a recent visit) and other non market customers coming and going from the hospital.
There the number of vendors is small but there is a good diversity of products – ranging from fruits and vegetables to canned goods, breads to honey. Also when in season on vendor sells the sub tropical fruit Cherimoyas here. Although they are priced higher than you can find at some of the Farmers markets in Los Angeles. This market is part of the Southland Farmers' Market Association. Market Size: Small

FRIDAY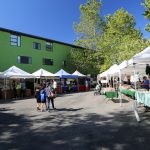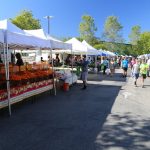 Venice Farmers' Market (not to be confused with the one in Venice Florida) is located at 500 Venice Blvd in Venice and is open Friday mornings from 7am until 11am. Parking is either in a lot right next to the market, on side streets or even in front of the market on Venice Blvd. Like other area farmer's markets – this medium sized market sees several vendors who frequent other Los Angeles Farmer's markets (including LaFunghi and the fruit vendor from Carpinteria).
There is a good selection of fruits and vegetables. Due to its location surrounded by residential neighborhoods – seems to cater to mostly locals. Nice to find an early am opening market. Market Size: Medium For more information visit: www.venicefarmersmarket.com

SATURDAY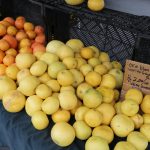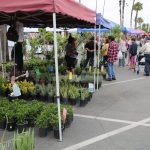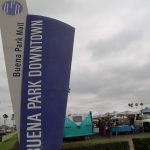 Buena Park Farmers' Market is located in downtown, a short walk from the Buena Park Boulevard of Fun (Beach Boulevard). Address: 8000-8092 La Palma Ave – located in the south east corner parking lot (Sears parking lot) of the Buena Park Mall. Open 9 to 2pm every Saturday. Incidentally the Buena Park Mall was one of Orange County's first malls – having opened in 1961.
This medium sized market offers a diversity in produce including various fruits and vegetables. But there is more then just produce – live plants are for sale, a number of vendors sell breakfast and lunch items including baked goods. Several craft vendors are also on site. There is even seating available for visitors (chairs), not always common at farmers' markets. The wildly popular Portos, a Cuban bakery often has a booth here.
And for those in the mood, can do a bit of dancing next to the live music (local performers). This is a Certified California Grown Farmers Market. The market is large enough that it features an Information booth.
Burbank Farmers' Market is held every Saturday from 745am until 1230pm, regardless of the weather. In a wierd wordplay, the market 'officially' opens at 8am but vendors are allowed to begin selling at 745am. Therefore, this is one of the earliest opening Farmers' Markets in all of Los Angeles. They are also one of the oldest – (dating back to 1983). Located at 101 N Glenoaks Blvd Gets busy early in the morning – our favorite parking lot is the tiny lot right next to the farmers' market with the entrance off of E. Olive Ave. This lot fills up very quickly soon after the market opens.
All vendors represented here sell Californian grown produce. In what seems to be unusual (based on all the farmers' markets we have visited in the area), most of the vendors have this ridiculous mesh covering their produce that customers have to then uncover to access the fruit and vegetables. This not-for-profit market donates proceeds to the Providence Saint Joseph Hospital Foundation. The focus is on fruits and vegetables – all produce, there are no arts and crafts.
Unlike a number of markets that have no market representation in the form of the booth – there is an information booth located here every Saturday. Some of the vendors have been here for years, some have been in business decades – there is even a vendor wait list to get into the market. Most of the vendors are Los Angeles or nearby based but some our outside of the region. During a recent visit there was an impressive line in front of the egg vendor. For more information visit: www.burbankfarmersmarket.org Market size: Medium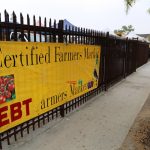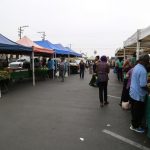 Gardena Certified Farmers' Market is located at 13000 S. Van Ness Ave in the small Holly Church parking lot which is surrounded by metal fencing. The market is open from 8am to 1pm on Saturdays. This is one of the oldest Farmer's markets in LA County. Parking is either in two adjoining narrow lots – the one next to the south part of the market has a bit more space than the one on the north. You exit either parking area through a small alley in the back.
This small market features a handful of vendors that focus on vegetables, organically grown fruits and a diversity of food vendors (Hispanic, African and Asian). When in season there are delicious grapes, Asian Pears and various berries. Vendors here also accept EBT (food stamps etc). Market Size: Small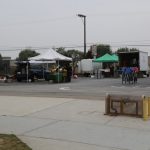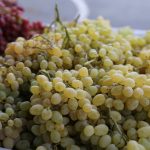 Hawthorne Del Aire Certified Farmers' Market is held every Saturday morning from 9am to 2pm in the tiny parking lot at the Da Vinci School – address: 13500 Aviation Blvd. The market is located close to the 405 and minutes from LAX – easy access off of either Rosecrans or El Segundo freeway exits. Streetside parking is available in the vicinity of the market. This is a very tiny market (only a handful of vendors) – the number of vendors depends on the time of year.
During a recent visit there were 3-4 vendors with some setting up much later than the opening time – although there can certainly be more than that. One lady was offering her massage services on site. Focus of the few vendors is on fresh vegetables and fruit. Market Size: Medium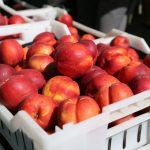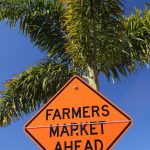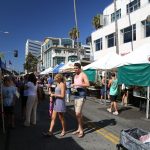 Santa Monica Farmers' Market – this market is an abbreviated version of Santa Monica's huge Wednesday morning market. This market is open from 830am until 1pm and takes up several blocks takes up several blocks along Arizona Street crossing over the Third Street Promenade. During summer they have a good selection of stone fruit – although a number of the vendors sell peaches and nectarines that are annoyingly rock hard.
Many organic certified vendors are represented at this market. Not only are fresh vegetables and fruits sold here but also food related vendors and artisan products. During our visits we always use the metered parking on Arizona Ave – depending on availability of parking our walk is up to a few blocks away. Size: Medium. For more information visit: Market Size: Medium www.smgov.net/portals/farmersmarket

SUNDAY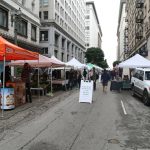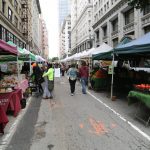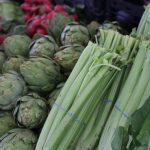 Historic Downtown Farmers' Market is located in downtown Los Angeles taking up a block of W. 5th Street between Broadway and Spring Street (within a short walk of Pershing Square). This medium sized market is open from 9am until 2pm every Sunday.
Features a good mix of both produce (fruit and vegetable vendors) as well as other boutique food vendors. Other items for sale here include breakfast items, flowers, farm fresh eggs and a few ecletic items for a farmers market such as clothing and specialty drinks. No animals are allowed within the market. Visit: www.historiccore.bid/farmers-market Market Size: Small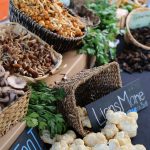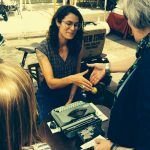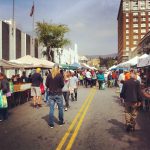 Hollywood Farmers' Market
. If you are looking for fresh fruits and veggies among the glitter and glam and grit of Hollywood look no further than the Hollywood Farmers market, every Sunday between 8 and 1pm at 1600 Ivar Street (not far from Hollywood and Vine). Parking is tight here – there are some nearby metered street parking spots (free on Sunday before 11am) – but your best bet is probably the open air parking lots where attendants typically charge $5. This market is rather extensive with plenty of artisan food products along with a great selection of organics including plenty of seasonal fresh fruits and vegetables. Great selections of citrus when in season and harder to find Cherimoyas. Look for the "free hugs" people offering their services and or the "poetry lady" who is hunched over a real typewriter typing out poems to passerbys. This market has a good vibe – organics among the urban chaos that Hollywood is so adept at creating! www.hollywoodfarmersmarket.net Market Size: Large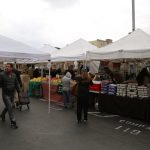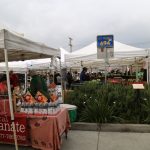 Larchmont Village Farmers' Market is located in the small and cute little downtown. The market is tiny and compact and is open every Sunday from from 10-2pm. Location: 209 N. Larchmont Blvd in Windsor Square. Get here before 11am to enjoy free parking even in the metered spots – on either Larchmont, if you don't mind walking several blocks to the actual market or on nearby residental streets.
Most of the vendors are located in the actual square area but several have setup shop on the sidewalks. This market features white tents – look for the Larchmont Village Clock Tower right next to the vendors. For a small market there is a good selection of fruits and vegetables. Also a Pomegranite juice vendor as well as several vendors selling breakfast items. Either side of Larchmont next the market is a good place to stroll either before or after your market visit with small restaurants and other boutique shops.
Market Size: Small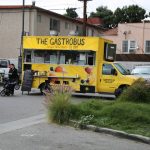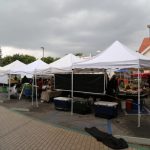 Los Feliz Farmers' Market is located in a parking lot at 1825 N. Vermont Ave in the main business part of Los Feliz. Parking is a bit difficult. There are no close parking garages so parking is curbside either along busy N. Vermont or Franklin Ave.
Vendors include the usual suspects – fruit and vegetables along one vendor selling clothing and another vendor selling a wide diversity of flowers.
The "Gastrobus" food truck always parks in the back of the market and serves up a variety of breakfast items from eggs to sausages to omlettes. We have seen them lurking at additional farmers' markets including the South Pasadena one on Thursday afternoons.
Market Size: Small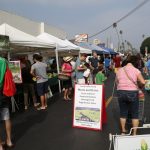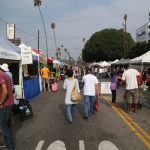 Mar Vista Farmers' Market is located at 3826 Grand View Blvd in the tiny community of Mar Vista along Venice Blvd (just west of the 405) and is open Sundays from 9am until 2pm. This market was founded in 2006. If you ask anyone living in California where Mar Vista is located, you probably won't get a correct answer. Mar Vista is located north of LAX between the 405 and city of Venice with part of its borders along Venice Blvd. This is a small community with a large very well organized farmers market. Parking is either street side on or near Venice Blvd, a tiny parking lot next door that fills up rather quickly with market customers or streets behind the market.
This market has a great diversity of vendors with plenty of produce and fruit (over 40 vendors), flowers, specialty foods and prepared food options available. Should you run out of cash, ATM's are conveniently located in about the middle of the market. If you have a dog, the market has a special "dog sitting" section where you can leave your furried friend while you shop.
This market takes up a number of blocks with vendors coming from Riverside all the way to Fresno. Not only is this a Farmer's market but it is a community market and certainly has an attractive community feel – with neighbors who come to the market every Sunday and as well as those who get to know specific vendors. Live music is part of the experience here as well as other activities for children including learning how to make arts and crafts and children's cooking classes. Visit: www.marvistafarmersmarket.org Market Size: Large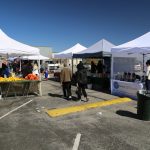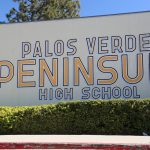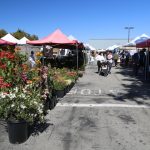 Palos Verdes Farmers' Market is located at 27118 Silver Spur Rd in Rolling Hills Estates on the Palos Verdes Peninsula. Held in the parking lot at the Palos Verdes Peninsula High School this market is open only on Sundays from 8am until 1pm. There is plenty of parking – all free on site of the high school.
Focuses on seasonal fresh fruit and vegetables from the Los Angeles region. Also known for their cut flowers and flowers in pots. Several vendors sell food and drinks although the seating is somewhat limited. Often a solitary musician playing the banjo to greet visitors. Originally founded in 2004 (in a different location).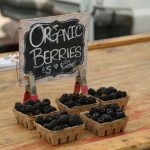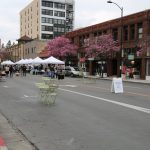 Old Town Pasadena Farmers' Market is located on a long block of E Holly Street right where it meets N. Fair Oaks a few minutes from the tangles mess of where the 210 and 134 Freeways intersect. The market is open every Sunday from 9-2pm. Metered parking is free before 11am. There are several parking garages in the vicinity which provide the first 90 minutes for free and the Metro Gold Line – Memorial Park Station is located only a block away. This is a great part of Pasadena and centrally located.
During a recent visit a fairly sparse number of vendors were scattered about on both sides of this block – the block was in no way full of vendors. The market was a bit smaller than anticipated. Only several fruit and veggie vendors were available along with several food vendors. Besides the vendors, very market also features live music – usually starting around 11am. Market Size: Small
Riviera Village Farmers' Market was founded in 2010 – in mid 2016 it moved to its currrent home, the Triangle Parking lot across from Trader Joes next to S. Elena Avenue. Open on Sundays from 9am until 2pm. Located a few block in from Torrance Beach, technically this is in the Redondo Beach city limits. Parking is nearby using the meters either in any empty spaces in the parking lot or on side streets. You would think the meters would take a break on Sundays. Note: they don't.
Offers a variety of produce including fruits and vegetables but also plenty of vendors selling arts and crafts including clothing and jewelry. A section of the market features food vendors including baked goods and kettle corn. Sometimes live music is part of the experience here. Looking for fresh fish? It makes sense – you are only a few blocks from the Pacific Ocean. During our last visit we spotted a fresh fish vendor. Market size: Medium
SEVEN DAYS A WEEK
Grand Central Market (GCM) is Los Angeles' oldest & largest open-air market. The open air part of this, is somewhat of a misnomer as the market is in a building with a roof above it – the entrances on both sides of the market however, are open. The GCM is located at 317 S. Broadway. There are a variety of parking lots in the area – usually charging cheaper prices after 4-5pm. You can also park in their own garage for free for one hour if you show the parking attendant that you purchased at least $10 of items. There is some metered street parking in nearby streets (Sunday your best bet to find parking spots along the street).
This market used to specialize in fresh fruits, vegetables and a variety of meats and fish. Most of the produce isn't as fresh as directly from a farm, but for the most part its OK. Over recent years the produce vendors have dwindled to now just one or two and the market has seen an explosion of boutique food vendors. Some of these are hugely popular with patrons (think Egg Slut) with long lines at times. Open 8am until 10pm seven days a week. More information about Grand Central Market is found here: www.grandcentralmarket.com Market Size: Large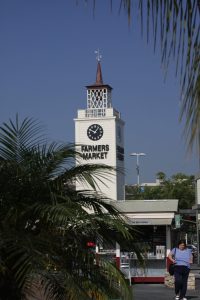 Farmers Market is located at 6333 West 3rd Street. At one time perhaps you could find farm fresh fruits and veggies, but today this is mostly just a hyped up tourist attraction with the fruits and vegetables not being any better than what you would find in a supermarket. Along with the produce there are plenty of stalls selling specialty edible items. Also home to a number of restaurants. During busy weekends, parking can be very tight here.
Parking surrounds the market and shops – but there is not a parking garage. If you plan on visiting, plan on buying at least something small as you can get your parking ticket validated at one of the vendors/shops and then you will pay a reduced parking rate. The main part of this market is composed of many gift and specialty shops – several bakeries, & cheap food. If you cross the street – an adjoining 3rd Street Shopping Complex has many high end shops and is a very popular shopping destination. For more information on this "farmers market" visit their website: www.farmersmarketla.com Market Size: Large

Note: look for more markets to be added to this page as we visit additional farmers' markets in Los Angeles.