Los Feliz & the Franklin Hills are names that probably do not come to mind when you refer to Los Angeles. They are little known outside of Los Angeles but contain fancy homes, restaurants and unique shopping experiences. Parts of Franklin Hills feels like San Francisco. Many celebrities live in these small two adjoining communities – it is more low key than Hollywood or other areas in Los Angeles and there are few tourists here.
We saw several old time actors during our stay here. There are also comparatively few hotels in this part of Los Angeles. These neighborhoods are surrounded by incredibly crowded freeways and boulevards. Los Feliz Blvd can be a nightmare especially close to the 5 freeway – on the weekends one lane in each direction of Los Feliz Blvd is closed for cars to park and this only compounds the traffic situation. The movie, Swingers was filmed in the Los Feliz area.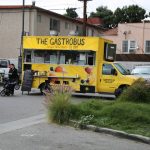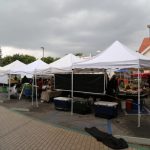 Los Feliz Farmers' Market is located in a parking lot at 1825 N. Vermont Ave in the main business part of Los Feliz. Parking is a bit difficult. There are no close parking garages so parking is curbside either along busy N. Vermont or Franklin Ave.
Vendors include the usual suspects – fruit and vegetables along one vendor selling clothing and another vendor selling a wide diversity of flowers.
The "Gastrobus" food truck always parks in the back of the market and serves up a variety of breakfast items from eggs to sausages to omlettes. We have seen them lurking at additional farmers' markets including the South Pasadena one on Thursday afternoons.
Market Size: Small
NOTE: this page has been identified as needing a *MAJOR* update.