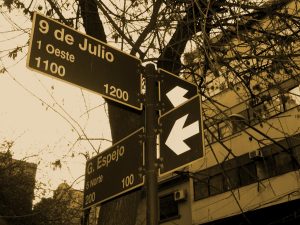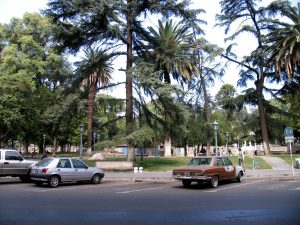 The city is well laid out and almost everything worth visiting is well within walking distance. The bus station is an easy 15 to 20 minute walk to the main Plaza del Armas (the center of Mendoza).
As with other Argentina cities the Siesta time is a big part of every weekday. Typically shops and most restaurants will close sometime between the hours of 1 and 2pm and reopen again starting around 4:30 to 5pm until 8 or 9pm. If you are not from a country that is on a Siesta schedule, this can put a crimp in your eating and shopping habits for the first few days.
Restaurants often start to fill up around 10pm and reach their height of popularity around 11pm. We recommend eating a small breakfast, lunch around 1 or 2pm and then head to the restaurants around 9pm when they open and you will beat the dinnertime rush which typically starts around 10pm.
The city streets are clean – there are often stoplights at most of the intersections. Watch for large ditches and or holes on the outside of most of the sidewalks. The ditches are for drainage and can be quite deep (don't want to stumble into these accidentally); the holes are also quite deep and typically are carved down into the sidewalks for trees. Sometimes the trees are missing and its just an uncovered hole.
Sundays are pretty much "dead" in Mendoza. Most of the shops are closed (some restaurants, mini-markets and Internet cafes will be open), but there is significantly less traffic (both cars and on foot).