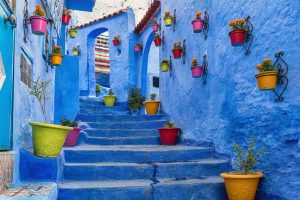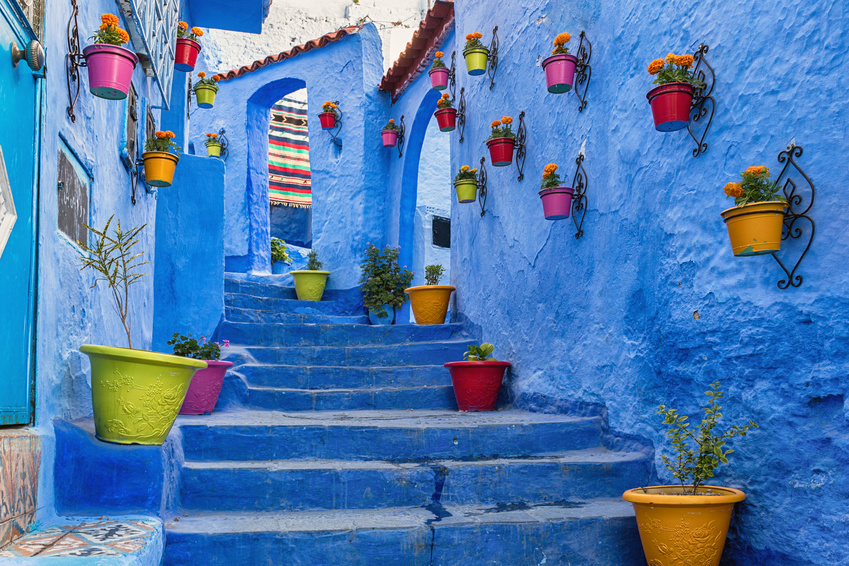 According to several locals we met Chefchaouen is not the true Moroccan experience – it has received too much influence from Spain. That said, having received a Spanish influence does in no way detract from this town. This is somewhat of a tourist town – I was here right in the middle of the 2003 Iraq war and there were very few tourists present. Most of the locals I met were very welcoming and some were quite surprised to see an American traveling in an Arab country. Most of the people I met went out their way to welcome me to their town.
This is a quaint town where the streets are narrow (no cars allowed except on the main street circling town) and many of the homes are white washed several striking colors such as mostly bright blues and a few greens. It is a neat town to wander through the streets and visit the crafts shops (there are certainly a lot of these), and try some of the nice Moroccan eateries.
Some of the best times to visit Chefchaouen are in the Spring and Fall Months. Spring is nice because there are not a lot of tourists yet and the temperatures are moderate. Unfortunately in Spring there can be a lot of rain so do come prepared to get wet. Notice the incredible spray of Fava beans planted on the surrounding hillsides in the Spring time.
The mountains rise to about 6000 feet behind town – and there are some great hiking trails, especially up in the wooded slopes. A nice short hike is to the Oued Ras el Mar River just east of town.
"Kiff" or basically marijuana will undoubtedly be offered to you if you look like a tourist. This could occur in the rug shops, at the restaurants or pretty much anywhere in this "Kiff" saturated town. It is easy enough to refuse and if you refuse enough you will find that because its such a small town you won't be offered anymore.
There is a variety of lodging in Chefchaouen most quite reasonably priced.
If you arrive by bus you most likely will be met at the bus station (in the dirt lot) by people wanting to show you their hotel. This bus station is about a 20 minute walk to the main part of town – the walk is all uphill. This can be a good way to find a hotel – or not. If someone wants to show you a hotel, fine – let them take you. If after they show you the hotel they want to take you to a "rug shop" or another store – at this point its probably wise to refuse. Chances are at some point they will demand money for being your tour guide.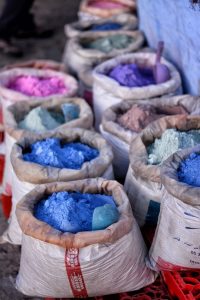 A nice boutique hotel that has been highly recommended to us is the Hotel Dar Rass El Maa – www.chefchaouen.ch/en/index.php
For a very budget place to stay, Hotel Andaluz is located at 1 Rue Sidi Salem. PHONE (039 986034) – it is clean comfortable and located just down from the main square (Outa el Hammam). The rooms on the upper floor surround an interior courtyard. It can get quite cold in this hotel as in other local hotels in the wintertime as there is no centralized heating. Fortunately Hotel Andaluz has a good selection of thick blankets in each room. Rooftop access is available with chairs and tables on the top (this is a great place to relax and read a good book). In addition the rooftop area contains a large floor sink for doing laundry. Detergent is included. Cold showers are free – for a hot shower you pay a minimal amount. Rooms are fairly inexpensive. The owner is a dignified man who has been in Chefchaouen for many years. He is a good source of information about this town. GPS: N 35 10.124 W 5 15.813
Casa Hassan is a beautiful small guesthouse located in a restored traditional house in the heart of the old Medina. There is a nice courtyard and even a hammam (Turkish bath) here. More information: www.casahassan.com
Hotel Rif is a bit more expensive than Hotel Andaluz starting at 200 Dirham per night. Its just outside of the Medina walls. PHONE (039 986982)
Pension Cordoba is a good choice for the budget traveler who likes quiet in a beautiful Spanish style house. Rooms run about 80 Dirham per night. There are good views from the rooftop. An added bonus is this hotel is just above the main square – which is near a lot of restaurants. Showers are included. (061 926759)