Any trip to this part of Louisiana should start with a stay in New Orleans, specifically in the French Quarter. What better a place to call home for a few days than the Hotel Monteleone . This hotel dates from 1886, is still family owned and is located in the heart of New Orleans's French Quarter. It is definitely "the" hotel to stay at in this district. In the mood for decadence and elegance – Hotel Monteleone serves this up by the dishful. Superior service, plush accommodation, two excellent restaurants, a rotating carousal bar, full service spa, rooftop pool and historical significance are all part of the experience here. A central location allows easy access to high end nearby antique, jewelry, and art galleries. Two well known gallery easily within walking distance are the Angela King Gallery, displaying the works of multiple artists and the unique Blue Dog Gallery.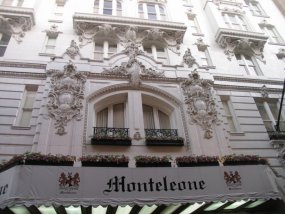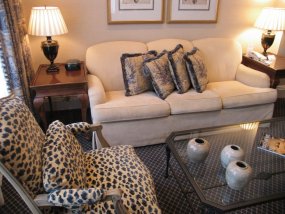 Step into the bar for a cocktail or one of two cocktails invented by carousal bartenders. This is a great place to also meet fellow travelers as well as locals. Sit here for more than 15 minutes and you will rotate in a full circle around the bar…as they advertise, "the only carousal in town where you have to be 21 to ride it!" The rooftop pool is small but is a great place to relax. A nearby bar can even help further your relaxation! There are good views here over looking New Orleans. Choose from a variety of rooms including their decadent suites named after famous authors who have either stayed here or written about the hotel including Tennessee Williams, William Falkner and Ernest Hemmingway among many others. Paul Newman and Joanne Woodward once called the Monteleone their favorite hotel. What is now a ballroom was at one point setup for boxer Joe Frazier to train against Mohammed Ali.
We highly recommend the Vieux Carre Suites (having personally stayed in one before) – this 2-room accommodation features an abundance of luxury including two marble and granite bathrooms, an in bathroom Jacuzzi, a parlor and a terrific King size bed. Looking for a recipe for relaxation? Visit the Spa Aria located on the Mezzanine level. Choose from a plethora of treatments ranging from a caviar facial to full on spa beautification packages. Visit: www.hotelmonteleone.com
Hotel Monteleone offers a variety of special packages Choose from a romantic weekend, girlfriend getaway, historical, golf, and special summertime deals on their suites. Christmas and near the holidays is also a good time to visit with lots of shopping discounts offered at nearby boutique stores.
A number of Hollywood films have been filmed on site including Double Jeopardy, Glory Road and The Last Time. As a stately stand in, the hotel has also appeared in many national TV programs.
The French Quarter is a fantastic place to be without a car. If you have one, keep it parked and spend several hours wandering through the heart of this district. A plethora of fine art galleries abound including paintings, antiques and furniture. The French Quarter is unique, you won't find big name national chain stores here – quaint galleries, restaurants, cafe's and hotels abound. The banks of the great Mississippi River are easily within walking distance of the French Quarter.
Dinner
Snug Harbor is an ideal place for dinner this first night especially if you enjoy live jazz music. The dining room is separate from the "show room" where the music is held – there is also a separate bar which can be quite lively especially on weekends. A couple of highlights from the dinner menu; to start try the Sazerac, one of the oldest cocktails in the world which actually originated in New Orleans in the late 1850's. Excellent crawfish etouffe and shrimp appetizers. Hint – try the bread pudding for dessert! Snug Harbor is located at 626 Frenchmen Street just north east of the famous French Quarter. Visit: www.snugjazz.com