Milford Sound on a clear day is among the most beautiful scenery in all of New Zealand. Unfortunately clear days are really hit and miss as Milford averages over 6 meters of rain a year. Woo! One year they had like 10 meters of rain. For sure, if you hit his area on a clear day, this along with Mt. Cook is one of the main natural highlights of your trip to New Zealand. If you hit it on a rainy foggy day, forget it, there's really nothing to see. However, I would take a chance and go regardless of the weather as there is a chance you will hit a clear day. The drive to Milford sound is beautiful in and of itself. You wind along an empty road through empty fields and valleys, near lakes with empty shorelines, finally winding through fog kissed mountains that on a clear day are spectacular – ultimately going through Homer tunnel at the top of the pass and dropping down the other side into Milford sound. Near the tunnel entrance there is a large dirt parking lot from which some short hiking trails lead to the snowfields. The actual tunnel is interesting – its quite long and there is no electricity inside and near the entrance and exits water will be dripping from the rock above your head.
The actual sound flows between huge peaks and sheer rock faces that rise straight into the sky. Some of the tallest waterfalls in New Zealand are located here and you can drive right up to the base of them if you take a boat cruise. A cruise is highly recommended; they depart from the Cruise Wharf – at the end of the road. Note you have to park near the Milford Cafe and walk along a trail that leads next to the water's edge – maybe a 1/2 km walk to the cruise departure point. Views of the sound can be spectacular from here. Before you turn in to the employee parking lot to walk to the departure building for the cruises, there is a small dirt path that leads out to a small peninsula. If you have time it is recommended you walk down this path as there is a great photo spot at the end of the path with the sound in the background. Be sure to bring a camera when you take the sound cruise. If you are lucky you will have dolphins jumping behind the wake of your boat.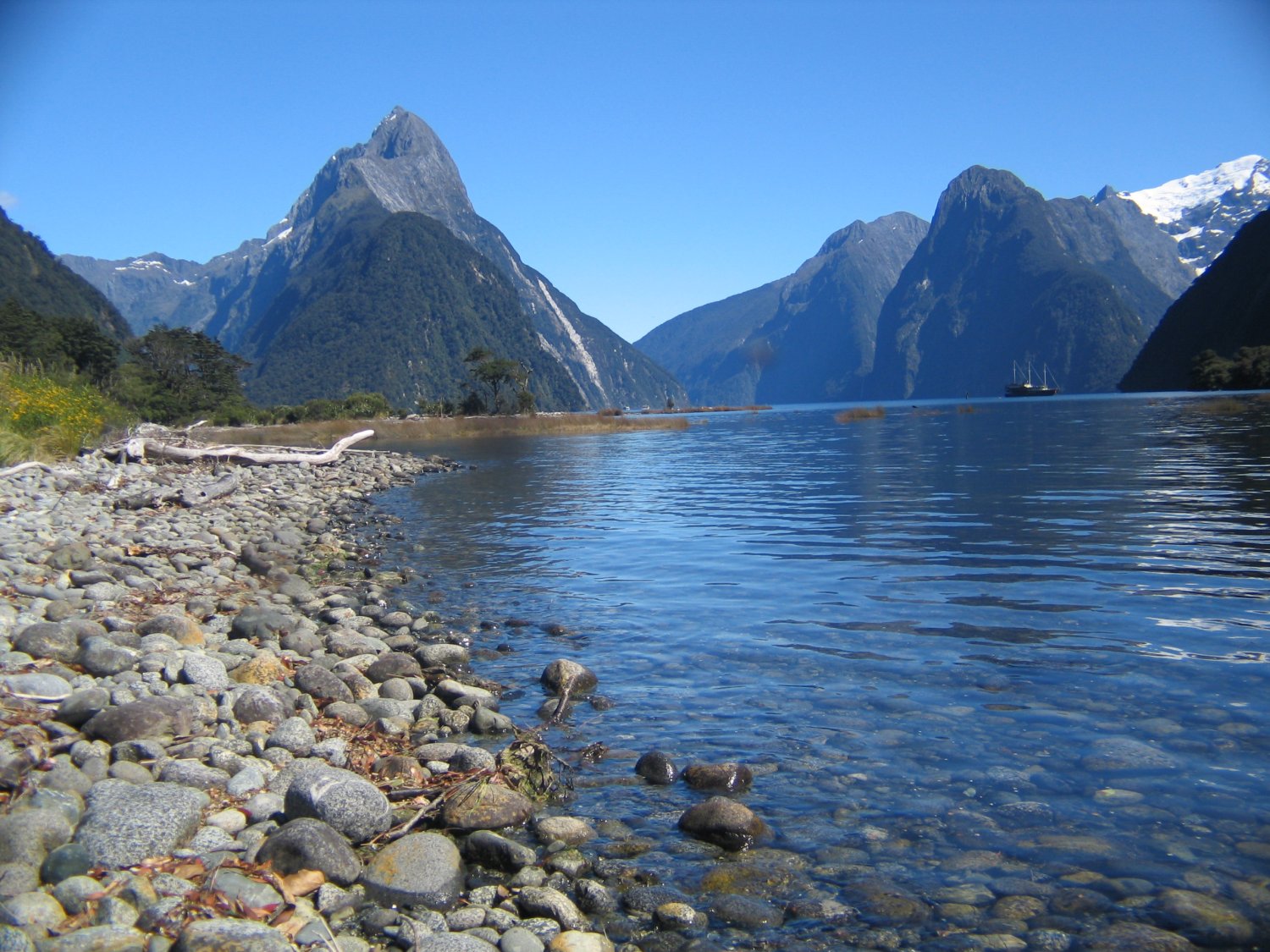 Milford Sound Lodge is an excellent budget choice of accommodation for Milford, not only b/c its only 1 of two places to stay in Milford Sound, but b/c its clean comfortable and you meet people from around the world here. Dorm rooms and singles are available. Shared cooking and dining facilties. This lodge is located next to the roaring Cleddau River – about a km from the main Cafe in town. Some people had camped and also setup their small trailers/RV's here.
As of press time, the electricity is run until about 11pm and then stays off until 6am or 7am in the morning. This is b/c this hotel is on its own generator. Excellent shower facilities here. You can make cruise reservations from the small shop at this lodge – however be sure to have the person making the actual reservations call the cruise to verify their departure time and that they have space on the boat.
Internet access, albeit expensive is also available here. Email: milford.sound.lodge@xtra.co.nz or visit: www.milfordlodge.com
Milford Cafe serves lunch, sandwiches a variety of drinks and other snacks. Choose a table near the window for maximum viewing of the sound. This cafe is located next to the main parking lots where you need to park your car and walk to the cruise departure point. On a popular summer day this lot will definitely fill up by mid morning.
One last note, beware of those nasty little black buggers, called Sand Flies. They are particularly bad near the Milford Cafe and the waterfront in front of the cafe. They do bite and they have a tendency to try to land on your camera lens when you are just ready to take the picture.
Visit New Zealand's Fjordland tourism website: www.fiordland.org.nz