Lake Wanaka (www.lakewanaka.co.nz) is the gateway to Mt. Aspiring National Park – but there are also things to do in town. Besides its scenic location near Lake Wanaka it is a great tourist town. Lots of shopping and neat little cafes and restaurants abound. As with most of the popular tourist towns in New Zealand, lodging will be extremely tight if you do not have prior reservations in the summer time – and also during the height of the ski season in the winter.
One of its more unusual attractions is man-made; its the Puzzling World of Stuart Landsborough – or otherwise simply known as Puzzling World. As you drive into the parking lot you will immediately notice the "Leaning Tower of Wanaka" which is a fairly tall building leaning at the unbelievable rate of 53 degrees! The main museum is well worth visiting for adults and children alike. Many unusual items and ideas are presented in this museum. Check out mural of the "Roman style" toilets which is painted on a wall separating the men's and women's restrooms. Half of this "room" is real, while the other half is the actual mural. Sit on a hole next to one of the "semi" nude Romans and join them in using the bathroom! Great photo op.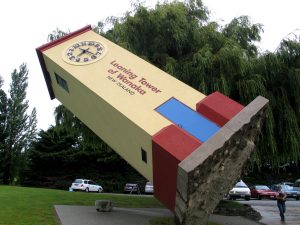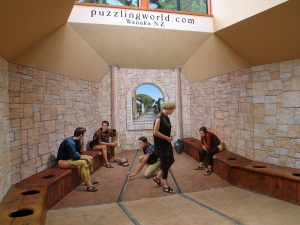 One of the highlights within the museum are the Hall of Following Faces – this is an illusion such that when you move you see they eyes of many faces all moving with you, following you. Its very eerie! There is a great collection of eclectic holograms at the entrance to the museum. Another highlight for sure is the room where everything seems to be falling backwards, (the room is actually tilted at an angle of 15 degrees, yet the displays inside the room are normal – and water even "runs" uphill. Also check out the Distortion room where at one side of the room you appear to be a midget and at the other side you appear to be a giant. You can see yourself on a 2 min tape delayed video after leaving this room. The effects seen in this room appeared in the Lord of the Rings movie trilogy.
Outside the museum is the Great Maze – allow up to an hour to complete this. Although the maze doesn't take up a geographically large area, there are many many walkways and if you get frustrated easily this isn't the activity for you. Fortunately they have "emergency doors" so you can flee the frustration! Photography is allowed. For more information and admission pricing please visit their website at www.puzzlingworld.com
Another man-made attraction in Wanaka is the Transport and Toy Museum located near the Wanaka airport. This is a large collection of over 20,000 items including rare and unusual aircraft, cars, trucks, motorcycles and much much more. Photography is allowed. For more information please visit their long website URL at: www.wanakatransportandtoymuseum.com