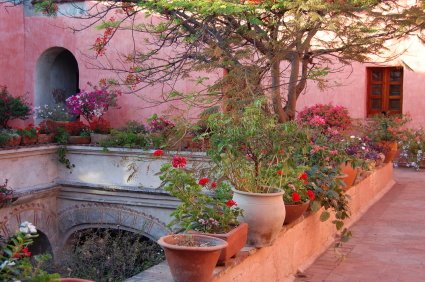 Short Walk Story
One day I decided to walk due west and see where I ended up. I left the phone at the hotel, I didn't research anything. I just started walking. I passed by the Mercado de Abastos and then walked along an extremely polluted river, an ecological disaster so to speak. I spent a while here watching people wade back and forth across the river. I witnessed several people use the soil behind small bushes as a bathroom. I watched the wind whip up plastic bags, towels, and paper and send them flying across the river.
There was trash everywhere. I had purchased a tropical fruit called a Cherimoya at the mercado just before walking along the river. I decided this was as good as any spot to eat the fruit. I sat down among the filth and proceeded to cut open what I thought was going to be a good snack. I opened the inside and upon quick inspection decided that it looked good to eat. I proceeded to eat it and several minutes went by before I finally noticed that something was crawling out of the inside.
Then I soon noticed that something was flying out of the skin of this fruit. The fruit was infected with maggots, worms, and flies and decided at that point I I had enough and continued on.
I crossed the long yellow bridge that leads from the back side of the Mercado de Abastos to the other side of river. Apparently people used the banks below the river as their trash can for it to was littered with plastic and garbage. I kept walking west.
Across the river the roads soon began to climb up steep hills. I continued on one road until it became narrower and narrower and soon it turned into a decent foot path. The path finally reached a dirt road that cut across the hills on the western most limits of the city. Near the intersection of the path and the road were four elderly looking men drinking beer. They were sitting next to a gated wall that closed in front of an opening that went into a hill. They saw me, offered me a beer and when I politely refused, they told me that they would let me into their cave.
I was slightly curious and accepted. Once past the gate I entered a long cave that ended about 50 feet into the mountain. Here was a statue of one of Oaxaca's patron saints and pictures and flowers were situated at her feet. This grotto was well worth the hike and I stumbled onto something that was not listed in the tour books. After I left the cave I talked to these people for several minutes. I soon met some school children who were extremely pleased to have their pictures taken. I met several other people and talked to them for a while.
Excursions such as the one mentioned above are spontaneous and are a good way to have new experiences and meet local people.
El Tule (the tree) is located about 7 miles west of Oaxaca along the road that leads to Mitla. My tour driver first showed my the grandchild of this large tree and then he led me to believe that another tree was actually the El Tule. I was quite impressed but then he informed me that this large tree was just the child and as he rounded the corner I saw the largest tree that I have ever seen. The Moreton Bay Fig tree in Santa Barbara, CA is dwarfed by this one. This tree is not the tallest in the world. That distinction belongs to the great Redwoods in the western United States. Although this tree is quite tall what is most impressive is its incredible girth. Its age is also quite impressive. It is probably around 1500 years old. This tree can easily be viewed from the surrounding streets but in order to get the best pictures you have to enter a courtyard that surrounds the behemoth tree. In order to do this there is an entrance fee of several pesos.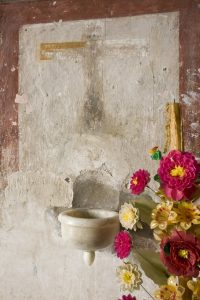 Teotitlan Del Valle is a small town known for its famous rugs. In fact this is one of Mexico's most famous weaving villages. It is located about 19 miles west of Oaxaca and then about 2 miles off on another road from the main road. A small farm and several homes on the left side of the road are located near the turnoff for this village. A stop here is a must. Ask the owner to give you a tour of his dye farm. This farm is one of the last in Mexico that still use insects to make Cochineal dye for their rugs. Most of the other rug makers use synthetic dies and polymers. As you walk through this rug makers home, gardens, and work areas you will see how the ancient art of rug making is still being preserved. He grows many prickly pear cactus. If you take a closer look at these leaves you will see some small grayish looking round insects. Pick one of these off of the leaves and squeeze it. You will see lots of purple liquid flowing out. This is the color of the dye before it is processed.
Have the owner show you where he cultivates these insects. He picks the leaves from the cactus and brings them into a small rearing area. Here the insects are placed on the leaves and allowed to reach maturity. There are literally hundreds of cactus leaves hanging in this room. Next door are the pots that contain the liquid from the insects. The colors are all different based on pH. Some are quite alkaline and some are quite basic.
The owner has his display room right next to his work areas. If you show any interest at all in his rugs he will take the rugs and lay them on the ground for you to look at. His prices are comparable to synthetic rugs.
The town of Teotitlan Del Valle is slightly more prosperous then other small towns in the vicinity of the city of Oaxaca. This is because people come from all over to purchase rugs here (based on their very good quality). The main street is home to most of the rug vendors in town. There are also several other vendors on the side streets. The best way to see these is to walk these streets and chances are you will soon see some of these shops. If you don't see the shops you will certainly be seen by the vendors and they will invite you in.
Like most of the towns in this area only the main street is paved. You may find it interesting to wander some of the dirt side streets. You never know what you will see or what you will experience on these streets.
The City of Tlacolula is located about 25 miles east of the city of Oaxaca. It's center-point is a beautiful church built in Moorish style that dates from the 16th century. It is known as the Chapel of Silver and contains some intricate carvings. The Sunday markets held in this town are well known and are almost as big as some of the Oaxacan markets.
El Mirador is a scenic observation deck overlooking the city of Oaxaca. It is located on Fortin Hill which is within walking distance of the zocalo. This walk will probably take about 25 minutes as it is 12 blocks from the zocalo. If you are walking to this observation deck you have the opportunity to walk up Las Escaleras del Fortin, hundreds of steps that pass by homes and shade trees.
Al Parque Comunal is located north of the city of Oaxaca. It is about a 1.5 hour walk from the zocalo. Just keep heading north towards the tallest mountain that you can see in the distance. There are buses that run to this park, or you could take a taxi. This is an area where you can get a real feel for the land. You are completely out of the city and there are no homes anywhere. Its amazing that only 15 or 20 minutes you can be completely out of busy city and out in nature. The only people I met at the park's entrace were several goat herders who had come down from the nearby hills. There are several trails in the park that lead toward the base of the tallest mountains. Aside from being a relaxing place to read a book and enjoy nature there are not a lot of sights or attractions here.