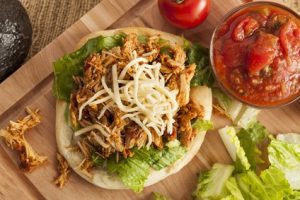 There are many restaurants in Oaxaca. They are a little more expensive then comparable restaurants in other cities in Mexico, but this probably can be attributed to the large tourism industry. Several years ago people from abroad were afraid to eat in Oaxaca's restaurants for fear of becoming sick from food poisoning. This has completely changed. If the restaurant is fancy, you can eat everything. If it is middle of the road you can eat most everything except the uncooked vegetables. All the average to the fancy restaurants use filtered water. I didn't get sick from drinking this water. Most of the restaurants serve bottled water and you just have to request this. It is wise to request your drinks (sin hielo) or without ice. The only eateries that still may be unsafe are the roadside vendors selling cooked corn or other staples. In the restaurants that appeared to be clean, had efficient service, and had fancy decor, I ate everything that was served to me including fresh salads and fruit.
Although the restaurants in Oaxaca were good to excellent I found the best food to be in Guadalajara. Here are several we ate ate:
The Cathedral located at 105 Garcia Virgil serves very good food. The service was impressive and the waiters were well dressed. The main dining room is situated in a fancy open air room. They do have a tarp that serves as the ceiling in case of rain or other inclement weather. The bathrooms are located up stairs and the door to the men's restroom requires some real strength in order to open it. The price of dinner ranged from 50 to 100 pesos.
La Casa de la Abuela or translated as "The House of Grandmother" is located upstairs in the north west corner of the main zocalo. The food was just average here as was the service. The grasshoppers were good here though. The grasshoppers that were served here, unlike in other restaurants were very small, so there was less of a chance of recognizing them for what they actually were! The chiles rellenos de picadillo would be the only other dish that I would recommend. Phone: (951) 6-35-44
Cafe Bar Del Jardin is located in the south west bottom corner of the zocalo. The tables are spread out near the street under some picturesque arches. This is a great place to eat breakfast and watch people walk by. Some vendors won't keep walking by if they see that you are tourists. They will stop and try to sell their trinkets or jewelry or craft. The yogurt and fruit salad are particularly good here.
El Asador Vasco is located just above the Cafe Bar Del Jardin in the south west top corner of the main zocalo. This place serves awesome Sangria's. In case you aren't familiar with Sangria, it is a mixed drink of red wine (which appears on top) and fruit punch which appears light colored on the bottom. They bring it too you with both fluids unmixed and you have to stir them yourself. They also have the best avocado butter here. It is slightly green of course. This restaurant is a good place to eat at night.
Often it will be warm out and you can hear the Mariachi strumming their guitars and slowly playing their violins in the patio below you. If you want to eat next to the rod iron overlooking the zocalo beneath you it is best to reserve these tables earlier in the day. Otherwise you may end up eating in the rooms further away from the zocalo. This restaurant had the most tourists of any restaurant that I ate in in Oaxaca. It is probably a good restaurant to eat at on your first night in Oaxaca. The thinly sliced steaks were quite good here. The dinner prices ranged from 60 to 120 pesos. For more information call (951) 6-97-19. Visit: www.asadorvasco.com
Maria Bonita is located at M. Alcala 706. This restaurant is located away from the activity of the zocalo. It is a small restaurant that serves authentic Oaxacan cuisine to mostly local Oaxaquenos.
Mi Casita is located at Hidalgo Ave on the second floor. Their specialty is their moles and grasshoppers. If you get a table by a window you will have a good view of the zocalo.
El Colibri is located on the street Heroes de Chapultepec. This is a fancy restaurant complete with good service. Live music.
El Meson is located on Hidalgo 805 right off of the zocalo. This restaurant is clean and they have an open air kitchen. The prices are fairly inexpensive.
El Sagrario is located on Valdivieso 120 two blocks from the zocalo. This restaurant serves mostly the younger crowd. They offer pizza and Italian food in a party atmosphere with live music.
La Flor de Oaxaca is located at 311 Armenta. This is only a block from the zocalo. They serve typical Oaxacan cuisine.
Hosteria de Alcala is located at 307 Alcala. The restaurant is situated in an indoor patio with tables that surround a beautiful fountain. They offer Oaxacan specialties and national cuisine. Live music is offered Friday, Saturday and Sunday evenings.
Los Mestizos is located at Garcia Vigil 416. This is one of Oaxaca's newest restaurants. It is in a colonial building three blocks from the zocalo. The owners are Italian and excellent Italian food and good pastas are served.
Los Pacos is located at Constitucion 104. This restaurant is located directly across from the Santa Domingo Church. It has an open air patio and from this you can access the Quetzali art gallery. This restaurant is known for their fresh spinach salads and the mole colorado. They have 10 tables.
The restaurant Senorial located in the hotel Senorial is pretty much a dump. The prices are cheap but I was told by several people that the food was lousy.
Del Vitral is one of Oaxaca's fanciest restaurants. It is located at Guerrero 201 just off Armenta and Lopez, about 2 blocks east of the Hotel Senorial. This place has elegant decor and some of the private dining rooms are quite luxurious. When you walk in the downstairs you will see a nice marble stairway leading up to the restaurant directly in front of you. On your left will be a cage with a pretty parrot. The food is quite good but a little on the expensive side although not too bad. It is open from lunchtime until 11:30 at night. For more information call PHONE NUMBER (951) 6-31-24.
The buffet breakfast served at Quinta Real Hotel is extremely good. There is a large variety of dishes and fruit. The drinks are especially good. You can order everything from orange, pineapple, carrot, tomato, to papaya juice.