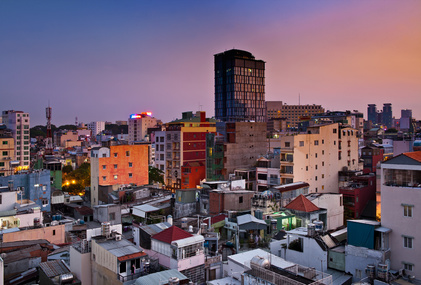 There are many hotels in Ho Chi Minh City (Saigon), ranging in price from around $15/night all the way up to the 4 and 5 star hotels above $100/night. Many hotels will include breakfast for free. Most will keep your baggage for a little while if you plan on returning or take side trips. The author has stayed in several of the following hotels. If you have additional hotel recommendations for this page, please email dave@pon.net
Dragon Hotel is a good value. It is located about 1.5 blocks around the corner from the main backpackers street. Its a multi story hotel – rooms are available for about $22/night. This is in a section of town that has many internet cafes, restaurants and tour agencies. The rooms are quite spacious, good AC, nice bathrooms. Very quiet.
Grand Hotel is located on a corner of 8 Dong Khoi Street in the heart of District 1 in Saigon. Its located on a street full of galleries and small restaurants. One net cafe is located just down the street. This 4-star hotel is located in a nice area, because the streets are not constantly filled with buzzing motorbikes as in many of the other parts of Saigon. This is a historic hotel having been built in 1930 and remodeled in 1997. The interior lobby of this hotel speaks elegantly with its glittering marble columns, winding stairway & couches with people relaxing. Depending on the season rooms range in price from $55 to above $100/night depending on the type of room.
There are two sections of this hotel, the older and newer sections. The older section accessible by the main elevator found in the lobby is only 3 stories, whereas the new section is 12 stories. Rooms feature satellite TV, in-house movies, in-room safe, a mini bar and complimentary water. A posh courtyard is found in the center of the hotel – central to this courtyard is the pool next to the health club. The rooms are good sized with great air conditioning that works as soon as it is turned on. A buffet breakfast is included with each night's stay. Good fruit selection, but found the food a bit bland. This breakfast is located on the first floor at the Cheznous Restaurant. On the weekends the Cheznous Restaurant has a weekend dinner buffet for about US $6 dollars/person. There is also a restaurant on the 12th floor called Belle-Vue. For more information please visit: www.grandhotel.vn or www.saigon-tourist.com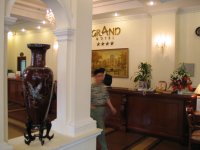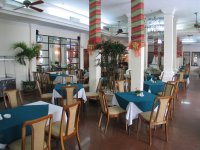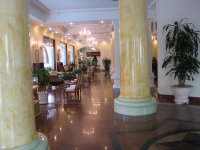 Saigon Pink 2 – this 11 story hotel is located on 32 Nguyen An Ninh Street next to the large Ben Thanh Market. Their sister hotel is called the Saigon Pink I. The Saigon Pink II is an average hotel priced around $18/night for a standard room. My experience with the reception was they were like cold fish (not much personality). The air conditioning unit took a long time to work – even after I had the staff change out the filters. The rooms are clean and comfortable. There is a reception area where you can get free maps, and ask about city attractions. (be sure to pick up one of their business cards with a map on the back). The hotel can reserve tours for you – their prices are about the same as the other tour agencies. This hotel is about a 10-15 minute walk to the main backpacker area in Saigon – you have to cross several very busy streets to get there. Being located near the Ben Thanh Market means the streets around this area can be quite crowded. Its quiet at night.
Update – They have come under new management since the above review. They currently have free wireless Internet for all their guests. They also have repaired or replaced all their air conditioners. Their staff are now extremely friendly, especially the receptionists. I have stayed there several times in the past year and feel they are an excellent hotel and have recommended all of my friends to stay there when in HCM City. ~Thanks to Ken in Vancouver, BC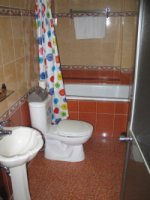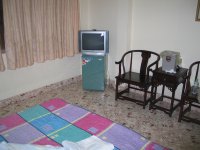 In late 2009 this hotel underwent a major renovation and was under new ownership. English is spoken and major credit cards are accepted. For more information please email them at: saigonpink@yahoo.com or visit: www.saigonpink2-hotel.com
Two other hotels close to the Ben Thanh Market that travelers have personally either recommended or mentioned they have stayed are: Lele Hotel and the Mai Vuong Hotel
Sheraton Hotel, Ho Chi Minh City – This is one of the fancier/modern stays currently available in Saigon. It is a multi-story building located in the heart of District 1 in Saigon. For more information please visit: http://www.starwoodhotels.com/sheraton/property/overview/index.html?propertyID=1449