Galleries – Saigon features a diversity of galleries and various works of art – many of these galleries and shops are located in District 1 along Dong Khoi Street. However there are also other galleries scattered throughout the city. Artwork ranges from paintings, embroidery, wood carvings – to other small Vietnamese arts and crafts.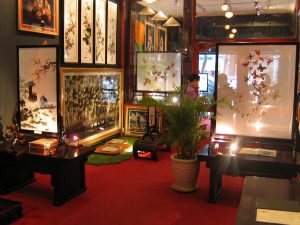 XQ DaLat Silk Hand Embroidery Picture Gallery is located at 81 Dong Khoi Street in District 1. This gallery features the delicate embroidery work of artists hailing from the city of Dalat located in Vietnam's central highlands. This artwork is quite treasured by many people around the world including many SE Asian heads of states & dignitaries. The famed soccer/futbol star David Beckham even has one or two in his collection. The smaller pieces take 3-4 months to finish and the larger pieces take much longer than that.
The attention to detail is amazing on these pieces of art – unless you look very closely this artwork resembles an oil painting. There are many nature scenes and artwork of elderly men and women. This gallery is located on Dong Khoi street which is a tree lined street that contains many nice galleries.
For more information please Email: contact@xqvietnam.com –> or visit their Website: www.xqvietnam.com or phone: (84) 8 8222856
Miscellaneous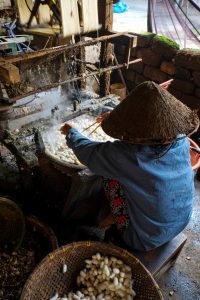 The Beauty Center is located at 85 Dong Kho Street PHONE (848) 912 5042 They offer the latest in beauty care for both men and women.
The Royal Foot Massage & Royal Coffee house is located at 36 Mac Thi Buoi St in District 1. Phone: (08) 8-230589. They offer foot, head, back & shoulder massage + 1 tea for $87 US dollars. You can add a 50 minute food massage and a tea for $6 US dollars.
There are many cheap DVD stores in the Tax Trading Center located at 135 Nguyen Hue Street District 1. Most of these are located on the ground floor in the main "disk" selling area.
Internet – there are many Internet cafes located near and on the main backpacker street. One other good cafe located away from the other cafes, but still in District 1 is the VNV Internet Services – located at 15A Thai Van Lung Street. PHONE: (84 08) 823 7688 – as with some of the other Internet cafes, you buy a telephone card from them, and then use a special net program and you can call all over the world using the Internet for this service.