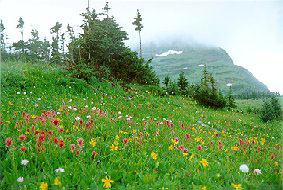 Glacier National Park is located in the northern part of Montana. Parts of Glacier touch British Columbia and Alberta. The entrance fee to Glacier ranges from $15 to $35 depending on the season. See directly below for a list of the average high and low temperatures from May through September.
The weather in Glacier Park can change drastically at any time of the year. For example, in 1992 over a foot of snow fell on parts of Glacier in August. Summer rainfall averages about 2 to 3 inches per month. An umbrella or a good waterproof raincoat is highly recommended. These temperatures are in degrees Fahrenheit. Official Website: www.nps.gov/glac Glacier is home to most of the major mammals in the United States.
Average Temperatures (°F)
| | | |
| --- | --- | --- |
| Month | High | Low |
| May | 64.6 | 38.1 |
| June | 72.0 | 44.5 |
| July | 77.8 | 48.4 |
| August | 77.1 | 46.7 |
| September | 68.4 | 38.5 |
You can see two type of bears, wolves, mountain lions, and mountain goats and sheep.
Wolves can either be gray, white, or black. Wolves are much larger then the much more often seen coyote. Coyotes usually only weigh about 25 pounds. Wolves on the other hand weigh as much as 90 pounds. Wolves have been known to travel up to 20 or more miles per day. Mountain Goats are seen more often in Glacier then are Bighorn Sheep. The salt lick areas in Glacier are ideal areas to see large mammals, especially Mountain Goats and Bighorn Sheep.
These goats have white fur and the older animals will have sharp black horns. In November and December Bighorn Sheep often have dramatic head on head crashes. This is the highlight to mating season. Unfortunately most tourists are not in the park during these months. Unlike Mountain Goats Bighorn Sheep have tan coats and the mature rams have the curved horns. They are often found on moderately steep slopes next to cliffs.
Mountain Lions also known as cougar, puma, and panther, are large wild cats. Adults weigh between 90 and 150 pounds. One distinguishing characteristic is that their tail is about a third of their body length. All the brochures that I have read say that unlike with bears you are supposed to act aggressively if you come in contact with a mountain lion. Make yourself look as large as possible. Do not crouch down. Throw sticks or rocks if you can.
Some warnings should you come into close contact with a bear or are walking through bear country:
Make lots of noise before you ever see a bear
Back away slowly but stop if the bear becomes agitated
Try to appear smaller
Do not look directly into the bear's eyes
Glacier National Park contains about 1 million acres. The land in the park is a result of the action of glaciers. Today there are about 50 glaciers left and 200 lakes. Unlike the Grand Canyon in Arizona the top layers of soil and rock are about a billion years older then the lower layers. This is the result of an over thrust fault which thrusted the older rock on top of the newer rock.
One of the main attractions if not the biggest attraction in Glacier is the Going to the Sun Road, 52 miles of some of best scenery and geology that nature has to offer anywhere in the world. Vehicles over 21 feet long are prohibited from driving
this road. There is a lot of traffic during the summer and many sharp turns. The road crosses over the continental divide at Logan Pass which is 6,646 feet. If you enter the park from the east side you will slowly climb above St. Mary Lake, a very long lake. There will be tall mountains on either side of the road, some with glaciers still carving their way down the mountain sides. There are many pullout spots along this entire road. I recommend that you take advantage of these. You could easily spend all day traversing this 52 miles road from East Glacier to West Glacier. There is just so much to see! The only thing that I highly recommend is that if you are there on a cloudy, foggy, or overcast day, please come back on a clear day. If you see the park on a cloudy day, depending on how low the clouds are, you may as well be driving anywhere. You will not see much.
A recommended stop is the Sunrift Gorge . The pull out for this gorge is just before the end of St. Mary Lake if you are driving west. It is about 8 or 10 miles west of the eastern entrance. The trail that leads to this gorge is only about a few hundred feet long at most. It is a gentle climb, not too strenuous. A mile or so past that is the Jackson Glacier overlook. From this pullout you can see some glaciers in the distance. A few miles past the glacier overlook the road will make a large bend and curve on up to the top of the pass. Keep a look out for waterfalls in the distance and also next to the road as you drive to the pass.
Logan Pass consists of a welcoming visitor center, a few hiking trails, the Canadian and US flags, and spectacular views. Inside the visitor center you will find numerous books about Glacier National Park. One of the hiking trails that I strongly recommend hiking is the trail to Hidden Lake. I usually don't like trails that have names like lost lake, hidden lake, etc. Usually these lakes have names like that for a good reason; you can't find them. However, in this case there is a nice boardwalk trail about half way to the lake. Then the trail becomes improved dirt and very easy to follow. You won't get lost! This trail is about 3 miles one way to the lake. Don't get discouraged. Instead of hiking the entire 3 miles, I recommend that you only hike 1.5 miles. This is all that you need to experience this section of the park. 1.5 miles will take you to the overlook of Hidden Lake. From there it is another 1.5 miles down to the lake. The trail to the overlook is moderately steep in the beginning. But then you have wooden steps to help you. When the wooden steps and planks end, the trail becomes more flat.
It is a good idea to have a strong pair of binoculars for nature watching anywhere in this park, but especially on this hike. I saw several grizzlies and mountain goats off in the distance. The trail winds up a broad valley and you can see other valleys in the distance so there is plenty of grass and grubs for the animals. From the Hidden Lake overlook you can see a deep gorge extending for several miles. Notice the point when you are actually cross from one side of the divide to the other. Its a bit hard to see unless you know what you are looking for, but it is there.
When you drop down the other side of the divide you will be impressed by not only the terrific scenery but by where the road has been placed that you are driving on. For 12 miles this part of the Going to the Sun Road has been somehow engineered on a steep slope that overlooks a valley many feet below. This road seems to hang precariously on the edge of cliffs at times. There are several small pull out areas along this section of the road. During the busy summer season expect many tourists but if you are lucky you will catch someone leaving one of the pull outs.
Try to catch some of the pullouts that are on the immediate other side of Logan Pass, going west. If you are able to park, get out and walk to the other side of the road. Be extremely careful however because there can be a lot of traffic on this road. The attraction on the other side of the road is that on top of the 1 or 2 foot high stone wall that has been constructed next to the road, you are able to look down cliffs that extend down into the valley for hundreds of feet. I will note that this can be quite dangerous if you stand on top of the wall and look down. However, there are some good photo opportunities here.
For what seems like an eternity you drive the parts of this road that almost "hang" from cliffs. Eventually you reach the bottom and complete a large bend and start heading back towards the pass but on the other side of the valley. There are several attractions on this side. One is the Trail of the Cedars Nature Trail. This trail leads to some giant Cedars. Another attraction that is extremely popular is the Sprague Creek Trail. Apparently there is a campground off of this trail and a pretty creek. Lots of people probably take picnic lunches and eat along this creek.
Towards the end of Going to the Sun Road you will pass Lake McDonald, which is another long lake just like St. Mary Lake which is located at the beginning of this road. There are cruises that sail on this lake. For information about lodging in Glacier National Park call Phone Number 1-800-215-2395.
Trail rides are offered in Glacier Park. One of the primary company's that offers these rides is called Swan Mountain Outfitters. They offer three separate trips; two on the western part of the park and one on the eastern side. These rides are usually offered from early June through early September. Experienced wranglers will accompany you on your ride. The rides are geared towards the novice or beginning rider. Riders should arrive 20 minutes before departure except on the all day rides when you should arrive at least 30 minutes prior to departure. Some of the rides require a minimum number of riders. Some of the one hour rides are offered throughout the day depending on when horses and guides are available. Swan Mountain's various corrals are listed below:
Swan Mountain Outfitters
P.O. Box 322
West Glacier, MT 59936
www.swanmountainoutfitters.com/glacier
Apgar Corral is on the western part of Glacier Park. This ride is 6 hours. It leaves at 8:30am. The ride takes you across McDonald Creek to an abandoned fire lookout. Another ride that leaves from this corral is the 2 hour ride. This ride leaves at 8am, 10am, 1pm, and 3pm. It is a nice gentle ride along McDonald Creek. Lastly, the one hour ride leaves at 9am, 11am, 12pm, 2pm, and 4pm. This is a gentle ride through a meadow and some lodge pole pines. At one point you will see the Middle Fork of the Flathead River. This corral Phone Number is (406) 888-5010.
Lake McDonald Corral is located on the western part of Glacier Park. The rides vary from all day which leaves at 8:30am to a three hour ride, to a two hour ride, to a one hour ride. This corral Phone Number is (406) 888-5121.
Many Glacier Corral is located on the eastern part of Glacier Park. Three different all day rides are offered here. Several lakes are included as stops on these rides. Panoramic views are offered on each of these rides. A half day ride, two hour rides, and a one hour ride is offered. This corral Phone Number is (406) 732-4203
The following towns listed below are close to Glacier but are not actually inside the park. Here are some mileage's from West Glacier to selected locations:
| | |
| --- | --- |
| Town | Mileage |
| Whitefish | 25 |
| Kalispell | 31 |
| Big Fork | 50 |
| St. Mary's | 52 |
| East Glacier | 55 |
| Many Glacier | 74 |
| Missoula | 136 |
| Great Falls | 195 |
| Helena | 217 |
| Butte | 248 |
| Spokane | 275 |
| West Yellowstone | 392 |
| Salt Lake City | 661 |
| Waterton Park | 101 |
| Calgary | 190 |
Choteau and Bynum are two small towns along Highway 89 on the way to the East Glacier park entrance. West of Choteau is a mecca for dinosaur sleuths and researchers. In the 1980's juvenile dinosaur bones were found, which was a rarity at that time. Eventually researchers discovered nests of fossilized baby dinosaurs. They even discovered the remains of a new species of a duck billed platypus.
Make sure that you check out the rock shop owned by the people who discovered the first baby dinosaur fossils in Bynum. Bynum is a very small town about 10 miles north of Choteau. It is very easy to miss so be on the lookout. The name of the shop is called the Trex Agate Shop, but it is most commonly called "The Rock Shop". It is open from mid May through September and they sell fossils, rocks, artifacts, jewelry, and crystals. The owner, Marion Brandvold has been featured in several national magazines, and on worldwide television programs for her baby dinosaur finds. For more information about the shop you can call Phone Number (406) 469-2314 or www.trexagateshop.com
Choteau is a farming and ranching community. This community is surrounded by beautiful Montana landscape. The Nature Conservancy's Pine Butte Swamp Preserve, Freezeout Lake, the Teton River, Eureka Lake, and the Bob Marshall Wilderness area are just a few of outdoor attractions located near the town of Choteau. The Bob Marshall Wilderness Area (west of Choteau) is composed of 1.5 million acres and is known for its geology and excellent fishing. The Freezout Lake area is noted for its excellent bird watching. Pine Butte Swamp Preserve is known for its rare animals and plants.
The Old Trail Museum in Choteau has exhibits that display some of the local history and geology of the area. There are three life size dinosaur statues outside of the museum. The town was named after the famous trapper Pierre Chouteau Jr. but the spelling of the town differs slightly from his last name. There are public restrooms available at the Choteau City Park, the Old Trail Museum, and at the new visitors center near the museum. For more information about this town and or events call Phone Number 1-800-823-3866 or Phone Number (406) 466-5316. www.choteauchamber.com
Browning is located about 30 miles south east of the east Glacier park entrance. The main attraction in this small town is the Museum of the Plains Indian. This museum was founded in 1941. The permanent exhibition presents the diversity of the tribal people of the Northern Plains. These people composed the tribes of the Blackfeet, Crow, Cheyenne, Sioux, Nez Perce and others. A five screen multimedia presentation shows the evolution of these various Indian cultures. In the summer painted tipi tents are displayed on the museum grounds.
A sales shop is a part of the museum. They sell authentic and contemporary Native American arts and crafts. There is a several dollar admission fee in the summer but note that admission to the museum is free in the winter. They are open daily from June through September from 9am until 5pm. From October through May they are open Monday through Friday from 10am until 4:30pm. For more information call Phone Number (406) 338-2230. Visit: www.browningmontana.com
Waterton Peace Parks is well worth the drive if you have some extra time. The road that leads to this park from the East Glacier entrance is about 60 miles one way to Waterton Lakes. 60 miles will take to Waterton Park, the small city that sits at the edge of these famous lakes. For more information about Waterton Park you can call Phone Number (403) 859-2224. You can also find out some more information at: www.glacierwaterton.com
In Montana there is a state law that prohibits many breweries from actually selling beverages but most cities have taverns where you can taste and compare many different beers. For more information about microbrews see our section about Missoula. It is always best to call ahead because the microbrews have different policies. These brews are located in the vicinity of Big Flathead Lake.
Some microbreweries:
Black Star Brewing – www.blackstarbeer.com
Great Northern is located is located at 2 Central Ave in Whitefish. They are open Wednesday through Sunday from 3pm until 7pm. Phone Number (406) 863-1000.
Lang Creek is located at 655 Lang Creek Road in Marion. They are open by appointment only and advertise themselves as "America's most remote Brewery". Phone Number (406) 858-2200. www.langcreekbrewery.com
Raven is located on Flathead Lake in Woods Bay. They are open Monday through Sunday from 4pm until midnight. Phone Number (406) 837-6096.
Whitefish is located at 5650 Highway 93 in Whitefish. They are open by appointment only. Phone Number (406) 862-2684.
The town of Polson lies at the foot of Flathead Lake. During the months of May and June you can watch water from the lake pour through the 200 to 500 foot perpendicular walls of the Flathead River Gorge at a rate of 500,000 gallons per second. Fishermen gather in the last week in June for a fishing derby and contest. www.polsonchamber.com
Glacier Raft Company is located at the Riverside Park at the bridge. They offer half day white water rafting trips through a scenic canyon on the Big Flathead River. They leave at 10am and 2pm daily from early June through September. I would recommend going in July or August because at least the days are warmer even if the water is not. No one 8 and under is admitted. Reservations are strongly suggested. Phone Number (406) 883-5838 or Phone Number 1-800-654-4359. www.glacierraftco.com
Kwa Taq Nuk Princes also offers tours of Flathead Lake. The lake tours last for 3 hours. They leave at 1:30pm. The 90 minute tour leaves at 10:30am and also at 7:30pm from June 1 through early September. 90 minute and 3 hour tour options are offered. Reservations are strongly suggested. Phone Number (406) 883-2448.
For tourist information about Polson you can call Phone Number (406) 883-5969.