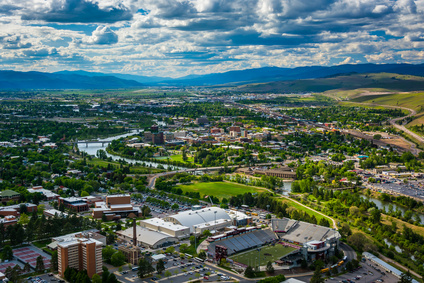 Missoula was once said to be one of the most sophisticated small towns in the United States. It is also a college town. The campus of the University of Montana (Grizzlies) is located just off of the 90 Freeway on the east side of town at the mouth of the Hell Gate Canyon. Lewis and Clark's expedition took them through this canyon and they actually camped just west of present day Missoula. This canyon was also the site of many Indian ambushes and as a result many American Indians died in this canyon.
One of the first area lumber mills began in Missoula. Currently the United States Forest Service still maintains its headquarters for this region in Missoula. This headquarters has a research station dedicated to forest fire research.
Like many towns in Montana, Missoula is located far from other towns. The population of Missoula is about 45,000 and is one of the larger towns in Montana.
Photo: from the hills above town
From Missoula you can easily drive a short distance and be in wilderness areas. The Rattlesnake Creek Watershed is located 6 miles north of the downtown area. The Bob Marshall Wilderness and the Scapegoat Wilderness areas are not far from town either.
One travel brochure that has some very interesting, informative and sometimes humorous articles about Western Montana, is the Western Montana Explorer, The Missoula Independent Guide to Summer in Western Montana.
The Historical Museum at Fort Missoula is located south on Reserve Street and then one mile west on South Avenue. This museum is based where the Fort Missoula used to be. This fort was established in 1877. Inside the museum you can see indoor galleries and outside you will see outdoor exhibits that depict the history of Missoula. Five historic structures remain and they have been renovated for your viewing pleasure. Bring a camera! Guided tours are available by appointment. I recommend about 45 minutes to an hour. Admission is free but donations are accepted. For more information call (406) 728-3476. www.fortmissoulamuseum.org
University of Montana has been in existence since 1893. They are Montana's first university. A walking tour of the campus is well worth the effort. Maps and other University information can be picked up on campus. Like several colleges in California they have their own letter cemented into the hillside above campus. Their letter is a "M" for either Missoula or University of Montana. A switch back trail leads up to the "M" from campus.
The University of Montana has graduated 28 Rhodes Scholars which is 12th in the nation among public universities. They also have had 37 International Fulbright Scholars, and 7 Pulitzer Prize winners from their school of Journalism. They have several other sub campuses in Butte, Helena, and Dillon Montana.
The campus features many turn of the century brick buildings. A particularly good photo is of the large grizzly statue in front of the Main Hall on campus which houses the record and admission offices. The University Union is one of the nicer ones that I have seen. It is two stories and houses the bookstore and all the usual collection of eateries and small shops that you find at most college campuses. The bookstore is two stories. Books and other school items are on the first floor and clothing and souvenirs are on the second floor. I had been told that Montana did not have a sales tax, but it was only when I bought a T-shirt here, and they charged me exactly $16.00, that I remembered about the no tax. The University Union is unique as it is set up like an atrium. There are glass windows on top and there are many tropical plants growing. There are also seats and tables scattered around. I would imagine this would be a nice place to spend some time on cold winter days. Visit: www.umt.edu
In Montana there is a state law that prohibits many breweries from actually selling beverages but most have taverns where you can taste and compare many different beers. For more information about microbrews see the section about Kalispell under Glacier National Park. It is always best to call ahead because the microbrews have different policies.
Some microbreweries:
Bayern is a German microbrewery and is located at 2600 South 3rd Street. They are open Monday through Friday from 1pm to 5pm. PHONE NUMBER (406) 721-1482. www.bayernbrewery.com
Beargrass is located at 602 Myrtle. They are open Monday through Friday from 2pm to 9:30pm. PHONE NUMBER (406) 728-7956.
Big Sky is located at 102A Hickory. They are open Monday through Friday from 12pm to 5:30pm. PHONE NUMBER (406) 549-2777. Visit: www.bigskybrew.com