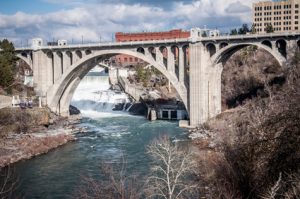 This is a general outline of a recent trip to Spokane, and parts of Idaho and Montana. The total trip took 10 days and was done in early August. The best time for warmer weather and more comfortable conditions is between mid July and mid August. Because gold mining was one of the main reasons for the trip you will note several days below will show "gold mining" as the main activity.
We rented a car from Thrifty at the Spokane Airport and made a circle covering the states mentioned above, drove through Glacier National Park and finally ended up in Spokane at the end of the trip. All routes taken and my day by day itinerary are included. For us, this trip was partially a gold mining trip along with a sightseeing one. This means that if you were taking this trip for the sightseeing you would have about 4 or 5 extra days then we had. This means that you would have more time for beautiful parks such as Glacier and Waterton Peace Park in northern Montana and southern Alberta. NOTE: Most of the towns or parks that we mention below have their own coverage later in the article. That is where we will mention our experiences, attractions, and go into more travel detail.
Day 1 We flew from San Francisco International to Spokane. We found that if you live near a major airport taking an air porter bus to the airport is very convenient. This saves the hassle of driving and fighting traffic. If you are going to be on vacation for more then 4 or 5 days taking the air porter instead of driving also makes sense because you save the cost of parking your car in the long term parking section at the airport. Our flight left SFO at 8:15am so we were touching down in Spokane around 10am. This gave us the rest of the day to get situated and to drive to our final destination.
We found the Spokane Airport to be very user friendly. It is much smaller then the San Francisco Airport and as a consequence, easier to navigate. You will see about 6 or 7 rental car companies lined up near the main exit and entrance to the Spokane airport. We chose Thrifty car rental because they provided the cheapest rates of any of the rental companies. They provided unlimited mileage and you could leave the gas tank almost empty on your return trip. Luckily there was a big two week international travel conference being held in Spokane so there was lots of maps and travel information available at the airport.
Instead of visiting Spokane on this day we hopped on the 90 freeway going east towards Coeur d' Alene. This quaint town on a beautiful lake is 30 miles east of Spokane, just over the Idaho state border. Then we drove through the old town of Wallace. Wallace is about an hour from Coeur d' Alene. From here we took a small windy paved road from 6th street in Wallace to an even smaller mining town called Murray. Murray is about 25 miles from Wallace.
Day 2 We spent this day mining near the river next to Murray. Whenever mining we would always camp out. This saved a lot of expenses.
Day 3 Mining day.
Day 4 We left around 6am for Wallace. From Wallace I continued driving east on I-90. Soon I was crossing the Montana border. There is no speed limit on the major highways in Montana during the day. At night on major highways the speed limit is usually 65 for cars and 55 for trucks and trailers. There are billboards throughout parts of Montana that say "Whoa dude there is a speed limit". There are so few cars on most of the Montana roads that you can drive at a speed that feels safe. For some people that is 90+mph. We made a brief stop in Missoula and then continued driving. We took the 90 doing 90 to the junction of 12 and 90. Highway 12 leaves from the 90 and is about 45 miles to Helena, the capital city of Montana. Near this junction we drove off the main road onto some dirt roads leading to the high country. There are very few signs on these dirt roads. A forest service map or BLM maps are very helpful in this part of the country. The geological survey map for this area is the Elliston map. We drove through the old living ghost town of Marysville and then down into Helena where we stayed in a motel for the night.
Day 5 This was a sightseeing day, but by far the longest driving day of the entire trip. Instead of driving this much (about 450 miles) We highly recommend that you take several days to do this trip that we did in one day. I left Helena around 7am for Glacier National Park. If you had more time you would also be able to see Waterton Peace Park just north of Glacier National Park. We drove up the 90 for about 45 miles and then turned off on the 287. We drove on the 287 for about 65 miles until it merged with Highway 89 at the small town of Choteau. Then we drove on the 89 for about 65 miles until the small town of St. Mary. From this town you will embark on the Going to the Sun Highway, 52 miles of unparalleled beauty. This road is also an incredible engineering feat.
After winding through the park you will exit the park at West Glacier. From there take Highway 2 through Kalispell and turn off on the 93 and drive along Big Flathead Lake. Continue on the 93 until you come out on the 90 just 8 miles west of Missoula. We then drove on the 90 (which is a fast road) until we reached the small town of Superior. We found a hotel in this town for the night.
Day 6 From Superior we drove to Wallace and then back to Murray. We spent this day mining.
Day 7 Mining day.
Day 8 Spent 1/2 day mining and then left for Spokane retracing my steps on the 90 freeway. Found a hotel near downtown in Spokane.
Day 9 We spent this day sightseeing all there is to see in Spokane. See the section on Spokane for more information but some of the sights we visited were Gonzaga University, Manito Gardens, Riverfront Park, and historic downtown.
Day 10 Morning flight to SFO.