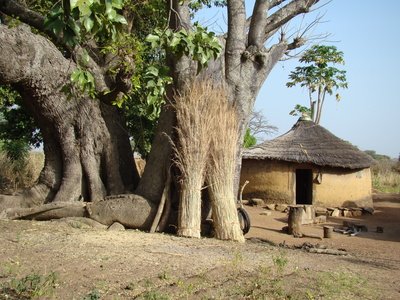 As a young school boy growing up in the cosmopolitan city of Lagos, the thought of visiting neighboring Benin Republic fiercely fascinated me. In our history class during my secondary school days, we'd been taught about the great Dahomey kingdom which, at its loftiest height, extended to parts of Badagry which is now located in present-day Lagos, Nigeria. Now an Anthropologist whose core research interests lie in cultural evolutions, I was quite enthusiastic that my visit to Benin was certainly going to provide food for thought.
I had taken the Beninoise people to be a staggering example of undiminishing cultural resilience. Culturally resilient in the sense that western civilization was yet to permeate and eclipse their mundane cultural heritages like it had done to virtually all of the post-independence Anglophone countries in the West African sub-region. The Beninoise people were still fiercely in touch with their cultural roots which incorporated an unflinching belief in gods and spirits, in magic and sorcery. My travel to this small native country was primarily influenced by the desire to visit one of the several fetish markets where, as I had been reliably informed, showcased a myriad of unadulterated occult wares. The temptation to try one or two of the occult products to test the veracity of the claims was highly probable.
At 7 a.m, from the rowdy Mile 2 Park in Lagos, I boarded a bus to Seme. The vehicle was an old rickety 504 peuguet station wagon. The metallic body of the old fashioned automobile had the rigorous contour of a panel beater's patchwork. The leather seats were ruptured, over-patched, bleached by sunlight and from prolonged use. You could see the torn underlay and the iron sheet ripping out. If one was not careful, the sharp edges of the sprouted iron springs could poke one's cloth and pierce the skin. This was the typical vehicle that plied the Mile 2 – Seme route. Nonetheless they were useful in providing cheap transport to the growing number of people on both sides who needed to embark on these transnational journeys for whatever reasons – whether to visit relatives, to trade or for tourism.
Besides, Benin Republic had quickly metamorphosed into one of the biggest markets for second-hand vehicles and clothes in the sub-region. All kinds of trading in all manner of goods were rampant and rife. Some African economists had express great fears that the country was fast turning into a dumping ground for Western goods and that this was stifling the growth of local industries. Whatever.
Passing through the Seme border wasn't much of a hassle. On presenting my e-passport, a desk Immigration officer stamped me out. Under the ECOWAS Treaty, as a Nigerian citizen, I could stay up to 90 days in any of the member-states at any one particular time. But that was no automatic guarantee. If you didn't comply with the demand for tips by on-duty Immigration officers, you could be delayed for a long while for whatever reasons. So I had to tip my way through with a few hundreds of naira in order not to be held up in delay. Once on the Beninoise side, I converted some of the Nigerian currency I had on me into CFA Francs before proceeding to the capital city of Cotonou.
Cotonou prided itself on petite neatness. Traffic light worked well. An efficient police and gendarme worked assiduously to enforce law and order to keep the port city safe. In my opinion, the country had the poaching traits of a policed state. Law enforcement officers were everywhere checking for identities (i.e. passport and other IDs) in a bid to control migration and trans-border crimes.
All around me, on this hot and humid day, I saw travelers from all over West Africa. The mood was somewhat impersonal. Market women (many of them wearing ethnic attires) swerved through the streets in impassionate mien. The men were dressed in mainly casuals: jeans and t-shirt. I sensed that people aimed to look as ordinary as possible so as to avoid drawing unnecessary attention to themselves in this busy commercial city where fraudsters lurked about in search of gullible preys to make victims of. I got the sense that even first-time visitors were cautious. They had probably learnt not to conduct themselves as "new-comers" since portraying oneself as a "new comer" may potentially make one frail and vulnerable to the antics of the poaching conmen.
Soon I was in the famous Dantokpa market, well known for the showcase and sale of fetish materials. Accompanied by a local guide who understood and spoke pidgin English and French reasonably fluently, we visited one of the stalls of the traditional witchdoctors. Doubling as my interpreter, my guide had explained to me that this particular witchdoctor was the head of witchdoctors in that market and was indeed the patriarch of a dynasty that had inherited a tradition of magic and sorcery that was as old as a thousand years. The old man, possibly a Septuagenarian, looked mysterious in his outer red outfit that extended to his knees. The regalia had conspicuous cowrie- beaded decorations. Much so the other mysterious objects in his stall.
The stall exhibited dried-up cat, snake, vulture, bat, ostrich feather, tortoise shell, raw eggs that look like those of big birds, earthen pot, calabash, live guinea fowl, pigeon, etc. Cowrie shells dotted the incensed floor. Standing conspicuously at a corner is a real-life clay statue – obviously the image of a local deity. All sorts of bottled concocted herbs were visible which I was told had the potency to cure a myriad of illnesses, HIV-AIDs inclusive.
I pointed to one of the amulets on display. It looked like an elongated cow tail. Obviously the charm was made of hide and skin. My guide conversed with the witchdoctor and soon communicated his findings to me. "This amulet", he translated, "is a local bullet-proof which when tied around the waist would halt the penetration of bullets". "Bullets!" I screamed in obvious astonishment or was it disbelief. "No, no, no, it's no joke. They don't do fake charms here. It's a 100% guaranteed" my guide rapped in as if to allay my doubts.
In a world of heightening crimes and increasing insecurity, it had become necessary for people to protect themselves by whatever means (physical or spiritual). I was sure there'd be a lot of customers needing these kinds of traditional bullet proofs.
After discussing the price, we agreed on testing the product before payment. But certainly not on me. A live he-goat was provided. The amulet was tied around its neck. After a series of mumbled chants and incantations, a dane gun was quickly loaded with live rounds in a frenzied effort to demonstrate the charm's efficacy."GBAM! GBAM!! GBAAAAAAAAAMMMM!!!!" Three hot shots bang at close-range. Alas, to my surprise, the bullet was refracted. The goat winced as the bullets hit it and bounced back. It was not hurt. The bullets couldn't penetrate. "HMMMMMMMM…."I heaved in abject wonder…enchanted by this rare stunt.
Getting out of the surprise, I started to cast doubts at the prowess of the rudimentary weapon. Would this amulet produce the same result with a more sophisticated weapon such as an AK-47? I posed this question to the witchdoctor through my interpreter. He didn't seem to understand the difference. In a hush-hush voice, he spoke rapidly in the frenzied bit to convince me further…My guide was interpreting in the same frenzied gusto…" Look, I tell you stranger not to undermine or underrate our highly efficient spiritual products…See the Ivorian fighters who fought on the side of Alhassan Quottara were here to fortify themselves with these traditional amulets…or how else do you think they were able to crush Laurent Gbagbo's army with all its sophisticated tanks and heavy automatic weapons…All right Mr. doubter, you go find an AK-47 and then try the rifle on me. Let us test power. If the bullet ever penetrates my fortified body then know that I am not the son of Dahomey soil…" He beat heavily at his chest rampantly in boisterous spells of breath.
I had no intention to explore further. I already had enough thrilling in one day. I paid for the charm but refused to collect the product. The old witchdoctor seemed disappointed; it appeared money wasn't the overriding motivation much unlike in my country Nigeria where they were countless witchdoctors orchestrating dubious antics to deceive and extort money from the swarm of gullible "the-more-you-look, the-less-you-see" persons. But one thing that the fetish charm did on me, it had impressed on me an eye-witness evidence to articulate my points on African mythical protections. My mind wandered back to my secondary school days, and I quickly understood why African warriors of the old kingdoms and empires which once flourished, were brave, treacherous and mortally ambitious. It was because they relied heavily on charms and amulets that were fortified by spiritual forces. "Hmmmmmm…" I sighed again. I muttered frenziedly: "This must be the 8th wonder of the world!"