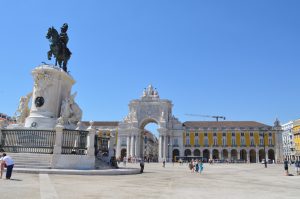 It seems like U.S. tourists discovered Portugal in the last year.  No matter what social media platform you use, you probably saw an explosion of coverage for this majestic land. The capital city of Lisbon provides a great introduction to the country, with a manageable population of 600,000 people in the city proper.  Beautifully tiled buildings, rolling hills, and delicious custard tarts are on every corner. The people are warm and friendly, and often speak 4 languages, including English.  If you are planning a visit to this great city, you are most likely preparing for your trip. You may have picked out a few guidebooks, and perhaps practiced your Portuguese phrases.  As is customary, however, you can't learn everything from guidebooks. Here are five practical tips on Lisbon to help make the most of your trip.
Transit Kiosks Only Accept Portuguese Credit Cards
If you've read your guidebook, you are aware of the Viva Viagem reloadable transit card. This pass allows you to ride trains, trolleys, subways, and buses, and is incredibly useful. Surprisingly, the kiosk machines only accept Portuguese credit cards.  Armed with this knowledge, make sure to bring small bills when you head to the transit station.  Fumbling at the kiosk with only a 50 euro note can lead to overloading your card, a waste of money if you are only visiting for a few days.  Arm yourself with a few 10 euro bills and reload your card as needed.
2.  Forget what you Learned from your Brazilian Podcast
Portuguese from Brazil and Portuguese from Portugal are two very different beasts.  If you've never taken a Portuguese class before, studying with a Portuguese podcast is a great idea.  Unfortunately, the Portuguese podcasts available in the summer of 2016 seem to all be based on the Brazilian dialect. "Di" sounds are pronounced as "dji" and mainland Portuguese people get irked by what they deem is a bastardization of their language.  It is better to practice the phrases from your Portugal guidebook than to attempt the Brazilian dialect.  The phonetic descriptions are accurate for Portuguese pronunciations, and the Portuguese people will appreciate your consideration.
3. Avoid the White Cobblestones
Lisbon is a city of tiles.  Tiled buildings, tiled sidewalks, tiled streets.  While avoiding heels may seem obvious to any woman who has tried to walk over a subway grate, even travelers in the most sensible shoes need to watch out. With people trampling over these tiles everyday, the constant friction serves as a buffing agent, wearing these stones down to slick booby traps throughout the city.  While most streets and sidewalks are a gunmetal grey color, there are quite a few smooth, shiny, white tiles that pepper the ground. It is in your best interest to avoid these tiles as they are the most slick and are sure to cause you to slip.
For example, if you encounter them while walking down hills, you won't fall too hard, but you will wind up on your rear. Stumble upon them while walking uphill and good luck. If you're fortunate, you'll land on your hands and walk away with a sore wrist.  If if you're not, be prepared for skinned knees and bloody palms.

4. Don't trust Google Maps Time Estimates
When picturing Lisbon, imagine the steep climbs of San Francisco.  Triple the number of hills and descents, and add slippery tiles to the street.  If you make reservations or are trying to reach a sight before it closes, do not rely on Google Maps to give you an accurate estimated time of arrival.  Whether it is by foot or by car, Google will always underestimate the time it takes to get from one place to another.  With the narrow one way streets, the steep grades of ascent, and those darn white tiles,  consider adding 10-15 minutes onto any duration of travel.
5. Listen for Trolley Bells
Trolleys are the most whimsical and fun way to get around Lisbon.  Seen as part of the heritage of this great city, the #12E, #28E, and #15E are frequents sights, with the former two using vintage cars to get between stops.  Since streets in Lisbon are often one way or just large enough for two lanes of traffic, cars and trolleys operate on the same roadways. With sidewalks often too narrow for more than one person to pass  you will most likely find yourself walking into the street when approaching other pedestrians.  It is imperative that you familiarize yourself with the sound of the trolley bell.  Unlike a car horn, this alarm sounds more like  a rotary dial telephone.  Traffic gets thick in this bustling metropolitan, so if you hear this sound, jump back on the sidewalk.
These five tips will be of great use to you as you explore the wonderful city of Portugal.  As always, be a courteous and respectful traveler and you will have a great time.  When in doubt, try to talk about Cristiano Ronaldo.