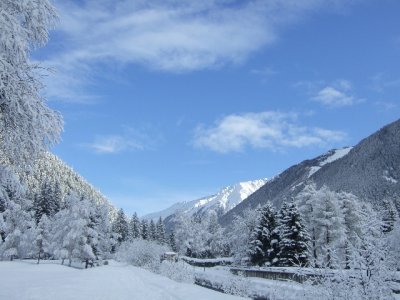 When it comes to holidays, I'll admit that I'm more likely to be seen sunning myself on a sandy beach than hurtling myself down a mountain. Previous experiences of being overtaken by smug six-year-olds powering down the mountain while I tentatively inch my way down the slope have, I'm afraid, left me somewhat scared. Nevertheless, I'm not generally one to be beaten and when the opportunity arose to face my demons I decided things really could only get better…
When it comes to places to hit the slopes, a ski holiday in Chamonix offers all you could want – and more. For starters you've got the amazing scenery that this part of the French Alps has to offer with views stretching out over the snow-capped mountains and the impressive mythical peaks of Mont Blanc dominating the sky line. At the foot of this impressive mountain crest is the town of Chamonix – now synonymous with skiing and all that this fine winter sport entails.
The Chamonix Mont Blanc valley is home to no fewer than six different ski areas: Aiguille du Midi, Brevent, Flegere, Le Tour, Grands Montets and Les Houches. Here you can hit the slopes from between the months of December to May where the 182 kilometres of pistes running through the mountains will undoubtedly keep even the most ardent of skiiers satisfied. The good news is there are runs for all levels (both on and off-piste options) meaning my rather more abled friends didn't have to suffer the nursery slopes (or I the sheer abyss' that symbolised the black runs…)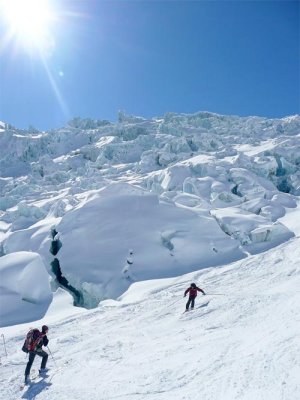 There are two main ski passes available the 'Chamonix-Le Pass' and the 'Mont Blanc Unlimited' pass. The former allows you access to Brevent, Flegere, Le Tour, Grands Montets and all beginners slopes as well as free shuttle services between Chamonix, Argentiere and Vallorcine. The later gives you all this plus access to loads of other attractions such as the top of Les Grands Montets, Les Houches ski area and the Aiguille du Midi cable-car. You can also use the Montenvers-Mer de Glace train and the Tramway du Mont-Blanc as well as accessing the ski areas of Courmaveur & Funivie Monte Bianco in Italy for freeduring the winter season. Prices vary on the number of days you want and the age of the skier, but let's just say this time the money forked out was definitely worth it.
After a mornings lesson with possibly the most patient instructor I've ever come across I was ready to face the ski lift and my first proper slope (previous attempts at the nursery run don't count…gravity merely pulled me down the gently sloping pile of snow rather than any preconceived notion of intent – or shock horror…skill). After making a spectacle of myself getting both on and off the lift (soooo much harder to get out of gracefully than it looks) I was rosy nosed and eager to go, waiting at the top of the slope. Admittedly, I wasn't going to win any prizes for speed, but I did make it down, in one piece and without either stacking it or taking out any small children – something I declared something of a victory.
And so there it was, after that I was happy to trundle up and down the plethora of green runs for the duration of my trip – enjoying the feeling that I was, at last, able to call myself a skier (all be it a wobbly one). True I still looked forward to the hot chocolate stops (an essential part of any winter activity in my humble opinion) but it was with new-felt enthusiasm that I suited and booted myself up again afterwards.
Having said that, once the slopes closed and skiers unstrapped their skies for another dayI wasn't the only one in my party to get stuck into the apres-ski avec rigeur. Excellent restaurants, warm fires and aglass or two of something warming made the perfect end to a day spent soaking up the slopes of Chamonix…
If you want more information on Chamonix, check out www.chamonix.com