A Sanctuary in the Valley of the Sun
As new residents of Arizona's Valley of the Sun with a home in Scottsdale, my husband and I are eager to learn about the great places and activities in our new community and surrounding area. We've been pleasantly surprised that there is so much to see and do!
Recently, we got a glimpse of the beautiful Sanctuary on Camelback Resort and Spa, a luxury resort for relaxation and recreation in nearby Paradise Valley. Take a look.
Sanctuary on Camelback Resort and Spa
Property Highlights
Sanctuary evokes a warm, welcoming, and unpretentious luxury. The resort is updated and upscale but it still retains a sense of the days when the resort was the Paradise Valley Racquet Club which opened in 1957 and then in 1965 became John Gardiner's Tennis Ranch, where movie stars and other celebrities hung out and played tennis. The resort opened as the Sanctuary in March 2001.
There are lovely touches of art throughout the resort that blend with the architecture and landscape, such as the large sculpture of bells by the late artist and architect Paolo Soleri (once an apprentice of Frank Lloyd Wright) outside of the entrance to the lobby.
Casitas and suites
Sanctuary has a total of 109 casitas and suites. The Spa Casitas and Suites were refreshed in a renovation of decor and furnishings in 2016. The Mountain Casitas and Suites, including eight Camelback Casitas and Suites (perched high on the mountainside with panoramic views) went through a full-scale renovation that was completed in 2015.
We got a look at one of the 24 Spa Casitas and Suites, aptly named for their proximity to the resort's spa amenities and identified by gems, rather than numbers. The one we viewed is called Onyx. They are situated along walkways bordered by palms, cacti, and foliage in bloom. This time of year (mid-March), the flora was in "superbloom", and we breathed in the fragrances as we walked about the property.
Consistent with other resort decor, art pieces are also found in the casitas. The butterfly art we saw in Onyx is a nice reflection of the resort's status as a certified Butterfly Garden due to its landscaping which is conducive to increasing the butterfly population.
Dining with a view
elements (yes, it's a small "e"), Sanctuary's on-site restaurant, presents inspired dishes with a focus on freshness under the direction of Food Network star and Executive Chef Beau MacMillan. We dined al fresco on the terrace of elements enjoying close up views of Camelback Mountain and Mummy Mountain across the valley. When I heard that a pork belly sandwich was the day's featured entree, I knew immediately that's what I wanted. The Pork Banh Mi made with tender sliced pork belly, slivers of cucumber, and five spices was served on a Buddha Bun (one of the softest, most flavorful buns I've ever had).
align="aligncenter" width="640″]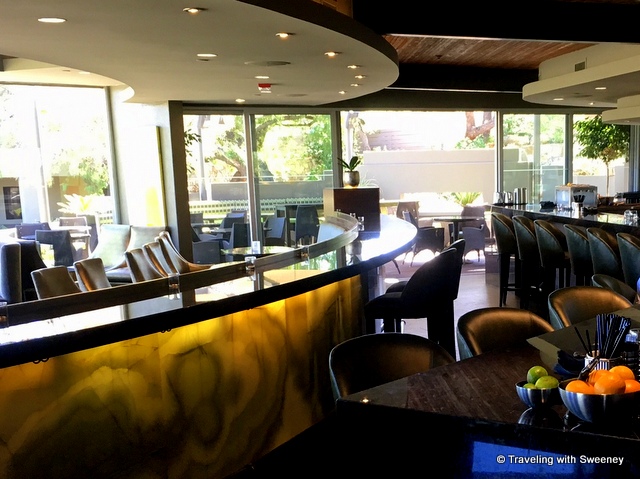 Jade onyx decor in
jade bar
[/caption]
Wood slats in the ceiling of jade bar are original from the days of the former Paradise Valley Racquet Club. I was really taken by the bar that is made of authentic jade onyx. The vistas from both elements and the adjacent jade bar are beautiful during the day, but they must be spectacular at night with the lights of Paradise Valley's hillside homes and resorts (shown in a photo below). A good place to catch the stunning sunsets would be at jade bar or outside on the terrace. During the cooler seasons, casual ceremonies toasting the sunsets with champagne are held on the terrace.
Spa and recreation
The resort's spa includes indoor and outdoor treatment rooms offering Asian-inspired spa therapies, a meditation garden, vitality and tranquility pools, fitness center, and a variety of classes. We spoke for a few minutes with Spa Director LaRae Verros and enjoyed her engaging personality, a trait that seems consistent other staff we met.
There are three pools on the property including a lap pool and the infinity-edge pool (the largest in Phoenix/Scottsdale) which is designated as adults-only on Friday, Saturday, and Sunday and is one of the cell phone-free areas of the resort. It's a place for health, wellness, and relaxation, after all.
Five of the 21 original John Gardiner courts remain. We had a nice chat with the charming and amusing Horst Falger, the resort's Austrian-born tennis pro. He has been a key figure at the resort for over 30 years. The pro shop walls are covered with many photos of celebrity guests who played on the courts of the John Gardiner's Tennis Ranch, including Clint Eastwood, Elton John, Eva Gabor, Merv Griffin, John Forsythe, and General Alexander Haig. There is also a display of drawings from the original 1955 membership brochure of the Paradise Valley Racquet Club (below).
Sanctuary's accommodations and facilities seem to make it a lovely destination resort for leisure, business, and special occasions. It's also appealing for locals to enjoy the spa, restaurant, and bar. I'm sure that we'll be making return visits.